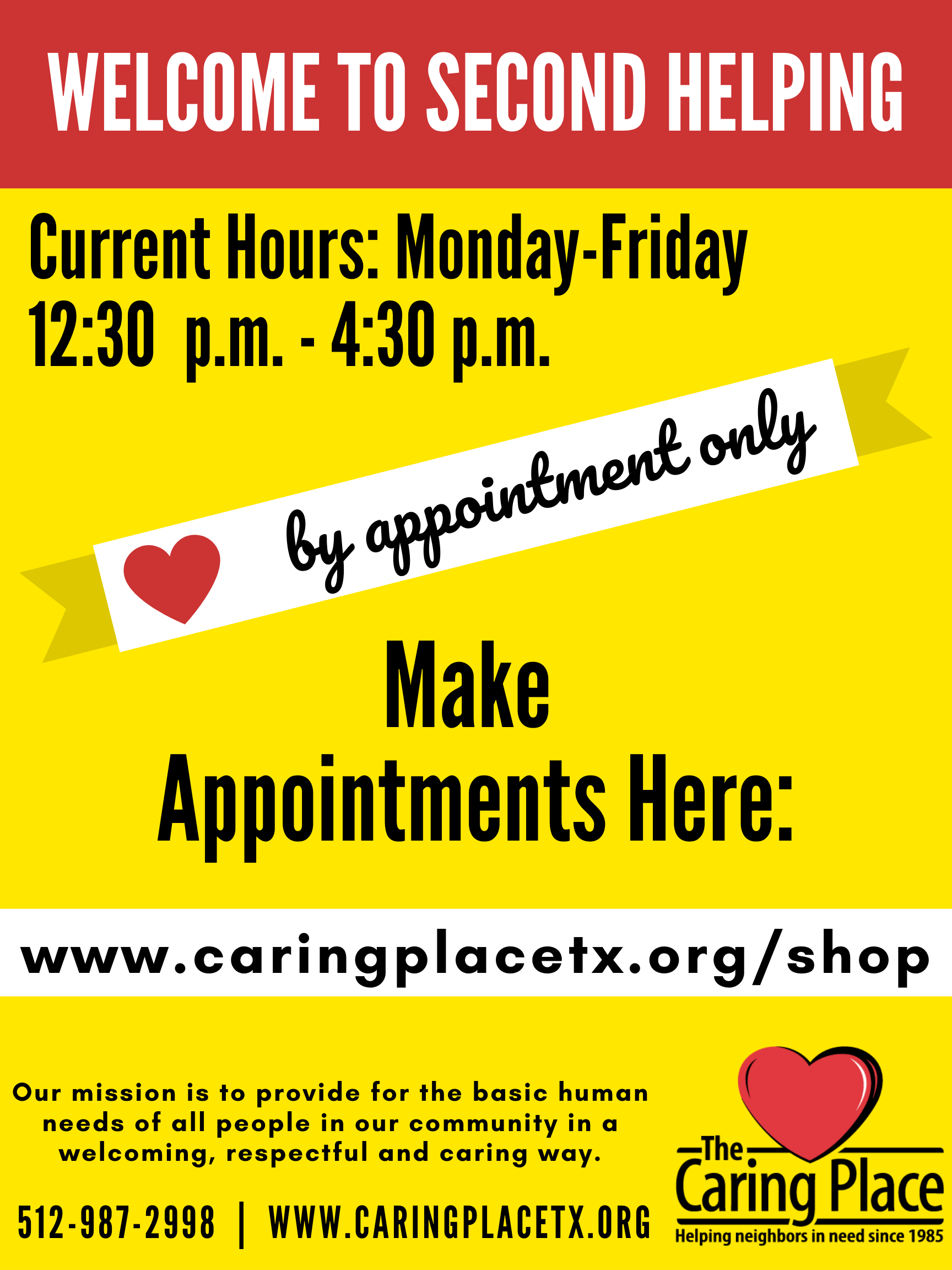 The Caring Place's second thrift store, Second Helping on 3700 Williams Drive is now open by appointment only.  The hours of the store are Monday through Friday, 12:30 p.m. – 4:30 p.m. but appointments must be made at least an hour in advance at www.caringplacetx.org/shop.  
In March, due to COVID-19, both of The Caring Place's thrift stores closed to the public to slow the spread of the virus.  In June, The Shops at The Caring Place reopened its thrift store doors with reduced hours, but Second Helping remained closed due to limited volunteers and the need for staff to participate in projects critical to The Caring Place's mission like food distribution.
Store Director Ann Lind states, "We are excited to have both thrift stores open to the public again.  If you've been to Second Helping, you know this store is located in a 2-story home along Williams Drive.  Its quaint feel makes social distancing difficult when the store is full, so we are thankful that making online appointments will allow us to open this location in a safer way.  The new system will ensure that customers have a spacious and comfortable shopping experience.  In fact, we think customers will love the cozy, almost private, feel of their shopping trips."  Before COVID-19, The Caring Place thrift stores generated an average of over $37,000 a week.  With reduced hours and reduced shoppers, The Caring Place hopes shoppers  will continue to support their stores with new procedures in place.
The Mission of The Caring Place is to provide for the basic human needs of all people in our community in a welcoming, respectful and caring way.  If you'd like to help the organization fulfill that mission by providing financial help to assist with food, rent, utilities, medical bills and transportation, please donate to their Spirit of Caring campaign at www.caringplacetx.or/spiritofcaring.  If you need information on programs and services offered or scheduled item donation days, find those at www.caringplacetx.org/covid19.
If you'd like to pursue "Shopping for Good" you can visit the 2000 Railroad location Monday – Friday, 12:30 p.m. – 4:30 p.m.  If you want to see what Second Helping at 3700 Williams has to offer, visit them online at www.caringplacetx.org/shop to make your shopping appointment.
ABOUT THE CARING PLACE
Since 1985, The Caring Place has provided for the basic human needs of all people in our community in a welcoming, respectful and caring way.  The Caring Place is a community-based and community-supported organization.  For more information on The Caring Place, visit www.caringplacetx.org.