Since 1985, The Caring Place has provided for the basic human needs of all people in our community in a welcoming, respectful and caring way.  Through two thrift shops, The Shops at The Caring Place and Second Helping, both in Georgetown, the organization is able to pay all operating expenses to serve a growing community.  All monetary and food donations directly benefit neighbors needing food, utility, rent, transportation or medical assistance.  The Caring Place is a community-based and community-supported organization.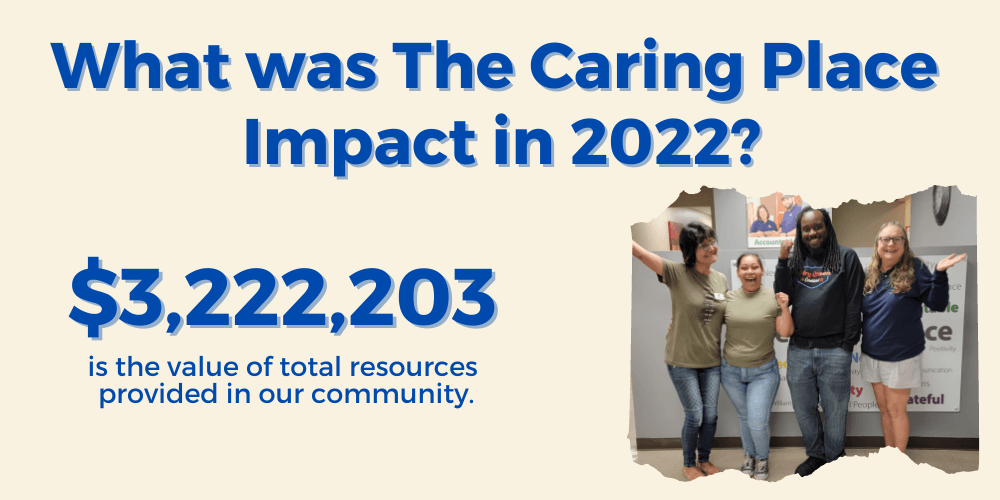 With your help in 2022, we did the following…
Paid $482,987 in rent & mortgages for 1,494 neighbors facing a crisis;
Assisted neighbors in need with $96,622 worth of utility assistance;
Saved households $250 a month on average by providing Food Pantry access;
Saw 17,876 visits to the Food Pantry in Georgetown;
Welcomed 4,409 visits to remote food distribution sites in Jarrell, Bartlett and Granger;
Supported job searches, employment, doctors visits and more by providing transportation vouchers and fuel to 475 neighbors;
Brought relief to neighbors by providing emergency temporary shelter when needed;
Provided supportive Case Management services to help neighbors meet longer-term, self-directed goals for stability;
Sought external resources for neighbors with special needs; and, 
Gave clothing and other necessities to struggling neighbors.
The Caring Place served 6,490 neighbors with basic needs in 2022. The Caring Place provided $912,844 in direct financial support and $2,309,359 in nonfinancial support.  The value of the total resources provided in our community was $3,222,203.
Want more information?  Visit our Financials and Annual Report page.