Board of Directors 2021-2022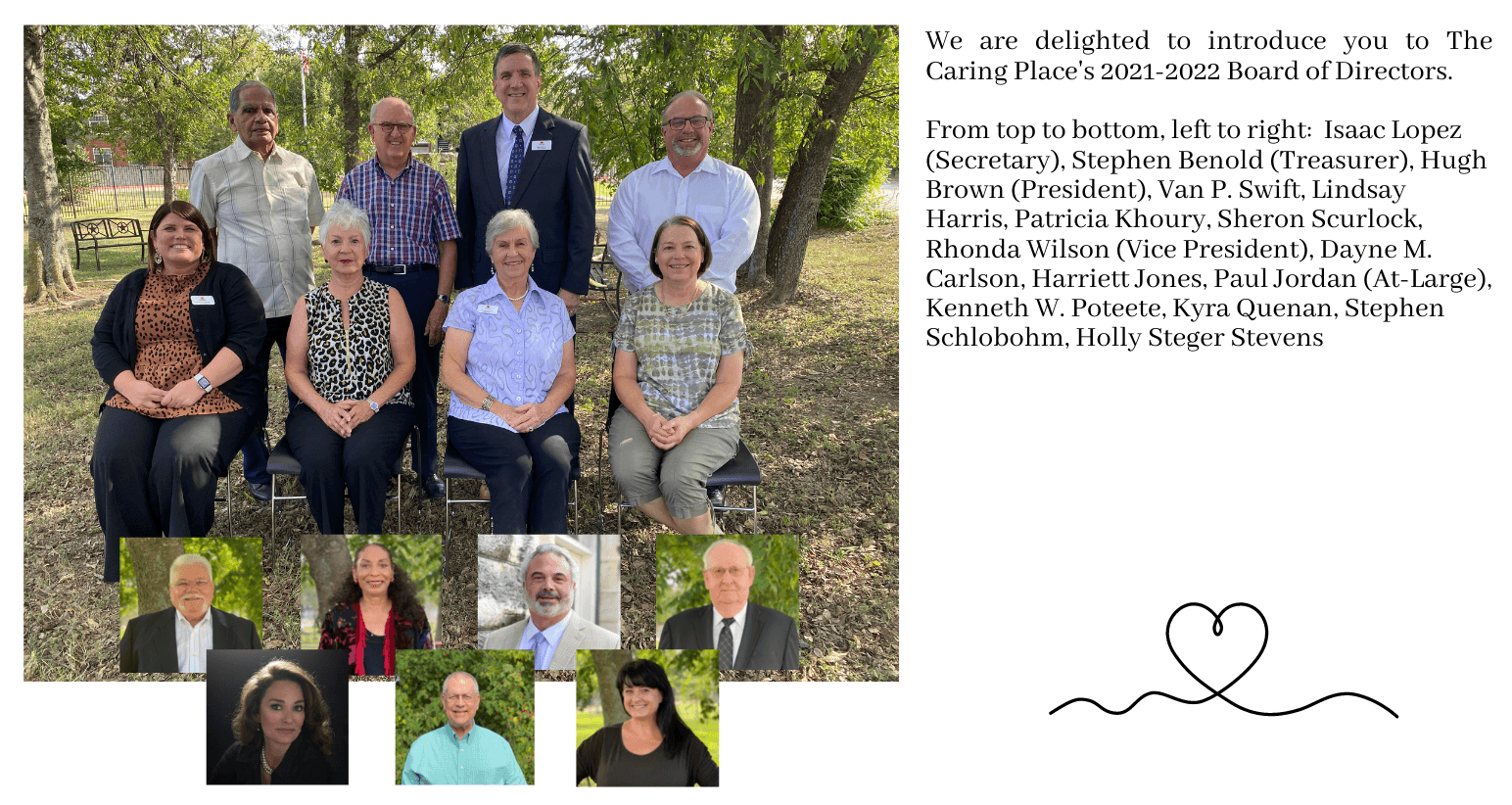 Board of Directors Bios 
---
Hugh Brown, President
Hugh Brown has led St. David's Georgetown Hospital as its CEO since 2007. Under his leadership the hospital has received numerous national recognitions for safety, clinical quality, employee and physician engagement and patient satisfaction. St. David's Georgetown Hospital is part of St. David's HealthCare which received the 2014 Malcolm Baldrige National Quality Award, the first healthcare system in Texas to receive the nation's highest quality honor.  An engaging and enthusiastic speaker, Mr. Brown regularly shares the story of the Hospital's transformation as a keynote speaker at major healthcare conferences and health system leadership meetings around the country. He also serves on several boards including The Williamson County Institute for Excellence in Nonprofits, the Georgetown Chamber of Commerce and Grace Academy.  He is a member of the City's 2030 Strategic Plan Steering Committee and teaches a weekly Bible study at Main Street Baptist Church. Mr. Brown graduated from the University of North Carolina at Chapel Hill and earned an MBA from Winthrop University.
Rhonda Wilson, Vice President
Rhonda Wilson retired as Vice President of AAA Texas in 2017, after working there for 32 years. She lived in the Austin area for over 38 years, and moved to Georgetown in 2016. Shortly after she retired, Ms. Wilson began volunteering in The Caring Place Food Pantry. She holds a BA in Business Administration from St. Edwards University.
Isaac Lopez, Secretary
Isaac Lopez, born and raised in Williamson County, has called Georgetown home since 1993. Mr. Lopez served four years in the US Navy, and then the US Postal Service for 31 years retiring as the US Postmaster in Columbus (TX). He has served on many elected or appointed boards and commissions. He was the first Hispanic elected to the Round Rock ISD Board, and was also elected to the Columbus ISD Board, serving on both for many years. Mr. Lopez has an extensive history of civic engagement for which he has received a number of honors and awards, including a Round Rock elementary school dedicated in his honor. He has volunteered with The Caring Place since 2005 holding a variety of positions including: client advocate, cashier, customer services and receptionist/triage. Mr. Lopez attended Central Texas College, Austin Community College and St. Edwards University. He is a member of St. Helen Catholic Church where he serves as an usher, lector and Eucharistic minister. Currently a widower, Mr. Lopez was married to Ellen for 46 years and has three children and five grandchildren.
Stephen Benold, Treasurer
Stephen Benold founded Benold Financial Planning in 2005. He graduated from Rice University, where he double majored in Economics and Biology. Following in the footsteps of his father, he received his MD from University of Texas Southwestern Medical School and became a family physician. After 30 years as a family physician, he decided to pursue his other passion, financial planning, and received a Certificate of Financial Planning from University of Texas. He is an active member of First United Methodist Church Georgetown where he sings in the choir and has taught a Sunday School class since 1988. He is very active in the community as a long-term member of Rotary Club, has served on the board of multiple community organizations. In addition to serving on The Caring Place Board, Dr. Benold has been its President three times since 2004. He and his wife, Nancy, have been married since 1977, and have 2 children and 5 grandchildren. Dr. Benold teaches at Senior University, and enjoys hiking, gardening and reading.
Paul Jordan, At Large
Paul Jordan is an attorney and shareholder with Sneed, Vine & Perry's Georgetown office where his area of practice includes general business matters, banking, real estate and civil litigation to help business owners navigate daily legal hurdles. Mr. Jordan graduated from Texas A&M University, and received his J.D. from The University of Texas School of Law and MPA from the Lyndon B. Johnson School of Public Affairs.  Appointed by Governor Perry, he served as a Commissioner representing the public on the Texas Real Estate Commission from 2001-2007. Mr. Jordan is past chairperson of the Texas FFA Foundation, as well as the Georgetown Chamber of Commerce, Partners in Education and the Williamson County A&M Club. He is married to Janet, and has two children.
Dayne M. Carlson
Dayne Carlson retired in 2011 after 33 years of service with the Military and Federal Government. He began volunteering as a cashier at The Caring Place in 2012, and is well known for his enthusiastic closing announcements in English and Spanish. Born and raised in Georgetown, Mr. Carlson graduated from Georgetown High School then earned a degree from Tarleton State University, and graduated from Golden Gate University with a Masters in Public Administration/Justice Administration. Mr. Carlson enjoys hunting, fishing, woodworking, and traveling the world with his wife, Pam.
Lindsay Harris
Lindsay Harris, originally from Houston, moved to Georgetown in 2016 and currently serves as the Chief Strategist of Leadership and Culture in the Georgetown Independent School District. She attended Texas A&M University where she received a BS in psychology and a Masters in Educational Leadership. Lindsay holds a Superintendent Certificate from Lamar University and is passionate about public education. Her experiences as a Spanish teacher, an assistant principal and dean of instruction, and ten years of serving the Bryan and Georgetown communities as a middle school principal have shown over and over again that schools, families, and communities working together to meet the needs of students is what all children deserve! Ms. Harris enjoys traveling, reading, and spending time with family. 
Harriett Jones
Rev. Harriett Jones graduated from college, and afterwards moved to Hollywood to pursue a modeling career. After 13 successful years in the business, she returned to Houston where she met her husband, the late Rev. Leroy Jones, Jr., and had two children, Scotty and Cecily. She worked for 15 years as a Parole Officer, until the family moved to the Austin area in 1991 where Mrs. Jones served in leadership positions for charitable organizations and Christian Ministries. In 2005, she and her husband founded Saving Grace Christian Bible Fellowship in Georgetown, and she became Co-Pastor in 2010.  After the loss of her husband, she became the Senior Pastor at Saving Grace. In addition to her duties at Saving Grace, Rev. Jones has served as the President of the Georgetown Ministerial Alliance since 2016, where she has focused on bringing diverse groups together to collaboratively address community problems and needs.
Patricia Khoury
Patricia Khoury grew up in Brooklyn, and after marrying, spent several years in Delaware until she moved home to Texas in 1972. With a degree in Elementary Education from State University of New York at Potsdam, and a MA in Spanish from Middlebury College, Ms. Khoury taught Spanish and English as a Second Language for 23 years. She also served as Choir Director for churches in Katy and Beaumont, Texas. Ms. Khoury has been a resident of Georgetown since 2000, and is now retired. In addition to serving on The Caring Place Board, she has also volunteered as a shopping assistant in our Food Pantry for over 10 years where she has the opportunity to use her Spanish speaking skills regularly.
Kenneth W. Poteete
Ken Poteete, who received his undergraduate from Oklahoma State University and his Masters in Hospital Administration from Trinity University, is retired CEO of Georgetown Healthcare System and Georgetown Healthcare Foundation. He served as a past member of the Regional Advisory Board American Hospital Association, as well as the past Chairman of the Texas Hospital Association, from which he received the prestigious Earl Collier Award. Mr. Poteete has lived in Georgetown since 1972; during that time he has served on several Boards, including the Georgetown Chamber of Commerce, and was recognized with the Citizen of the Year Award. Mr. Poteete is an active member of the Georgetown Rotary Club, the Board of Visitors for Southwestern University and The Georgetown Project Board of Directors.
Kyra Quenan
Kyra Quenan, originally from Monroe, Louisiana, moved to Georgetown in 1999 to open Quenan's Fine Jewelers of which she is Co-Owner. She is currently a member of Seeds of Strength, and has served for several years on the Georgetown Area Community Foundation and the Seton Women's Development Board. A member of St. Helen's Catholic Church, Ms. Quenan is also a Licensed Massage Therapist who enjoys painting, drawing and reading.
Stephen Schlobohm
Born and raised in Alton, Illinois, Shephen Schlobohm worked as a Forester with the U.S. Forest Service for 37 years.  He also served as Communications Specialist in the Army and as Director of the Golconda Job Corps Center, an education and training program for disadvantaged youth. Mr. Schlobohn has extensive volunteer experience including: parish council membership, Boy Scout Troop Committees and Councils, and working as a Client Advocate at The Caring Place for eight years. In addition, under a U.S./Canadian agreement, he was U.S. Co-Chair of an international Lake Superior working group. Mr. Schlobohm received a BS from University of Missouri, and attended graduate school at University of Illinois and New Mexico State University. He is certified in Strategic and Participative Planning. Mr. Schlobohm and his wife, Judy moved to Georgetown in 2009, and enjoys traveling, volunteering and playing Pickle ball.
Sheron Scurlock
Sheron Scurlock is the Co-Owner of Scurlock Farms, and also serves as its Vacation Rental Manager. She grew up in Rockdale, moved to Georgetown in 1971 where she worked in the insurance industry for 39 years, and owned her own company for 18 years. After retiring in 2005, Ms. Scurlock, and her husband, Dan, wanted to give back to their community, and started a cooking program at Gabriel Oaks Church of Christ. Now known as the Tuesday Lunch Bunch, they and several members meet every Tuesday to cook and deliver meals to shut-ins and the sick. Ms. Scurlock has volunteered as a pricer and cashier with The Caring Place since 2005. She has a passion for our work is a great volunteer recruiter for the organization. In addition, she totally furnished three vacation rental homes with purchases made through TCP, and guests love the décor. Ms. Scurlock enjoys reading, gardening, traveling and interacting with her guests at the farm.
Holly Steger Stevens
Holly Stevens works for the NASA International Space Station Advisory Committee and is concurrently the Manager of Federal Relations for American Pacific Corporation, a specialty chemical company.  Mrs. Stevens is a former Commissioner of the Texas Aerospace Commission and former Advisor to the Governor on Aerospace and Aviation.  She worked in The White House Office of Legislative Affairs during the George H. W. Bush administration.  Ms. Stevens has served in a variety of local philanthropic endeavors and is a member of the Board of Directors of two industry-related organizations.  She is married to P.J. Stevens, and has two children, Austin and Eliza.  Ms. Stevens grew up in Georgetown and graduated from Georgetown High School then the University of Texas.  On Wednesday afternoons, you can find her volunteering at The Caring Place.
Van P. Swift
Van P. Swift is the President and CEO of First Texas Bank, Georgetown. He is a 5th generation Texan with over 35 years in the banking industry, including serving as a Commissioned Bank Examiner with the FDIC and other senior positions at several banks. Mr. Swift has served as a volunteer and Board member of various charitable organizations throughout his career and, in addition to The Caring Place, is currently on the Board of the Georgetown Housing Initiative which promotes workforce housing in the Georgetown area. He received a BBA from Texas State University, and graduated from Southern Methodist University's Southwestern Graduate School of Banking. Mr. Swift enjoys working and hunting with his son on their ranch, fishing, spending time at the beach and traveling with his girlfriend, and helping his daughter with her horse farm.