Board of Directors 2022-2023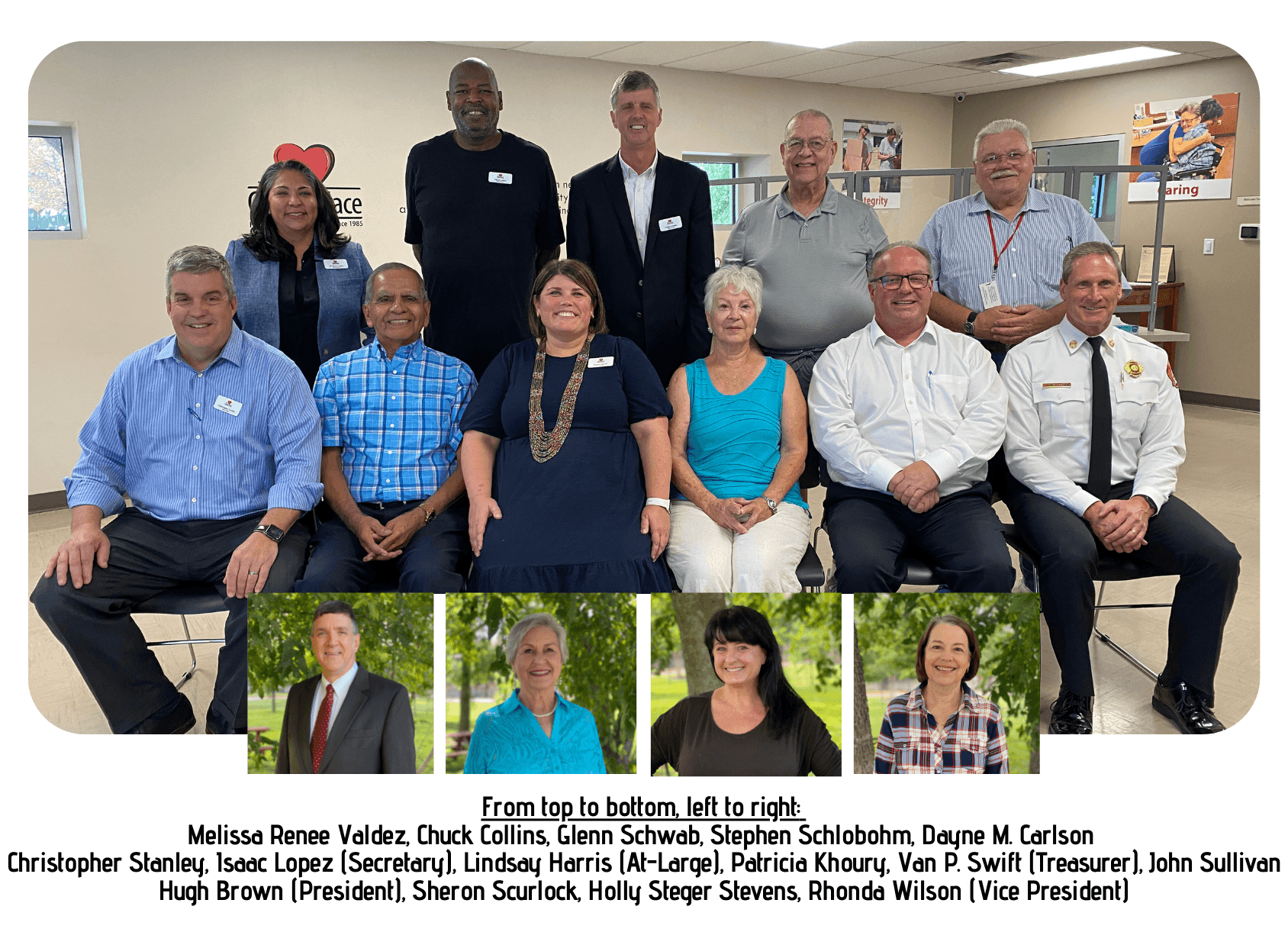 Board of Directors Bios 
---
Hugh Brown
Hugh Brown has led St. David's Georgetown Hospital as its CEO since 2007. Under his leadership the hospital has received numerous national recognitions for safety, clinical quality, employee and physician engagement and patient satisfaction. St. David's Georgetown Hospital is part of St. David's HealthCare which received the 2014 Malcolm Baldrige National Quality Award, the first healthcare system in Texas to receive the nation's highest quality honor.  An engaging and enthusiastic speaker, Mr. Brown regularly shares the story of the Hospital's transformation as a keynote speaker at major healthcare conferences and health system leadership meetings around the country. He also serves on several boards including The Williamson County Institute for Excellence in Nonprofits, the Georgetown Chamber of Commerce and Grace Academy.  He is a member of the City's 2030 Strategic Plan Steering Committee and teaches a weekly Bible study at Main Street Baptist Church. Mr. Brown graduated from the University of North Carolina at Chapel Hill and earned an MBA from Winthrop University.
Dayne M. Carlson
Dayne Carlson retired in 2011 after 33 years of service with the Military and Federal Government. He began volunteering as a cashier at The Caring Place in 2012, and is well known for his enthusiastic closing announcements in English and Spanish. Born and raised in Georgetown, Mr. Carlson graduated from Georgetown High School then earned a degree from Tarleton State University, and graduated from Golden Gate University with a Masters in Public Administration/Justice Administration. Mr. Carlson enjoys hunting, fishing, woodworking, and traveling the world with his wife, Pam.
Chuck Collins
Chuck Collins, born in Vicenza, Italy, grew up in Denver, and has lived in Georgetown since 2001.  He served in the United States Air Force for ten years and was stationed in Grand Forks, ND, RAF Chicksands, England, and Abilene, Texas. Mr. Collins graduated from Texas A&M, Corpus Christi, where he earned a degree in Management, Information Systems.  Currently, the Executive Director of GTX Connect, Mr. Collins has worked for various corporations including British Petroleum, Price Waterhouse Coopers, IBM, and General Motors. Mr. Collins serves on several local boards including The Friends of the Library, Prosper Georgetown, and Georgetown Housing Advisory Board. He is an active member of San Gabriel Unitarian Universalist Fellowship where he also serves on the board. He and his wife, Irma, have raised five children in Georgetown. In his free time, Mr. Collins enjoys gardening and creating art from recycled materials.
Lindsay Harris
Lindsay Harris, originally from Houston, moved to Georgetown in 2016 and currently serves as the Chief Strategist of Leadership and Culture in the Georgetown Independent School District. She attended Texas A&M University where she received a BS in psychology and a Masters in Educational Leadership. Lindsay holds a Superintendent Certificate from Lamar University and is passionate about public education. Her experiences as a Spanish teacher, an assistant principal and dean of instruction, and ten years of serving the Bryan and Georgetown communities as a middle school principal have shown over and over again that schools, families, and communities working together to meet the needs of students is what all children deserve! Ms. Harris enjoys traveling, reading, and spending time with family.  
Patricia Khoury
Patricia Khoury grew up in Brooklyn, and after marrying, spent several years in Delaware until she moved home to Texas in 1972. With a degree in Elementary Education from State University of New York at Potsdam, and a MA in Spanish from Middlebury College, Ms. Khoury taught Spanish and English as a Second Language for 23 years. She also served as Choir Director for churches in Katy and Beaumont, Texas. Ms. Khoury has been a resident of Georgetown since 2000, and is now retired. In addition to serving on The Caring Place Board, she has also volunteered as a shopping assistant in our Food Pantry for over 10 years where she has the opportunity to use her Spanish speaking skills regularly.
Isaac Lopez
Isaac Lopez, born and raised in Williamson County, has called Georgetown home since 1993. Mr. Lopez served four years in the US Navy, and then the US Postal Service for 31 years retiring as the US Postmaster in Columbus (TX). He has served on many elected or appointed boards and commissions. He was the first Hispanic elected to the Round Rock ISD Board, and was also elected to the Columbus ISD Board, serving on both for many years. Mr. Lopez has an extensive history of civic engagement for which he has received a number of honors and awards, including a Round Rock elementary school dedicated in his honor. He has volunteered with The Caring Place since 2005 holding a variety of positions including: client advocate, cashier, customer services and receptionist/triage. Mr. Lopez attended Central Texas College, Austin Community College and St. Edwards University. He is a member of St. Helen Catholic Church where he serves as an usher, lector and Eucharistic minister. Currently a widower, Mr. Lopez was married to Ellen for 46 years and has three children and five grandchildren.
Stephen Schlobohm
Born and raised in Alton, Illinois, Shephen Schlobohm worked as a Forester with the U.S. Forest Service for 37 years.  He also served as Communications Specialist in the Army and as Director of the Golconda Job Corps Center, an education and training program for disadvantaged youth. Mr. Schlobohn has extensive volunteer experience including: parish council membership, Boy Scout Troop Committees and Councils, and working as a Client Advocate at The Caring Place for eight years. In addition, under a U.S./Canadian agreement, he was U.S. Co-Chair of an international Lake Superior working group. Mr. Schlobohm received a BS from University of Missouri, and attended graduate school at University of Illinois and New Mexico State University. He is certified in Strategic and Participative Planning. Mr. Schlobohm and his wife, Judy moved to Georgetown in 2009, and enjoys traveling, volunteering and playing Pickle ball.
Glenn Schwab
A native of Litchfield, Illinois, Glenn Schwab is the Senior Associate Athletic Director at Southwestern University. Mr. Schwab received his undergraduate in Kinesiology and Athletic Training from Eastern Illinois University and his Masters Degree from West Virginia University. Before moving to Georgetown in 2001, Mr. Schwab worked as Head Athletic Trainer at Rhodes College and Assistant Athletic Trainer at the Virginia Military Institute. He is an active member of Main Street Baptist Church, and the SERTOMA Club of Georgetown where he previously served as President and Chairman of the Board. When he has time, Mr. Schwab enjoys woodworking and most outdoor activities including gardening.
Sheron Scurlock
Sheron Scurlock is the Co-Owner of Scurlock Farms, and also serves as its Vacation Rental Manager. She grew up in Rockdale, moved to Georgetown in 1971 where she worked in the insurance industry for 39 years, and owned her own company for 18 years. After retiring in 2005, Ms. Scurlock, and her husband, Dan, wanted to give back to their community, and started a cooking program at Gabriel Oaks Church of Christ. Now known as the Tuesday Lunch Bunch, they and several members meet every Tuesday to cook and deliver meals to shut-ins and the sick. Ms. Scurlock has volunteered as a pricer and cashier with The Caring Place since 2005. She has a passion for our work is a great volunteer recruiter for the organization. In addition, she totally furnished three vacation rental homes with purchases made through TCP, and guests love the décor. Ms. Scurlock enjoys reading, gardening, traveling and interacting with her guests at the farm.
Christopher Stanley
Christopher Stanley is an attorney and shareholder with Sneed, Vine & Perry's Georgetown office where his area of practice focuses on non-family civil litigation, representing businesses and individuals in civil disputes. Mr. Stanley has been a mediator since the early 1990s and has mediated hundreds of cases to a successful conclusion. Prior to joining Sneed Vine in 2015, he owned his own law office in Georgetown for 21 years. Mr. Stanley graduated from Texas A&M University and received his J.D. from South Texas College of Law.  An involved volunteer leader with a number of community organizations, Mr. Stanley currently serves as a member of the City of Georgetown Planning and Zoning Commission and Williamson County Bar, and is President of the American Inns of Court-Williamson County Chapter. He has lived in Georgetown since 1993, has three grandchildren, and is a member of Harley Owner's Group and Texas XXX's Rugby Football Club.
Holly Steger Stevens
Holly Stevens works for the NASA International Space Station Advisory Committee and is concurrently the Manager of Federal Relations for American Pacific Corporation, a specialty chemical company.  Mrs. Stevens is a former Commissioner of the Texas Aerospace Commission and former Advisor to the Governor on Aerospace and Aviation.  She worked in The White House Office of Legislative Affairs during the George H. W. Bush administration.  Ms. Stevens has served in a variety of local philanthropic endeavors and is a member of the Board of Directors of two industry-related organizations.  She is married to P.J. Stevens, and has two children, Austin and Eliza.  Ms. Stevens grew up in Georgetown and graduated from Georgetown High School then the University of Texas.  On Wednesday afternoons, you can find her volunteering at The Caring Place.
John Sullivan
With over twenty-nine years in Public Service, John Sullivan has served as Fire Chief for the City of Georgetown since 2013.  Chief Sullivan's emergency services career began with EMT certification in Orlando, Florida, and progressed in Tucson, Arizona where he spent two decades working within an evolving response model permitting emergencies to be addressed by the closest and most appropriate resource. Chief Sullivan's career accelerated as he pursued his passion for ensuring community and firefighter safety working in various capacities including Captain, Battalion Chief, Division Chief, and Assistant Chief.  His formal education includes a B.S. Degree in Business Administration and a Master of Science & Technology Degree in Fire Service Administration from Arizona State University; he also possesses two Associate Degrees, one in Fire Science and one in Paramedicine. In addition to his duties as Fire Chief, he serves on the Commission on Aging and is a member of Zion Lutheran Church. Chief Sullivan is an avid reader, traveler, and foodie who enjoys numerous outdoor sports.
Van P. Swift
Van P. Swift is the President and CEO of First Texas Bank, Georgetown. He is a 5th generation Texan with over 35 years in the banking industry, including serving as a Commissioned Bank Examiner with the FDIC and other senior positions at several banks. Mr. Swift has served as a volunteer and Board member of various charitable organizations throughout his career and, in addition to The Caring Place, is currently on the Board of the Georgetown Housing Initiative which promotes workforce housing in the Georgetown area. He received a BBA from Texas State University, and graduated from Southern Methodist University's Southwestern Graduate School of Banking. Mr. Swift enjoys traveling, working and hunting on this ranch, and spending time with his two grown children.
Melissa Renee Valdez
Born and raised in Texas, and committed to helping people live their life the way they choose, Dr. Melissa Renee Valdez serves as Chief Clinical Integration Officer at Lone Star Circle of Care (LSCC). Dr. Valdez also serves LSCC as its Medical Director of Psychiatry and Behavior Health, as well as an Adult Psychiatrist.  Volunteer Clinical Faculty for both Baylor College of Medicine Dept. of Psychiatry and Texas A&M Medical School, Round Rock campus, Dr. Valdez graduated with a BS from Rice University in Houston, Texas. She then earned her MD/PhD from the University of Texas Southwestern Medical School and Graduate School of Biomedical Sciences, followed by completion of the General Adult Psychiatry Residency Training Program at the University of California, San Francisco. Before moving to Central Texas in 2012, Dr. Valdez volunteered with the Rice Amigos Big Brothers/Big Sisters Program, as well as the Health Professions Recruitment Exposure Program through UT Southwestern Medical School. The mother of three teenagers, she enjoys biking, learning to cook, as well as playing board games and caring for show animals with her children. 
Rhonda Wilson
Rhonda Wilson retired as Vice President of AAA Texas in 2017, after working there for 32 years. She lived in the Austin area for over 38 years, and moved to Georgetown in 2016. Shortly after she retired, Ms. Wilson began volunteering in The Caring Place Food Pantry. She holds a BA in Business Administration from St. Edwards University.