This month, would you consider making a donation to our Amplify campaign?  Between now and March 6th at 6 p.m. all donations are being matched up to $27,000 by our Board.  Then, donations are being further amplified by St. David's Foundation.  It's a fantastic time to give if you wanted to make the biggest difference possible!  Just click here!
---
The Caring Place relies on donations of food from the community to keep our pantry shelves filled. During 2018, The Caring Place provided 1,211,277 meals through food distributed in our Food Pantry.*
*Utilizing the conversion formula provided by the Capital Area Food Bank in Austin of 1.2 pounds of food equaling one meal. 
Here is a list of our current needs: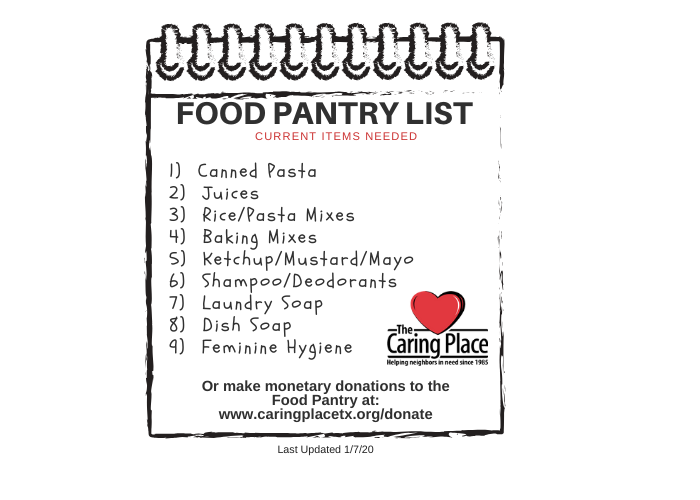 Food Pantry List
Yes, we take pretty much all non-perishables and need most all of them.  You will notice certain items on the list don't change often.  This means we need that item most of the time.  If you find that the list didn't change one month, please feel free to use the existing list.  The items on the list will be greatly appreciated.
You can support our Food Pantry in the following ways:
Make a donation of non-perishable food for the Food Pantry by dropping it off at The Caring Place Monday through Friday from 9 a.m. to 4 p.m. The food donation drop-off area is just inside the gate located at the northwest (rear) corner of the building located at 2000 Railroad Avenue. 
 
A food donation may be made at any food drive conducted by our community partners for The Caring Place. These are held at various locations throughout the year.
If your group or organization would like to host/sponsor a food drive to benefit The Caring Place, please contact David Earl at 943-0710. David can provide you with more information, register your food drive, and arrange for the delivery and pick-up of food barrels.  Here's a little more info on Food Drives.
 
The Caring Place also accepts monetary donations in lieu of food, with the funds used to purchase needed perishables that cannot be donated through a traditional food drive. The dollars are also used to purchase non-perishables to keep our shelves filled with the widest possible variety of food. Click to Donate by Credit Card.
Need Help Planning a Food Drive? Here's a flyer to get you started!