How to Donate My Stuff!*
*Have questions about why our Donation hours are limited?  Check out this FAQ about how the many changes brought on by COVID-19 have required us to reduce hours.  It's a balancing act, but we are committed to being here for our community in this critical time.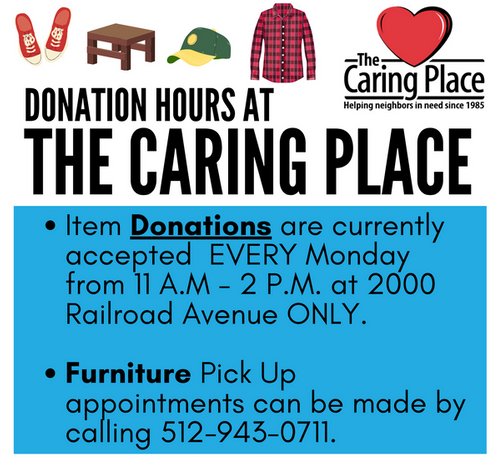 We take Donations EVERY* Monday from
11:00 A.M. - 2:00 P.M. 
*This excludes inclement weather closures and holidays
NEW DROP-OFF PROCEDURES ON REGULAR DONATION DAYS:
Bring approved items in a box or bag.
Our staff will unload your vehicle
Practice Social Distancing.
Approved items can be found on our blue Donation Guidelines sheet found on this page.
FURNITURE DONATION REMINDERS (for scheduled furniture pick ups):
Furniture must be in good, salable condition.
We can't accept furniture on the blue Donation Guidelines page.
We reserve the right to say no to items.
ITEM LIMITATIONS:
The blue Donation Guidelines page on the site includes all the typical items we take on regular Donation Days in the left column.  The right column includes the some of the most common items that we can not take.  Download the full list of items we do not take below.
Thank you for understanding that there are items we do not take as donations. This allows us to best use our resources and be good stewards of the items and funds that are given to us. There is a time expense and financial cost associated with each item we can not sell. We would much rather all proceeds from our stores go to supporting this mission to help those in need rather than disposal or repair fees. Click the red text to download the full list.
---
How to Schedule a Furniture Pick Up
Now taking appointments for furniture pick ups! Please read the following info in its entirety before calling to make your appointment!
When:  Wednesdays, Thursday & Fridays 8:30 a.m. - 12:00 p.m.  (You must be available during this window until your item is picked up.)
How:  Call 512-943-0711 and leave a message with the following info:
First and Last Name
Phone number
Name the furniture item/s 
Address (Please be sure to check our map to ensure you are in our pick up service area)
The date you prefer your pick up (Wednesday or Friday between 8:30 and Noon)
Things to know before making your appointment:
We only pick up items in our Furniture Pick Up Service Area.  Please view the map below.
Items must be left outside or in the garage with a clear path to them.
Upon arrival, TCP staff will properly identify themselves and proceed to pick up items with all effort given to do this in a safe, socially distanced and responsible way.
TCP staff will make every effort to arrive for the scheduled pickup on time. Please remain available until your item is picked up. 
In the event of a necessary change or cancellation, TCP will contact the donor via phone to communicate the change and reschedule.
To cancel or reschedule call 512-943-0711 and begin the process again.  
Items will not be accepted that are visibly damaged or not in working condition. This will be determined at the discretion of TCP drivers.  To avoid this, please review accepted Furniture donation list and be sure items are clean and in good condition for selling.
---
We have a furniture pick-up service area!  Please use the map below to learn if we can pick up your clean, quality furniture item to benefit The Caring Place mission!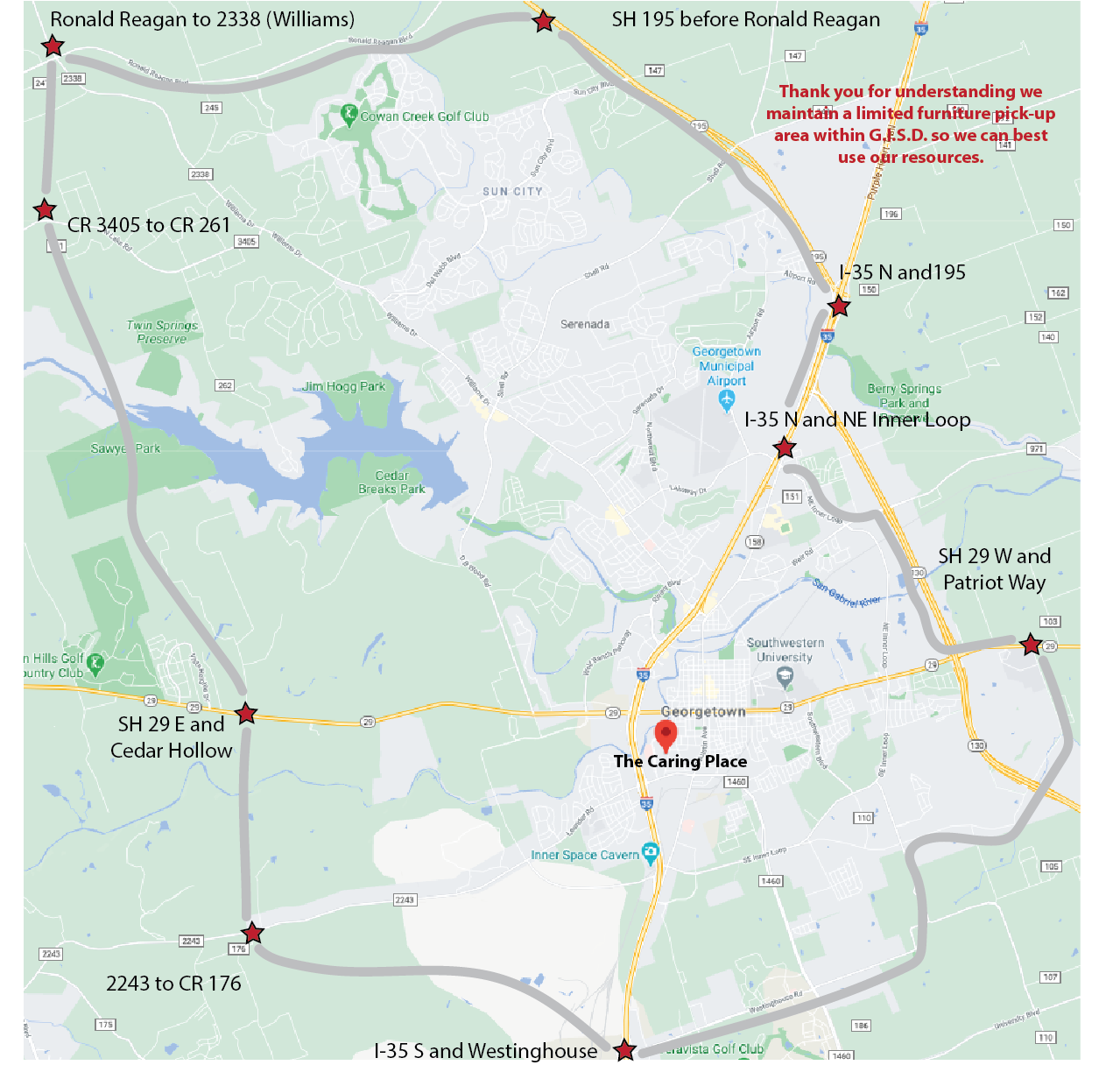 Thank you for thinking of The Caring Place at this time. And, thank you for your patience as we learn new protocols to ensure everyone's safety. Your donations help support The Caring Place mission to provide for the basic human needs of all people in our community in a welcoming, respectful and caring way. Questions may be emailed to donations@caringplacetx.org or leave a message at 512-943-0711.  For immediate assistance, please call our main number at 512-943-0700.
Please follow us on Facebook @thecaringplace for the latest information or activity changes at the organization. You can also sign up for the organization's electronic newsletter at www.caringplacetx.org/newsletter.