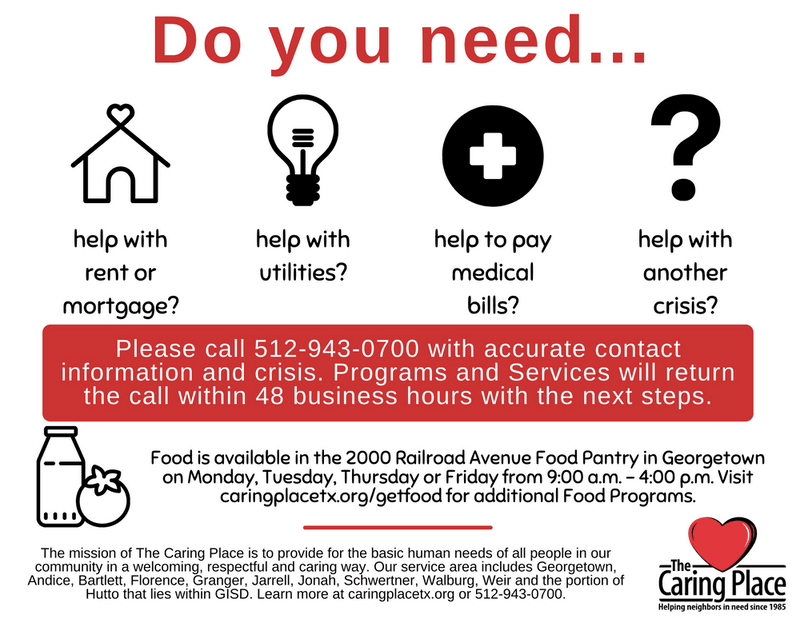 ---
Programs & Services via telephone:
Hours:  Monday - Friday, 9:00 a.m. - 4:00 p.m.
Services:  Financial Assistance for those in our service area includes rent, mortgage, utilities, transportation, emergency dental and  prescription assistance with a verifiable proof of crisis.  All financial assistance will be handled remotely.  Please call 512-943-0700 and follow the prompts for basic needs assistance and staff will contact you within 48 business hours with the next steps. PLEASE LEAVE A WORKING PHONE NUMBER WITH A WORKING VOICEMAIL so that we can contact you as quickly as possible.  Please do not arrive at The Caring Place office unless instructed by staff or you need to update your Caring Card for food assistance.
Programs & Services staff will direct you via phone or email if you need to print documents and return.  You may click and download these document files below.
This downloadable document is periodically updated. It includes additional external resources that may help those impacted by COVID-19. Please contact the resource listed for additional information.
---
Food Programs:  The Food Pantry and Fresh Food for Family Food Programs are open to neighbors in need in our community.  If you have questions about services or eligibility at The Caring Place, please call 512-943-0700 and follow the prompts for basic needs assistance. 
Food Programs are found at caringplacetx.org/getfood.
---
Due to changes during this time, The Caring Place requests that the community follow it on Facebook @thecaringplace for the latest information or activity changes at the organization. You can also sign up for the organization's electronic newsletter at www.caringplacetx.org/newsletter.  
Last Update: January 8, 2022
If this page does not answer your questions about current hours and services, please call 512-943-0700 for general questions during business hours.