Here's a Quick Guide to Our Hours...Keep Reading if you need more details!
---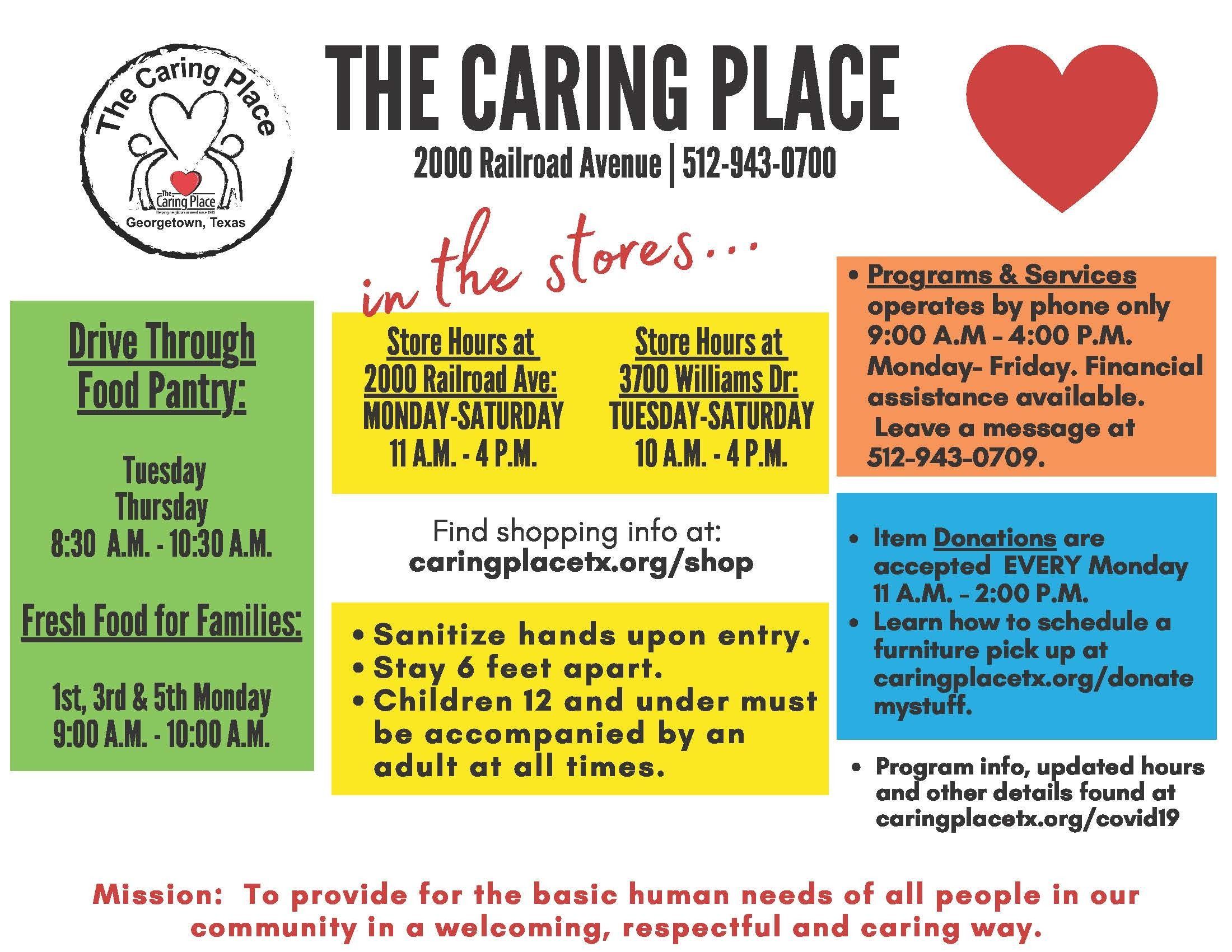 ---
The Caring Place Update Details
Last Update: September 15, 2021
If this page does not answer your questions about current hours and services, please call 512-943-0700 for general questions during business hours.  Please KEEP READING to learn hours of Programs and Services Hours, Food Pantry Drive Through Hours, Store Hours and scheduled item Donation dates.
The Caring Place is operating with a reduced number of volunteers and limited storage for certain programs.  For this reason, here are the details the community needs to know before arriving at The Caring Place:
Programs & Services via telephone:
Hours:  Monday - Friday, 9:00 a.m. - 4:00 p.m.
Services:  Financial Assistance for those in our service area includes rent, mortgage, utilities, transportation, emergency dental and  prescription assistance with a verifiable proof of crisis.  All financial assistance will be handled remotely.  Please call 512-943-0709 and leave a message regarding your need and someone will contact you within 48 hours with the next steps. PLEASE LEAVE A WORKING PHONE NUMBER WITH A WORKING VOICEMAIL so that we can contact you as quickly as possible.  Please do not arrive at The Caring Place office unless instructed by staff.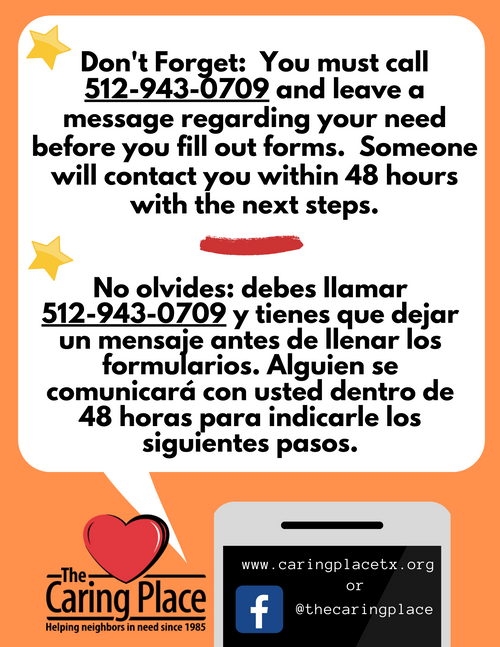 Programs & Services staff will direct you via phone or email if you need to print documents and return.  You may click and download these document files below.
This downloadable document is periodically updated. It includes additional external resources that may help those impacted by COVID-19. Please contact the resource listed for additional information.
---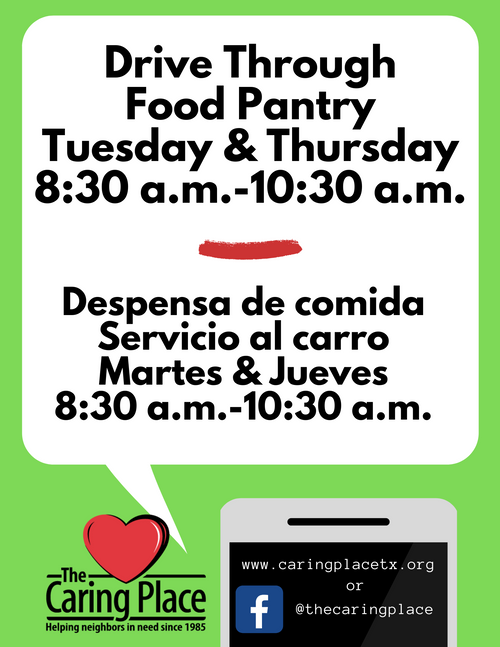 Food Programs:  The Drive Through Food Pantry and Fresh Food for Family Food Programs are open to neighbors in need.  If you have questions about services or eligibility at The Caring Place, please call 512-943-0700. 
Drive through food distribution is on

Tuesday and Thursday from 8:30 a.m. - 10:30 a.m.

  If you walk to The Caring Place, you may receive food at our north gate.  We ask the questions on the Temporary COVID-19 Intake Form from this website at this event.
Fresh Food for Families remains on the

1st, 3rd and 5th Monday from 9:00 a.m. - 10:00 a.m.

  If you walk to The Caring Place, you may receive produce at our north gate.
Both food programs operate out of the 2000 Railroad Avenue drive though.  The Caring Place practices social distancing, and you should not need to exit your vehicle during food distribution.
Food Programs in the Bartlett Area:
2nd Wednesday of the month 10:00 a.m.-12:00 p.m. at the First United Methodist Church at 645 West Clark St.
Food Programs are found at caringplacetx.org/getfood.
---
The Shops at The Caring Place at 2000 Railroad Avenue (Thrift Store): 
Hours:  Monday - Saturday,  11:00 a.m. - 4:00 p.m.
Things to Know:
Masks encouraged.
Hand-sanitizer is available and encouraged upon entry.
Practice social distancing and stay 6 feet apart.
Children 12 and under must stay with an adult at all times.
Second Helping at 3700 Williams Drive (Thrift Store): 
Hours:  Tuesday - Saturday,  10:00 a.m. - 4:00 p.m.
---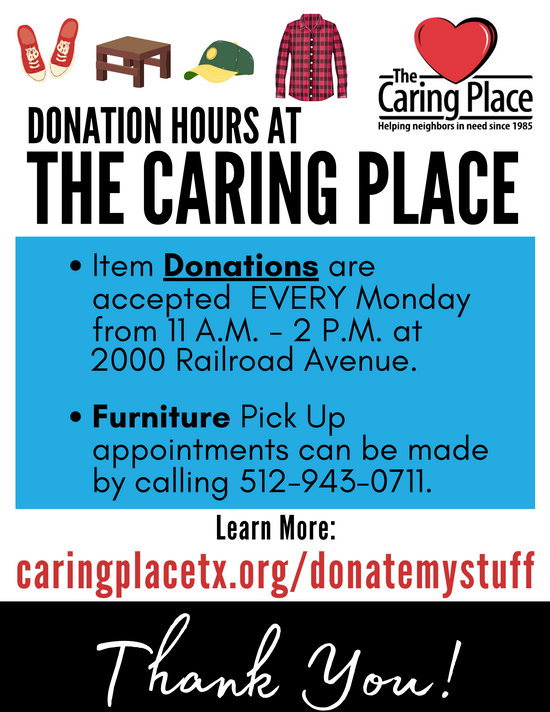 Item Donations:
Need more info on donating your stuff?  We have updated our Donations page and you can now find that info and information about Furniture Pick Ups there!  Reminder:  We can't accept food donations at this time.
www.caringplacetx.org/donatemystuff
*Have questions about why our Donation hours are limited?  Check out this FAQ about how the many changes brought on by COVID-19 have required us to reduce hours.  It's a balancing act, but we are committed to being here for our community in this critical time.
---
How can you help The Caring Place?
It's important that we feed our community at this time, however to avoid additional handling and exposure, we can't accept any nonperishable food items from our community. The Caring Place can purchase food in bulk at a reduced rate from the Central Texas Food Bank. 
The Caring Place's Mission is to be here for its community during and after this pandemic and we need help to make sure that happens.
You can donate at www.caringplacetx.org/donate or create a Facebook fundraiser benefiting The Caring Place. (Listed at Georgetown Community Service Center dba The Caring Place on Facebook.) You may also send checks to P.O. Box 1215, Georgetown, Texas, 78627.
The City of Georgetown sponsors the Good Neighbor Fund, a program to assist eligible Georgetown Utility customers who are having difficulty paying their utility bill. Voluntary contributions from customers like you fund this program, which is administered by The Caring Place on behalf of the City. Contributions can be made to the fund by paying the total due on your utility bill, plus one dollar. You are also able to make a monthly pledge, which will be billed to your utility bill, and can be cancelled at any time for those families paying their bill electronically. You can enroll in this program by simply checking the box on your utility bill each month and writing the check for $1 more, or by completing the pledge form on-line at the City's website.
Please use the AmazonSmile platform to do your online shopping and designate The Caring Place as your nonprofit. .5% of you purchases will benefit The Caring Place.
If you are shopping at Randalls for your necessities, please ensure that you have selected The Caring Place as your nonprofit.  1% of your purchases will benefit The Caring Place.  The Caring Place's account number is 13870.  The Good Neighbor program form can be found online and should be returned to the Randalls courtesy booth.
Due to limited space and human resources, we are scheduling dates that you can drop off donations.  It is imperative that the stores are stocked with items to sell though, so we hope you'll save your items for us and bring them on scheduled days.
You can find all of our blog posts and Press Releases HERE.
---
Due to a rapidly evolving situation, The Caring Place requests that the community follow it on Facebook @thecaringplace for the latest information or activity changes at the organization. You can also sign up for the organization's electronic newsletter at www.caringplacetx.org/newsletter.