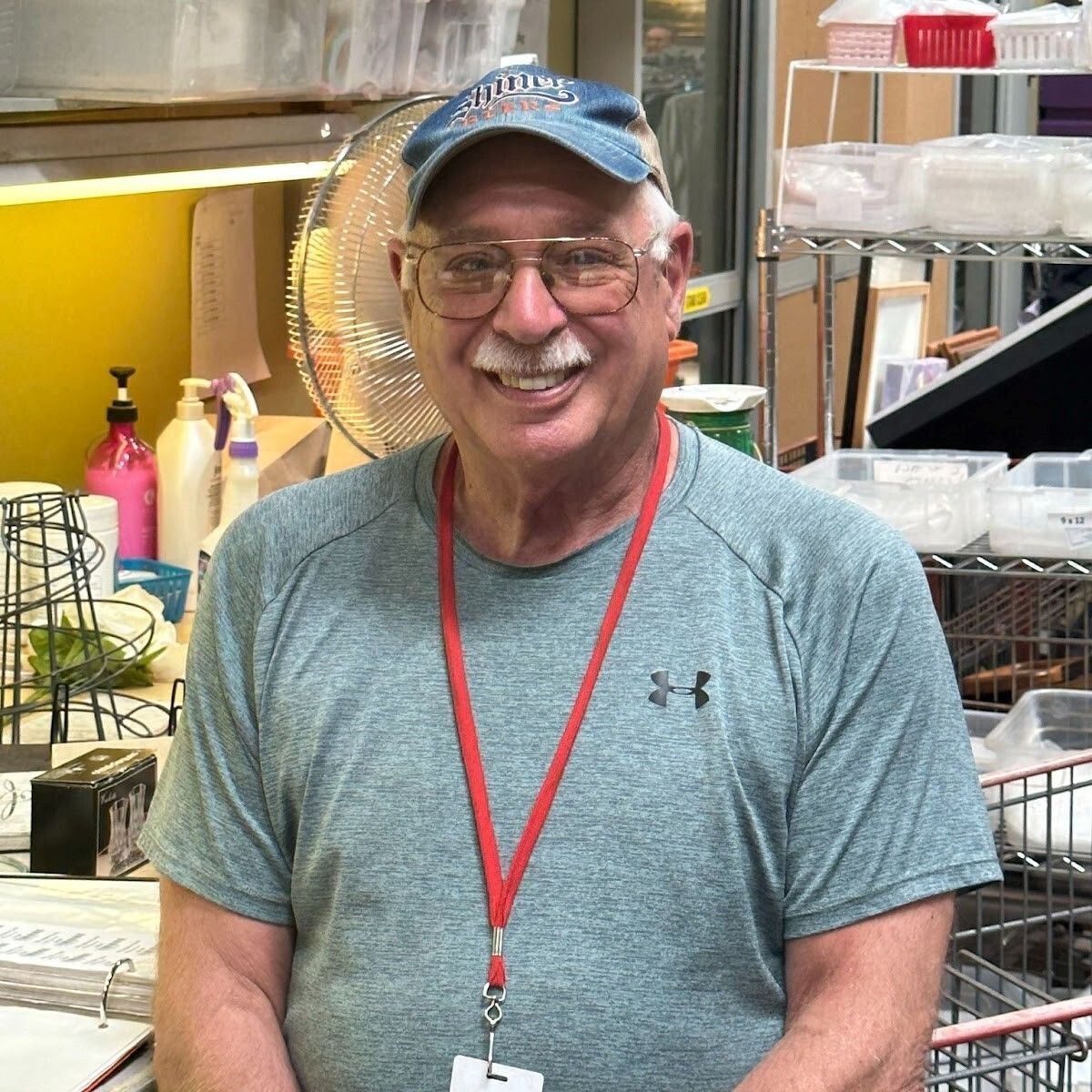 Walking up to the pricing desk in the warehouse of The Caring Place, a man is sitting quietly, hard at work. His name is Al, and his workspace is accented by sticker books and various items. On the surface, it may seem hard to believe, but this reserved volunteer has been part of The Caring Place team for 12 years!
A 72-year-old with 2 daughters and 6 grandchildren, Al is now retired. Previously living in Round Rock, he moved to Georgetown over a decade ago. In 2005, a friend of his who was volunteering told Al about The Caring Place and its opportunities. 12 years later, he says that what has kept him volunteering at The Caring Place is what spurred him to start in the first place: boredom. But, according to Al, The Caring Place is a great remedy for idleness. In the time he's been with The Caring Place, he's been employed as store staff, including as Manager of Second Helping when he retired in 2020. Al wasn't done at The Caring Place, though. He now volunteers as a pricer, cashier and donations assistant. He's never tied down to one area, and is open to helping out in any area of the store. And that makes sense, considering his broad range of experience across the retail space at The Caring Place. He even helped with the Food Pantry drive through distribution during the pandemic. Al says hard work is what all of his experiences at The Caring Place have had in common.
Our Retail Operations Manager, Ann, speaks very highly of Al. In their time together, Ann recounts him as an "exemplary volunteer" whose willingness to help out anywhere and dedication to The Caring Place makes him truly special.
Overall, Al says what he loves most about The Caring Place is the people. He enjoys the sense of camaraderie among the volunteers here. We thank Al for his dedication to serving The Caring Place, and treasure him as a member of our team!