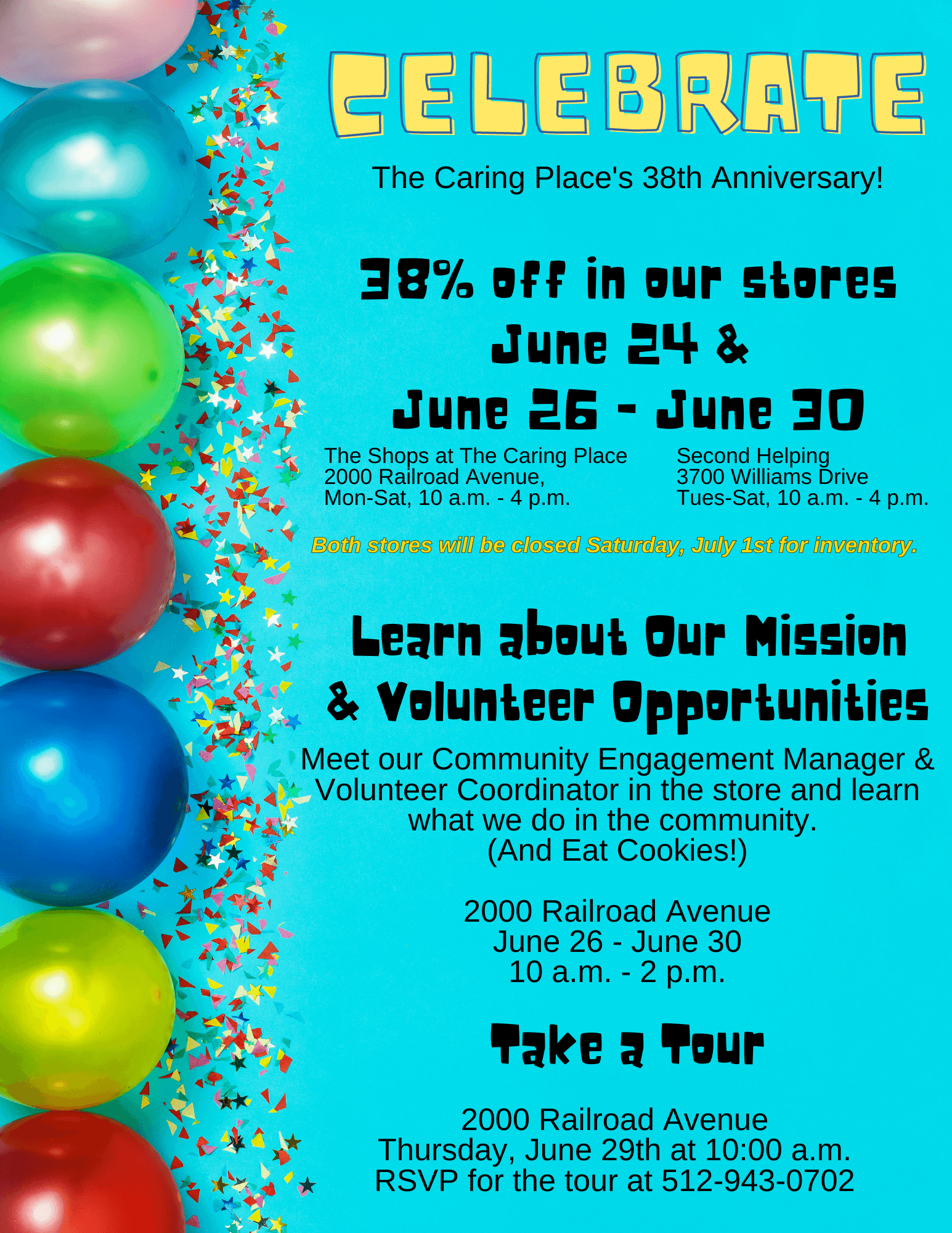 Georgetown,TX The Caring Place is overjoyed to announce that June marks its 38th year serving in the northern Williamson County community. A celebration is on the horizon to thank the community for its continued support. The Caring Place retail stores are offering a 38% discount from June 24th, and June 26th through June 30th in both of its thrift stores as well as creating educational opportunities in the main store each day.
The Caring Place's Executive Director, Ginna O'Connor, shares, "What began as a handful of volunteers, three bags of clothing and $17 in a cash box has grown into an organization serving northern Williamson County with 34 staff and over 300 volunteers. One thing that has remained the same about The Caring Place through the last 38 years is our commitment to our mission to help people with basic needs. This longevity and stability would not be possible without the support of our community. As our community has grown, so has the need. We are honored to help neighbors in need in the most caring community around."
Both The Shops at The Caring Place at 2000 Railroad Avenue and Second Helping at 3700 Williams Drive are offering a 38% discount June 24th, and June 26th through June 30th, 10 a.m. - 4 p.m., with Second Helping closed on Monday and both locations being closed on Saturday, July 1st for inventory. The Donations drive through remains open to accept donations on July 1st.

In addition to an amazing sale, the community is invited to meet staff and volunteers Monday, June 26th through Friday, June 30th from 10 a.m. - 2 p.m. in The Caring Place's 2000 Railroad Avenue thrift store. Cookies will be available as well as someone to share information about our work. Are you interested in shopping, volunteering or donating at The Caring Place? This is a great time to ask your questions, fill out a Volunteer Application or pick up an organizational info card.
Learn more about The Caring Place by taking a tour! Tour time is Thursday, June 29th at 10 a.m. RSVP with Rita Turner at rturner@caringplacetx.org or 512-943-0702.

Learn more about how to get involved at The Caring Place at caringplacetx.org/getinvolved.
ABOUT THE CARING PLACE
Since 1985, The Caring Place has provided for the basic human needs of all people in our community in a welcoming, respectful and caring way. The Caring Place is a community-based, community-supported, and community-serving organization in Georgetown, Texas. The Caring Place service area includes Georgetown, Andice, Bartlett, Florence, Granger, Jarrell, Jonah, Schwertner, Walburg, Weir, and the portion of Hutto within GISD. Learn more at caringplacetx.org.
###