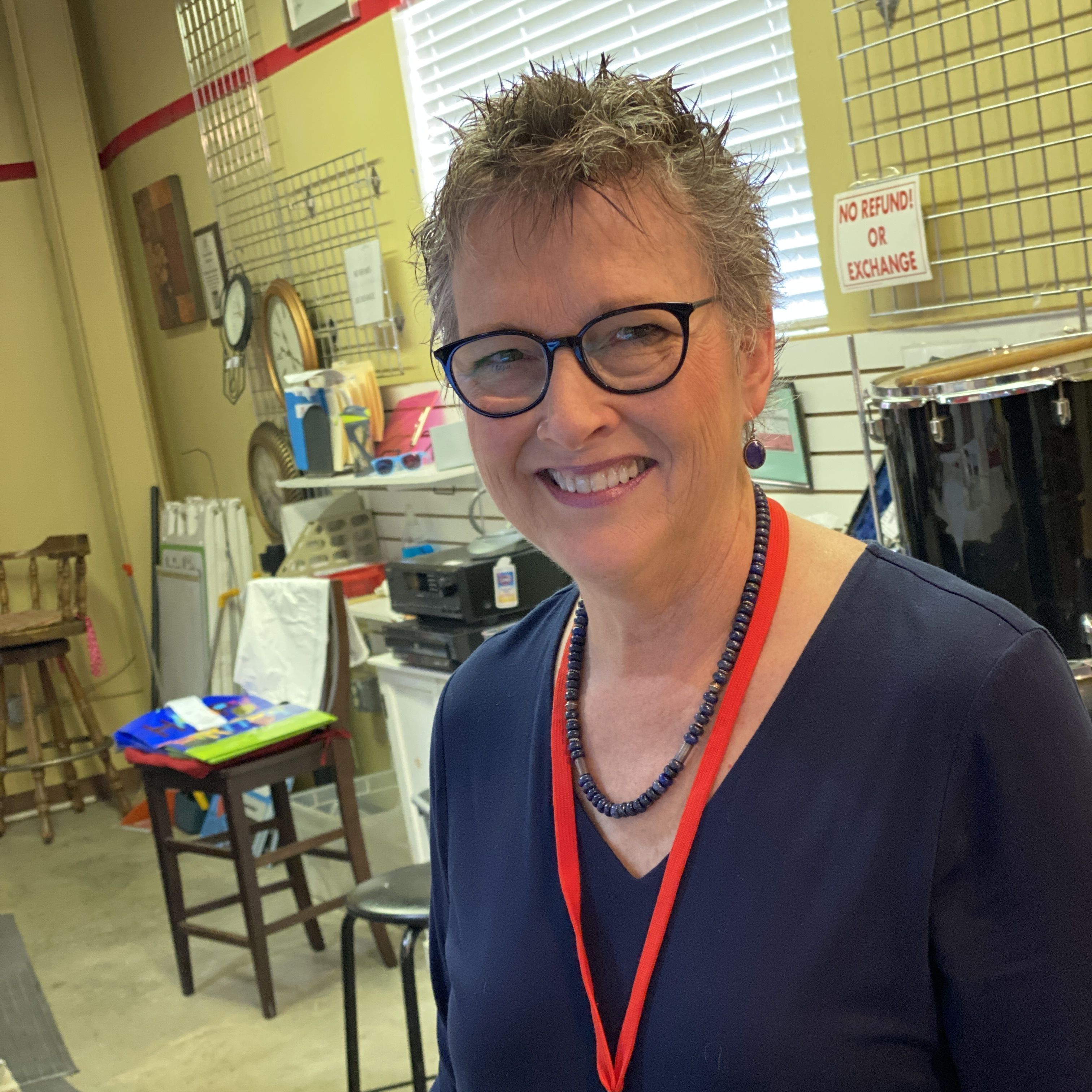 The mission of The Caring Place is to provide for the basic human needs of all people in a welcoming, respectful and caring way. These three ways of doing things listed in our mission statement are probably why Carolyn fits in so well at The Caring Place. Welcoming, respectful and caring. Whether greeting people at the door, making short announcements on the intercom or chatting up customers at her register, one thing is always obvious about Carolyn. She's happy and The Caring Place values come easy. She's thrilled to be at The Caring Place volunteering her free time as a cashier in one of our thrift stores. Full of energy and no shortage of smiles, she's a delight.

Carolyn sought out The Caring Place because she knew some other volunteers in her Sunday School class who raved about their time volunteering. When they discovered Carolyn was open to doing something new, they instantly recommended The Caring Place, and "the rest is history" as Carolyn says! After a few months of volunteering, it was easy for Carolyn to describe why she volunteers and why others should, too. "They train you. You have fun and you stay busy. It's an exciting place and important to our community. I love it here." Carolyn continues with a smile, "It's worthwhile. You don't have a bunch of work emails, or meetings and no homework. You just come in with energy and love to serve others. You come in, do your thing and go home. You're done." She rattles this off with joyful exuberance, much like her time is spent volunteering at The Caring Place. This untamed energy and flexibility have afforded Carolyn no shortage of things to do at The Caring Place. If she comes in and a cashier is not needed, she organizes or puts off-season things away. Staff are always happy to do a little cross-training to use the time and talents of our volunteers.

Carolyn and her husband moved to Sun City ten years ago. Her neighbors all shared that everyone moves here with too much stuff, so they should donate their stuff to The Caring Place. Carolyn did that until she recently had a schedule change that allowed her to add volunteering to her week. She's retired from hospital administration now, but she said people skills are definitely the skills that carried over and are still helpful in her volunteer life. Knowing how to handle different situations and how to empathize is helpful. "We see so many community members shopping and donating, but also some that have a 'Caring Card' and receive items at no charge." Carolyn says she likes to ensure all customers receive wonderful service and feel special. She says when people leave The Caring Place she wants them to think, "I'm glad I shopped there today! I want to go back!" no matter why they are here. Carolyn especially loves it when customers are proud of their purchases and the deals they found. She says it adds to the fun and gives them something to chat about.

If you are interested in joining The Caring Place culture and using your spare time to benefit your community as Carolyn did, visit caringplacetx.org/volunteer.