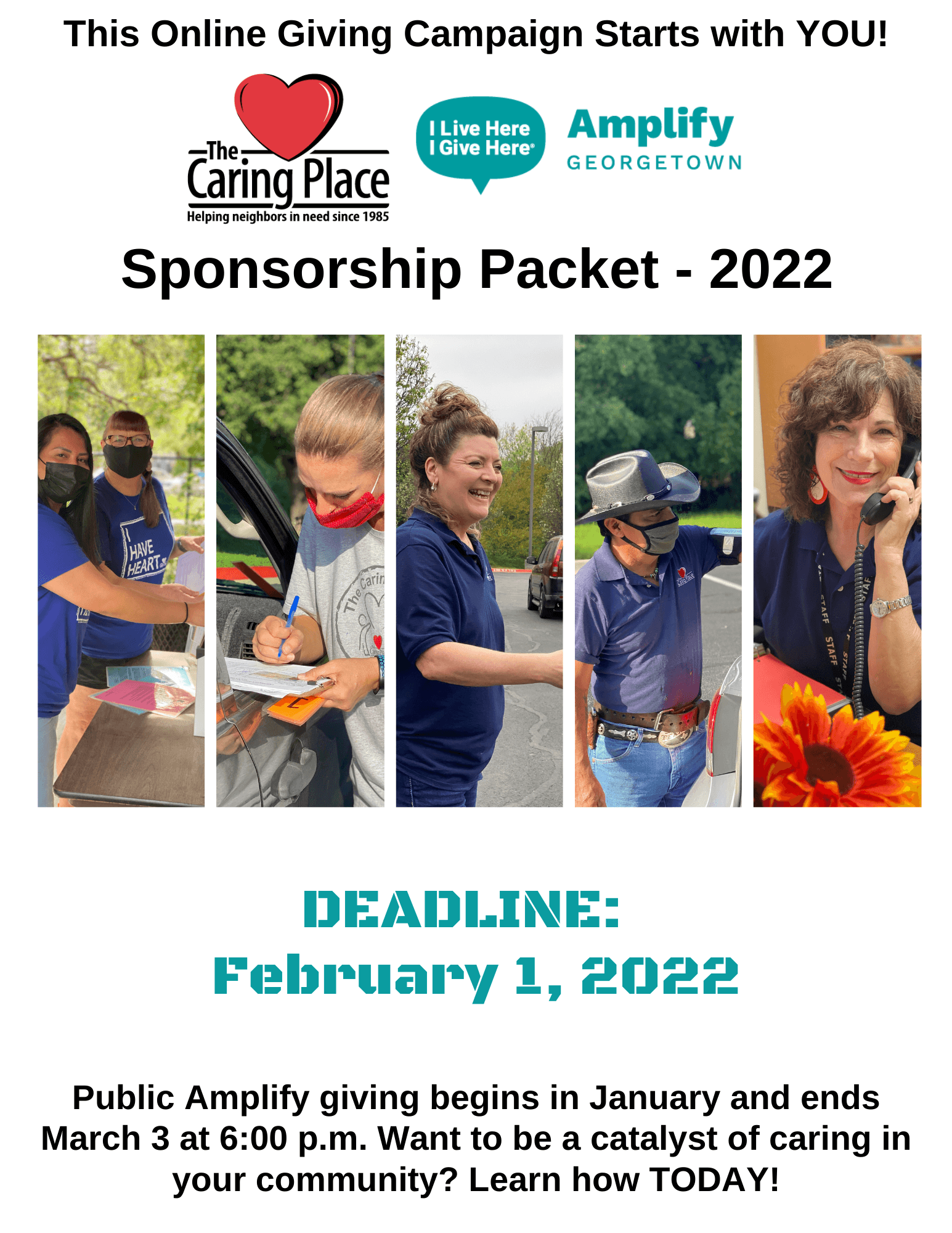 Dear Friends,
Won't you join us in helping others? Since 1985, The Caring Place has provided for the basic human needs of all people in our community in a welcoming, respectful and caring way. We help neighbors in Georgetown and northern Williamson County with food, utilities, rent, transportation and medical assistance. In 2020, The Caring Place provided over $3.1 million worth of basic needs and support in our community. There is one key element that allows us to do this important work each year with quality and care, and that is people like you.
It's not easy for struggling neighbors to ask for help, but when they need a helping hand, The Caring Place is where they turn. We are honored that neighbors trust us and allow us to be part of their story, as we help get them on their feet. Now, it's your turn to join the story.
Your participation in our 2022 Amplify event will directly impact our local neighbors with the most basic of needs. In fact, it will DOUBLE YOUR IMPACT! How? This special campaign is an annual community-wide online giving event. We plan to use your generous gift in a matching campaign! In the last few years, we have exponentially increased giving during the Amplify season by creating Amplify matching campaigns utilizing our generous Board of Directors' collective monetary gifts. In 2022, we are enlisting additional sponsors like you to create even more matching opportunities. Our community gets excited to see businesses give to The Caring Place, and we have some exciting ways to recognize your generosity! We hope you'll read more about it in this packet.
And don't worry, we won't be asking for additional generous donations for other events this year. This Amplify campaign is replacing our traditional "Deep in the Heart" signature event for 2022. This will be the easiest and most rewarding gift you give all year!
Ready to learn more?  Visit our Sponsorship page at: https://www.caringplacetx.org/how-to-help/special-events/be-a-fundraising-sponsor.html
Sincerely,
Ginna O'Connor, Executive Director
The Caring Place