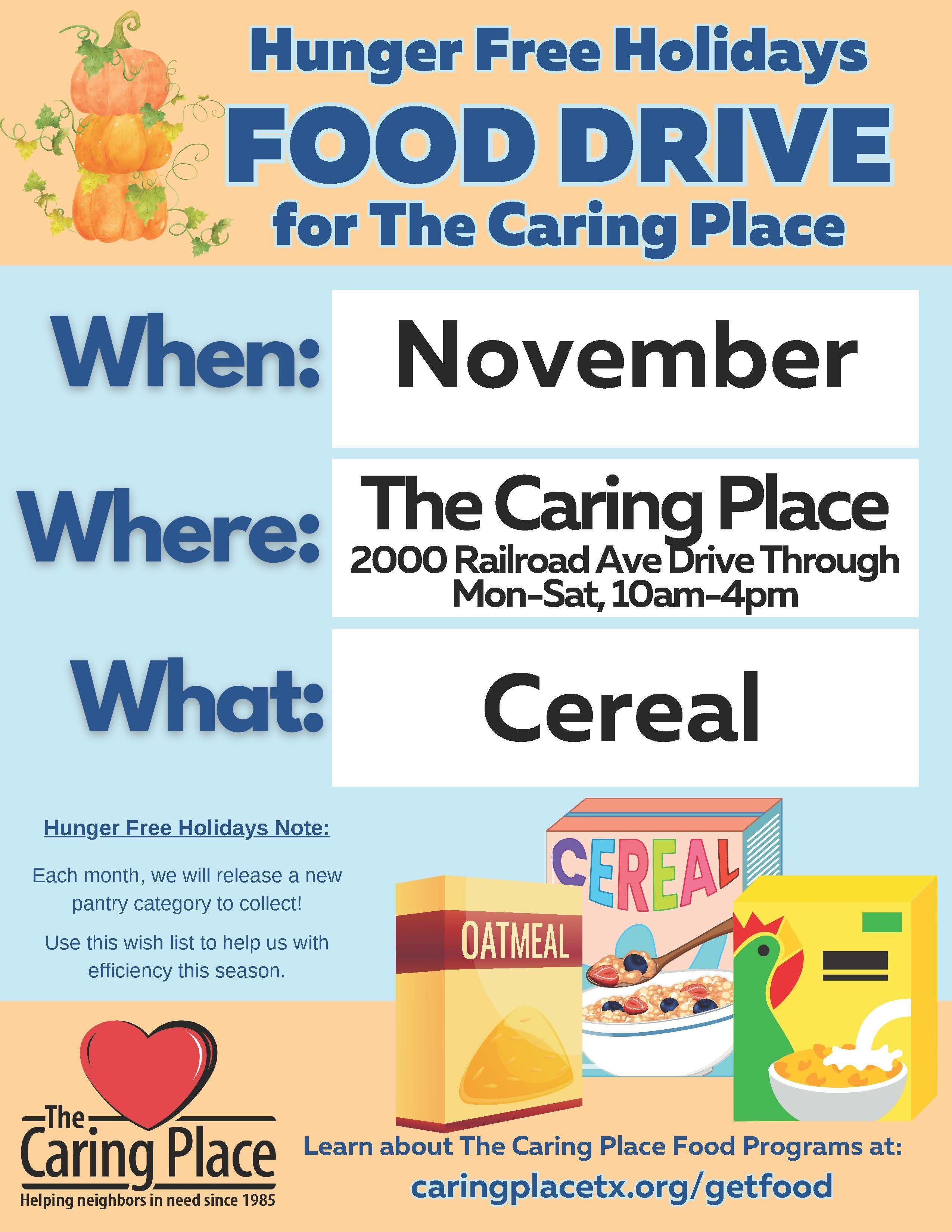 The Caring Place (TCP) brought back Hunger Free Holidays Food Drives with a twist in 2023. The campaign, intending to fill the Food Pantry with the things it needs most, is asking the community to donate specific items each month through December. The November request for the Food Pantry is for Cereal. This also includes other breakfast items like oatmeal, grits and mixes like pancake or muffin mix.
Targeted drives help The Caring Place use its resources wisely and ensure the community has a wide selection in the Food Pantry. Please check the monthly giving guide this holiday season when planning Food & Necessity Drives. Items may be delivered to the Donations drive through at 2000 Railroad Avenue, Mon-Sat, 10 a.m. - 4 p.m.
If you need the items weighed for a group Food Drive, you can park in the reserved parking spot on the north side of the building and a Food Pantry team member will assist you in unloading and weighing. This reserved parking spot is available Mon, Tues, Wed and Fri, at 2000 Railroad Avenue, 9 a.m. - 4 p.m.
Due to the record number of people utilizing the Food Pantry, The Caring Place cannot deliver or pick up the large blue barrels for collection during this year's campaign. However, you can borrow a barrel if you provide pick up and delivery. You may also make monetary gifts at caringplacetx.org/donate to help The Caring Place purchase the food the organization needs most.
TCP's Director of Food Programs & Facilities, David Earl, explains, "Due to limited space and time for sorting, we think it's important to focus on one type of item each month. It will help us supplement the Food Pantry with critical items in this busy time while keeping sorting time to a minimum."
For additional information about Food Drives, call 512–943-0738 or email fooddonations@caringplactex.org.
ABOUT THE CARING PLACE
Since 1985, The Caring Place has provided for the basic human needs of all people in our community in a welcoming, respectful and caring way. The Caring Place is a community-based, community-supported, and community-serving organization in Georgetown, Texas. The Caring Place service area includes Georgetown, Andice, Bartlett, Florence, Granger, Jarrell, Jonah, Schwertner, Walburg, Weir, and the portion of Hutto within GISD. Learn more at caringplacetx.org.
###