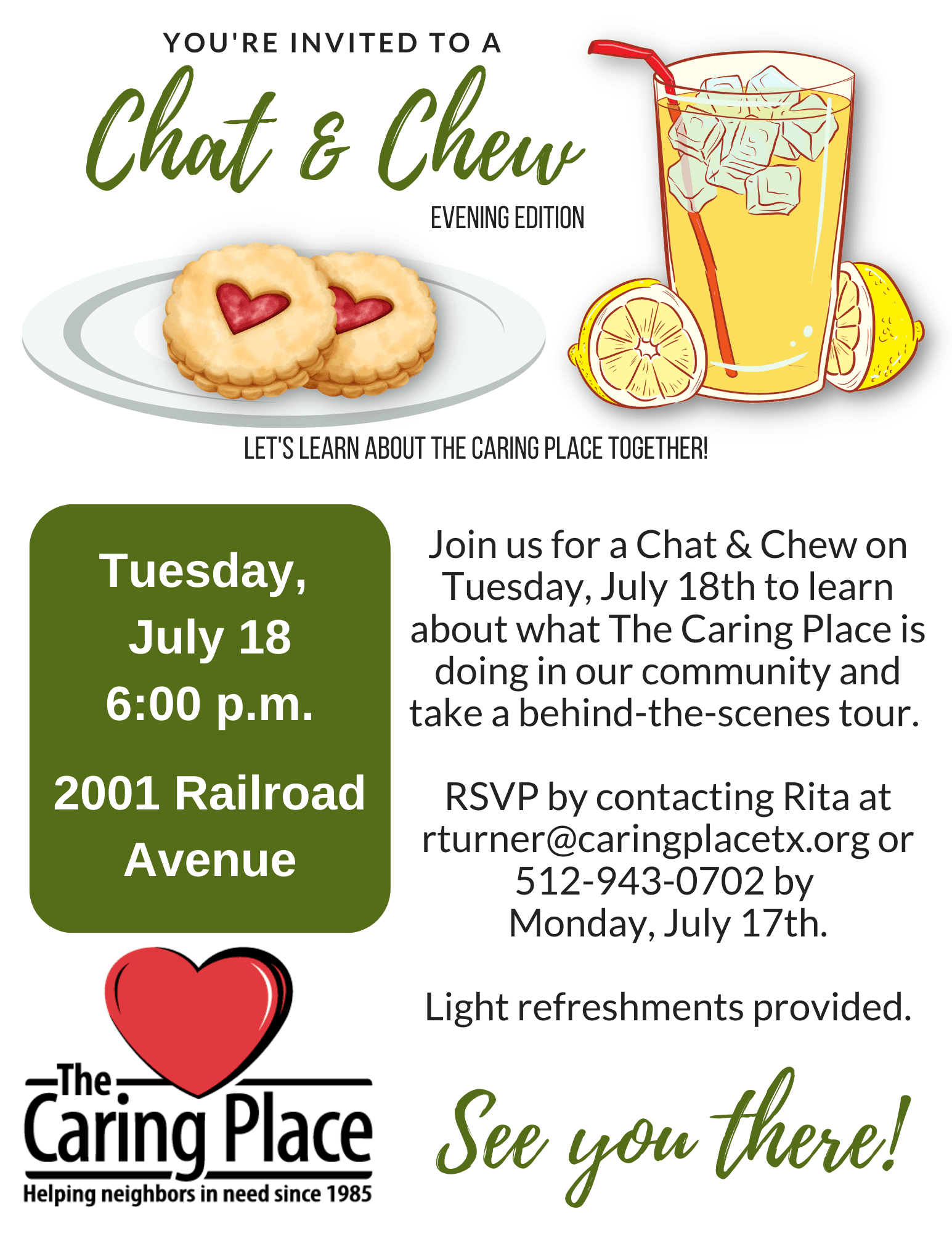 The Caring Place announces its first evening "Chat & Chew." This educational presentation and tour is free to the public on Tuesday, July 18th at 6 p.m. at The Caring Place's 2001 Railroad location in Georgetown. RSVP is required.
What is a Chat & Chew event? An opportunity to learn about The Caring Place's mission, hear from staff and get a behind-the-scenes look at what the organization does, all while you do a little light snacking. Staff will walk you through the basics of The Caring Place, including who the organization helps, the programs it offers, its history, how it's funded, and the impact it makes in Georgetown and northern Williamson County. Community Engagement Manager Rita Turner shares, "Through a tour, presentation and client stories, we hope to give you more reasons to love The Caring Place. This is the first time we have hosted an evening 'Chat & Chew' in hopes of meeting friends who may normally have other obligations during the day, but everyone is welcome."
"We hope through this event, that guests not only get their questions answered, but leave knowing the long lasting legacy of care being created in their community through this organization. The Caring Place has a heart for helping people in a tangible way, through the hardest of times. We want to be sure you know what a wonderful resource our neighbors have here in northern Williamson County," says Ginna O'Connor, Executive Director. "If you are new to our community or considering where you'd like to volunteer or financially support, this no-strings-attached event is perfect. We invite you to see firsthand what your time and gifts allow us to do."
To RSVP for Chat & Chew, call Rita Turner at 512-943-0702 or email rturner@caringplacetx.org. The Caring Place looks forward to meeting you!
ABOUT THE CARING PLACE
Since 1985, The Caring Place has provided for the basic human needs of all people in our community in a welcoming, respectful and caring way. The Caring Place is a community-based, community-supported, and community-serving organization in Georgetown, Texas. The Caring Place service area includes Georgetown, Andice, Bartlett, Florence, Granger, Jarrell, Jonah, Schwertner, Walburg, Weir, and the portion of Hutto within GISD. Learn more at caringplacetx.org.
###