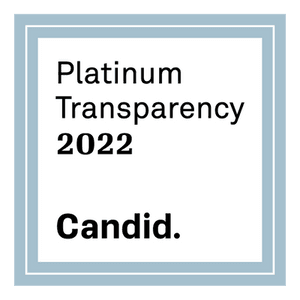 Candid, formerly known as Guidestar, has awarded The Caring Place with the Platinum Seal of Transparency for 2022. Candid helps change the world by giving people the information they need to do good. Candid's data tools on nonprofits, foundations, and grants are the most comprehensive in the world. The Platinum Seal of Transparency indicates that The Caring Place shares clear and important information with the public about goals, strategies, capabilities, achievements and progress indicators that highlight the difference The Caring Place makes in our community. According to Candid, "more than 75,000 organizations have earned Seals, making the GuideStar (Candid) Seal the most widely adopted symbol of transparency in the U.S. social sector."
Executive Director Ginna O'Connor shares, "Thank you to our community for helping us achieve this award through your support. You are the reason we are able to provide for the basic needs of our neighbors in crisis. The last few years have been challenging times in unexpected ways for our community. Your continued generosity ensures we can bring people through a crisis, and our gratefulness to our supporters motivates us to high standards and  transparency as we are entrusted with your generous gifts."
As the holidays are upon us, The Caring Place would like to remind the community of the resources available during an often budget-stretched time of year.
The Caring Place Food Pantry at 2000 Railroad Avenue will be open Mon, Tues, Wed, Fri, 9 AM - 4 PM. The Food Pantry is closed on Thursdays to conduct remote food distribution. At this time, households may visit the Food Pantry once a month. Food Pantry participants should check in at the Food Pantry's entrance at 2000 Railroad Avenue to receive food.  If you do not have an updated Food Pantry card, please visit the Programs & Services porch entrance at 2001 Railroad Avenue to enroll in the program or update your card. 
Programs & Services at 2001 Railroad Avenue is open Mon-Fri, 9 AM - 4 PM. Financial Assistance for those in The Caring Place service area includes rent, mortgage, utilities, transportation (including gas), emergency dental, and some prescription assistance with verifiable proof of crisis. You can find additional information using the Get Help icon on The Caring Place website or at caringplacetx.org/gethelp. 
Thrift Store Hours at The Caring Place include:
The Shops at The Caring Place Thrift Store at 2000 Railroad Avenue:  Mon-Sat, 10 AM - 4 PM.
Second Helping Thrift Store at 3700 Williams Drive: Tues-Sat, 10 AM - 4 PM.
ABOUT THE CARING PLACE
Since 1985, The Caring Place has provided for the basic human needs of all people in our community in a welcoming, respectful and caring way.  The Caring Place is a community-based, community-supported, and community-serving organization located in Georgetown, Texas. The Caring Place service area includes Georgetown, Andice, Bartlett, Florence, Granger, Jarrell, Jonah, Schwertner, Walburg, Weir, and the portion of Hutto that lies within GISD. Learn more at caringplacetx.org.
###