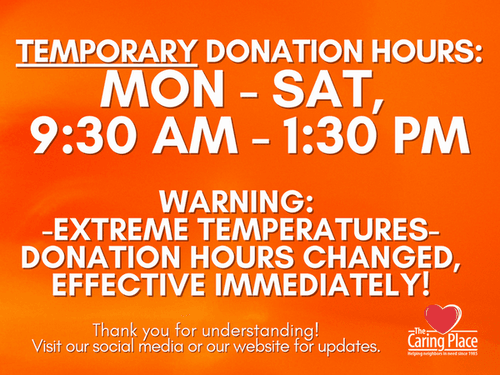 Effective immediately, Donation hours at The Caring Place are Mon - Sat, 9:30 a.m. - 1:30 p.m. This temporary change at our 2000 Railroad Avenue drive-through is due to this summer's extreme temperatures. 
The Caring Place will keep these new hours through Saturday, July 30th. The organization will reevaluate the weather forecast each week in order to decide when late afternoon hours will return. Please watch the banner on the organization's website, or visit their Social Media pages on Facebook, Instagram, or Twitter to learn about current hours in this department.
Donations Manager Justin Arzola shares "Thank you so much for understanding and continuing to make item donations in support of our mission. While we know changing our Donation hours can be frustrating, we care deeply about the health of our staff, loyal volunteers, and the donors who visit us this summer. We have implemented some new cooling measures in our outdoor warehouse this season, but it simply is not enough to combat the heat."
Other programs and hours at The Caring Place are unchanged and are as followed:
The Caring Place Food Pantry at 2000 Railroad Avenue will be open Mon, Tues, Wed, Fri, 9 AM - 4 PM. The Food Pantry is closed on Thursdays to conduct remote food distribution. At this time, households may visit the Food Pantry once a month. Food Pantry participants should check in at the Food Pantry's entrance at 2000 Railroad Avenue to receive food.  If you do not have an updated Food Pantry card, please visit the Programs & Services porch entrance at 2001 Railroad Avenue to enroll in the program or update your card. 
Programs & Services at 2001 Railroad Avenue is open Mon-Fri, 9 AM - 4 PM. Financial Assistance for those in The Caring Place service area includes rent, mortgage, utilities, transportation (including gas), emergency dental, and some prescription assistance with verifiable proof of crisis. You can find additional information using the Get Help icon on The Caring Place website or at caringplacetx.org/gethelp. 
Additional Hours at The Caring Place include:
The Shops at The Caring Place Thrift Store at 2000 Railroad Avenue:  Mon-Sat, 10 AM - 4 PM.
Second Helping Thrift Store at 3700 Williams Drive: Tues-Sat, 10 AM - 4 PM.
Furniture Pick Up: Appointments are made by calling 512-943-0711 and leaving a message. View the pick-up area at caringplacetx.org/donatemystuff.
The Caring Place service area includes Georgetown, Andice, Bartlett, Florence, Granger, Jarrell, Jonah, Schwertner, Walburg, Weir, and the portion of Hutto that lies within the Georgetown Independent School District. If you have any questions, please visit The Caring Place website at caringplacetx.org or call us at 512-943-0700, Monday through Friday, 9 AM - 4 PM.
ABOUT THE CARING PLACE
Since 1985, The Caring Place has provided for the basic human needs of all people in our community in a welcoming, respectful and caring way.  The Caring Place is a community-based, community-supported, and community-serving organization.  
###