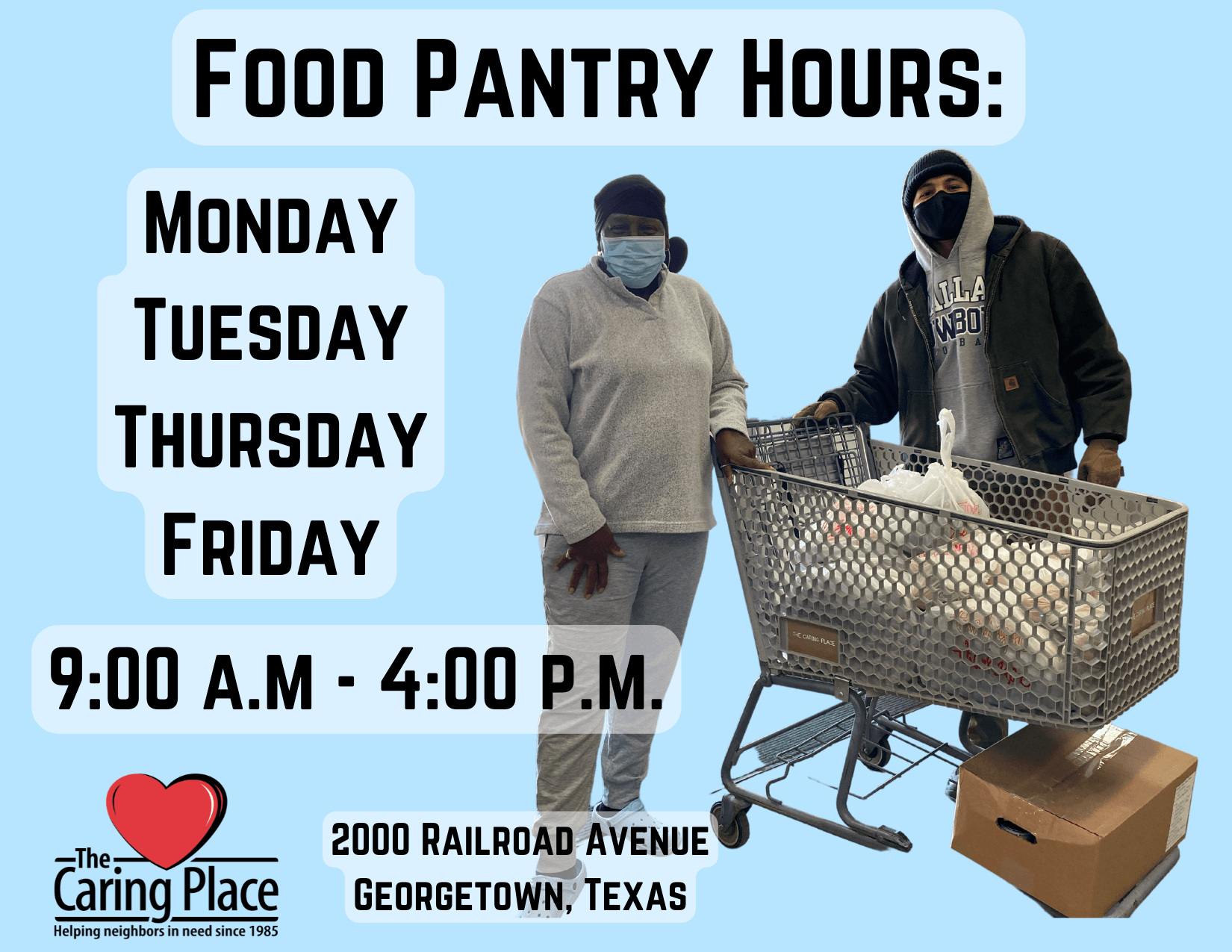 As The Caring Place continues to scale up services in 2022, the next step is returning to a free choice model in the Food Pantry.  This method of allowing neighbors to shop for the specific things they will utilize begins on Monday, April 4th.  This change in process will require some rearranging, therefore the Food Pantry will be closed on Friday, April 1 to prepare.
Food Programs and Facilities Director David Earl shares, "We are excited to get back to a free choice model in our Food Pantry.  This means our neighbors can select items they know their families will enjoy. If you find money tight right now due to increased gas or grocery costs, then we encourage you to visit us.  That's what The Caring Place Food Pantry is here for. "
Through the last 2 years, The Caring Place has undergone changes to increase efficiency and part of that has involved expanding the Food Pantry and Food Pantry Warehouse by removing old office space.  Earl adds, "In April, neighbors can expect to see a bright, large area to shop through easily, and of course many of the same cheerful staff and volunteers to welcome them."
The Caring Place Food Pantry at 2000 Railroad Avenue is open Mon, Tues, Thurs, Fri, 9 AM - 4 PM. The Food Pantry is closed on Wednesdays to conduct remote food distribution. At this time, households may visit the Food Pantry once a month. Food Pantry participants with an updated Caring Card will check in at the Food Pantry's front door entrance at 2000 Railroad Avenue to receive food.  If you do not have an updated Caring Card, please visit the Programs & Services porch entrance at 2001 Railroad Avenue to enroll or update your card. The Fresh Food for Families program serves produce from the drive through on the 1st, 3rd and 5th Monday of the month from 9 AM - 10 AM. 
Programs & Services at 2001 Railroad Avenue is open Mon-Fri, 9 AM - 4 PM. Financial Assistance for those in The Caring Place service area includes rent, mortgage, utilities, transportation (gas), emergency dental and prescription assistance with verifiable proof of crisis. Please call 512-943-0700 and follow the prompts for the basic needs assistance you are requesting and leave a message. You can find additional information using the Get Help icon on The Caring Place website or at caringplacetx.org/gethelp. 
Additional Hours at The Caring Place include:
The Shops at The Caring Place Thrift Store at 2000 Railroad Avenue:  Mon-Sat, 10 AM - 4 PM.
Second Helping Thrift Store at 3700 Williams Drive: Tues-Sat, 10 AM - 4 PM.
Donations drive through at 2000 Railroad Avenue: Mon-Sat, 12 PM - 4 PM, for a list on what The Caring Place accepts, visit caringplacetx.org/donatemystuff.
Furniture Pick Up: Wed, Thurs, Fri, 9 AM - 11 AM, appointments are made by calling 512-943-0711 and leaving a message. View pick up area at caringplacetx.org/donatemystuff.
The Caring Place service area includes Georgetown, Andice, Bartlett, Florence, Granger, Jarrell, Jonah, Schwertner, Walburg, Weir, and the portion of Hutto that lies within the Georgetown Independent School District. If you have any questions, please visit The Caring Place website at caringplacetx.org or call us at 512-943-0700, Monday through Friday, 9 AM - 4 PM.
ABOUT THE CARING PLACE
Since 1985, The Caring Place has provided for the basic human needs of all people in our community in a welcoming, respectful and caring way.  The Caring Place is a community-based and community-supported organization.  
###