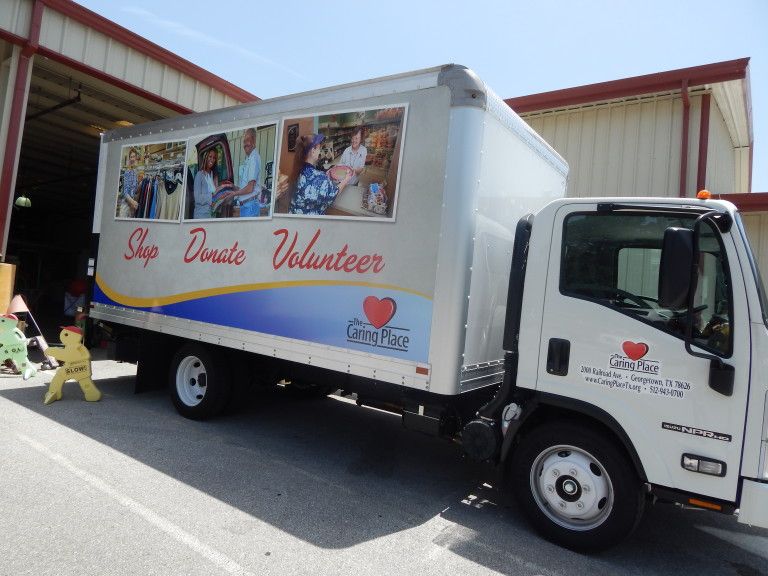 Georgetown, TX  This is a reminder release of new hours at The Caring Place. Executive Director Ginna O'Connor shares, "The pandemic created logistical challenges for The Caring Place, and I am proud to say we managed each one without losing sight of our mission to provide for basic needs in our community. Our supporters offered us patience and grace to make that happen, and we can't believe how far we have come in the last two years. We used the time to make many needed improvements in  Food Pantry and other operations. While this isn't the final step in resuming pre-pandemic services, we are excited about the strides we have made in order to serve more people, more effectively."
The Shops at The Caring Place Thrift Store at 2000 Railroad Avenue:  Mon-Sat, 10 AM - 4 PM.
Second Helping Thrift Store at 3700 Williams Drive: Tues-Sat, 10 AM - 4 PM.
Donations drive through at 2000 Railroad Avenue: Mon-Sat, 12 PM - 4 PM, for a list on what The Caring Place accepts, visit caringplacetx.org/donatemystuff.
Furniture Pick Up: Wed, Thurs, Fri, 9 AM - 11 AM, appointments are made by calling 512-943-0711 and leaving a message. View pick up area at caringplacetx.org/donatemystuff.
Programs & Services at 2001 Railroad Avenue: Mon-Fri, 9 AM - 4 PM. Financial Assistance for those in The Caring Place service area includes rent, mortgage, utilities, transportation, emergency dental and prescription assistance with verifiable proof of crisis. Please call 512-943-0700 and follow the prompts for the basic needs assistance you are requesting. You can find additional information using the Get Help icon on The Caring Place website or at caringplacetx.org/gethelp. 
Food Pantry at 2000 Railroad Avenue: Mon, Tues, Thurs, Fri, 9 AM - 4 PM. At this time, households may visit the Food Pantry once a month. The Food Pantry is closed on Wednesdays so that it can conduct remote food distribution. Food Pantry participants with an updated Caring Card will check in at the Food Pantry's front door entrance at 2000 Railroad Avenue to receive food.  If you do not have an updated Caring Card, please visit the Programs & Services porch entrance at 2001 Railroad Avenue to enroll or update your card.  The Food Pantry is only serving food to those within our service area as we did before the pandemic. The only food that will be served from the drive through is produce during the Fresh Food for Families program on the 1st, 3rd and 5th Monday of the month from 9 AM - 10 AM.
If you have any questions about new hours, please visit The Caring Place website at caringplacetx.org or call us at 512-943-0700, Monday through Friday, 9 AM - 4 PM.
ABOUT THE CARING PLACE
Since 1985, The Caring Place has provided for the basic human needs of all people in our community in a welcoming, respectful and caring way.  The Caring Place is a community-based and community-supported organization.