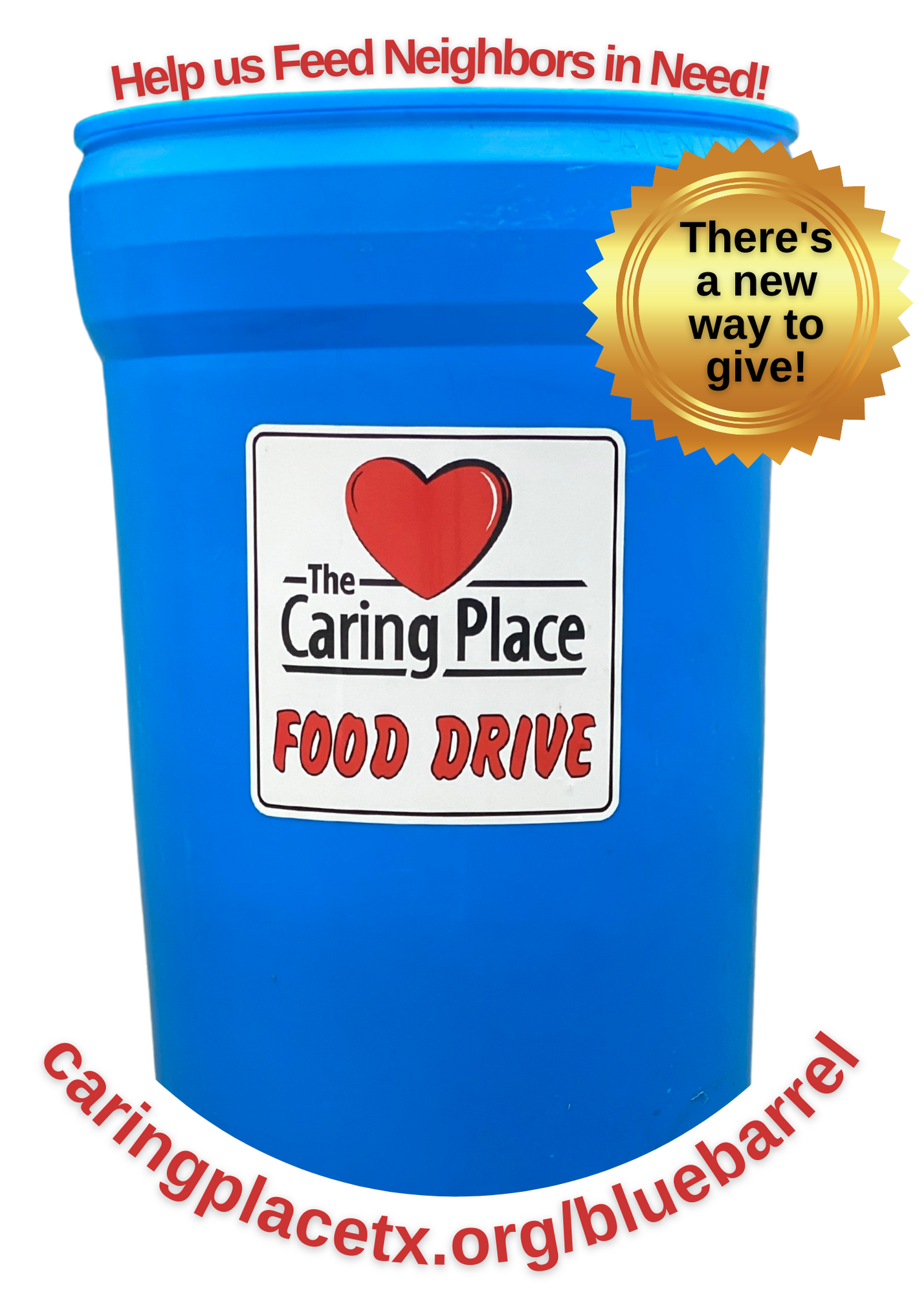 The Caring Place Food Pantry will launch its Hunger Free Holidays Food Drive on October 1; it ends December 31.  Unlike previous years, this year, The Caring Place's Food Drives across the community will only accept monetary donations.  The organization is introducing the Little Blue Barrel campaign in order for businesses, churches, neighborhoods and other organizations to collect critical funds for the local Food Pantry.
Executive Director Ginna O'Connor shares, "Due to safety precautions, program changes, staffing and storage limitations, as well as facility improvements, The Caring Place temporarily stopped taking food donations in March of 2020.  The introduction of the 'Little Blue Barrel' will allow our community to continue to feed neighbors in need through the entire year.  In fact, we are finding that monetary donations are helping us feed more neighbors than ever before.  Last year, The Caring Place could purchase 14 pounds of food per dollar donated.  Not only is that a responsible use of funds, but monetary gifts help us solve space issues.  We can purchase this discounted food from Central Texas Food Bank as we need it, instead of storing it."  
The Caring Place is a Platinum Partner of The Central Texas Food Bank.  As one of the few Food Pantries with this designation in Central Texas, the organization makes use of greatly reduced prices from the Central Texas Food Bank. O'Connor explains, "The goal of the Food Pantry is to not only feed people, but hopefully stretch a household's budget, so that they are able to pay their monthly household expenses.  For example, a $300 a month grocery savings for a family of 4 can help pay a medical bill, rent or a utility bill.  Utilizing the Food Pantry is the most cost effective and ongoing way The Caring Place can help a family struggling to make ends meet every month.  This has remained true throughout the pandemic.  Events like Hunger Free Holidays remind our community we still need their assistance." 
The Little Blue Barrel, which is a 32 ounce travel mug, can be borrowed from the Community Engagement Manager for a week at a time for  community Food Drives.  Community Engagement Manager Rita Turner adds, "We know families look to The Caring Place when they are going through hard times.  This last  year and a half has brought with it a lot of challenges for families, but The Caring Place has stayed committed to carrying out its mission to provide for basic needs in our community.  The Little Blue Barrel is an opportunity for friends in our community to be part of that mission."
The Food Pantry at The Caring Place distributes food Tuesdays and Thursdays from 8:30 a.m. - 10:30 a.m. in the 2000 Railroad drive through.  The Caring Place Food Pantry is one of three food programs currently offered by the nonprofit including Healthy Options Program for the Elderly (HOPE) and Fresh Food For Families.
For further information, or to borrow a Little Blue Barrel, visit caringplacetx.org/bluebarrel.  You may also contact Rita Turner at 512-943-0702 or rturner@caringplacetx.org.  You may donate directly to the Food Pantry at caringplacetx.org/donate or PO Box 1215, Georgetown, TX, 78627.
ABOUT THE CARING PLACE
Since 1985, The Caring Place has provided for the basic human needs of all people in our community in a welcoming, respectful and caring way.  The Caring Place is a community-based and community-supported organization.  For more information on The Caring Place, visit www.caringplacetx.org.  
###