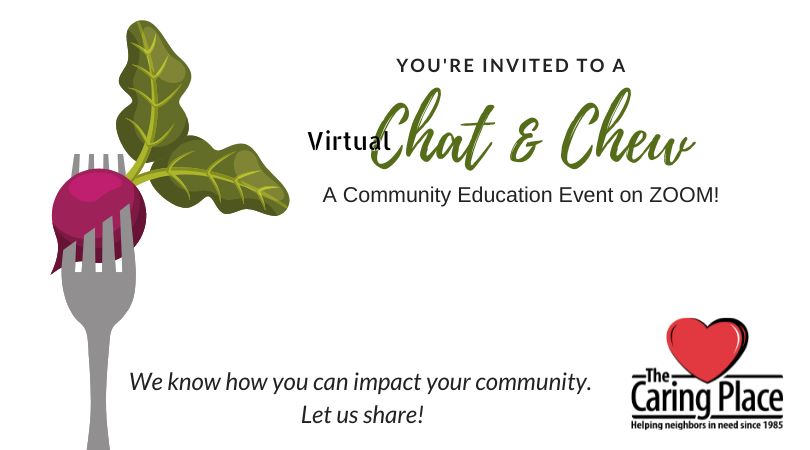 "Ready to get engaged?  Not that kind of engaged!" jokes the Community Engagement Manager, Rita Turner.   "We want to engage you in the happenings at The Caring Place!  We have developed our first online Chat & Chew with our community in mind!"  This virtual event will be held Wednesday, September 15th from 10:00 - 11:00 a.m. 
What is a Virtual Chat & Chew event? An opportunity to learn about The Caring Place's mission, hear from staff and get a behind the scenes look at all the organization does, all while you do a little snacking.  Rita shares, "This will be an online Zoom event, so bring your snack of choice and join us from the comfort of your couch for this socially distant event! Don't worry, we will mute all your chip crunching!"  Staff will walk you through the basics of The Caring Place including who the organization helps, the programs it offers, its history, how it's funded, and the impact it makes in Georgetown and northern Williamson County.
"We hope through this event, that guests not only get their questions answered, but leave knowing the long lasting legacy of care being created in their community through this organization.  The Caring Place has a heart for helping people in a tangible way, through the hardest of times.  We want to be sure you know what a wonderful resource our neighbors have here in northern Williamson County," says Ginna O'Connor, Executive Director.  "This past year we experienced increased community support that allowed us to continue assisting our neighbors facing hardships due to a pandemic.  If you are new to our community or new to giving at The Caring Place due to these difficult times, we especially invite you to see firsthand what your gifts allow us to do."
To RSVP for Chat & Chew, call Rita Turner at 512-943-0702 or email rturner@caringplacetx.org. You will be sent a link so that you can participate in the event via Zoom.  The Caring Place looks forward to meeting you!
ABOUT THE CARING PLACE
Since 1985, The Caring Place has provided for the basic human needs of all people in our community in a welcoming, respectful and caring way.  The Caring Place is a community-based and community-supported organization.  For more information on The Caring Place, visit www.caringplacetx.org.  
###