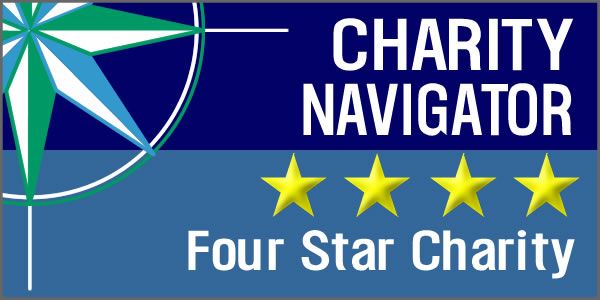 Charity Navigator, America's largest charity evaluator, has awarded The Caring Place its coveted 4-star rating for the fifth year in a row.
Based on the most recent information available, Charity Navigator has issued the 4-star rating for The Caring Place based on the organization's demonstration of strong financial health and commitment to accountability and transparency.  This is the highest possible rating and indicates that The Caring Place adheres to nonprofit sector best practices and executes its mission in a financially efficient way.  Attaining a 4-star rating verifies that The Caring Place exceeds industry standards and outperforms most charities in its area of work. Only 13% of the charities evaluated by Charity Navigator have received at least 5 consecutive 4-star evaluations. 
Executive Director Ginna O'Connor states, "The Charity Navigator 4-star rating recognizes the work we put into being outstanding stewards of the resources with which our community has entrusted us."  She continues, "This designation helps our community verify us as a trustworthy and credible organization to support when they are ready to give." 
For more information on Charity Navigator, please visit www.charitynavigator.org.  For the latest Annual Reports from The Caring Place, visit www.caringplacetx.org/annualreport.  The 2019 Annual Report is scheduled to release online in late February, just in time for the organization's Amplify The Caring Place campaign.  For more information on that campaign, which includes a dollar for dollar matching opportunity by The Caring Place Board of Directors, please visit www.caringplacetx.org/amplify.
ABOUT THE CARING PLACE
Since 1985, The Caring Place has provided for the basic human needs of all people in our community in a welcoming, respectful and caring way.  Through two thrift shops, The Shops at The Caring Place and Second Helping, both in Georgetown, the organization is able to pay all operating expenses to serve a growing community.  All monetary and food donations directly benefit neighbors needing assistance with food, utility, rent, transportation or medical assistance.  The Caring Place is a community-based and community-supported organization.  For more information on The Caring Place, visit www.caringplacetx.org. 
###