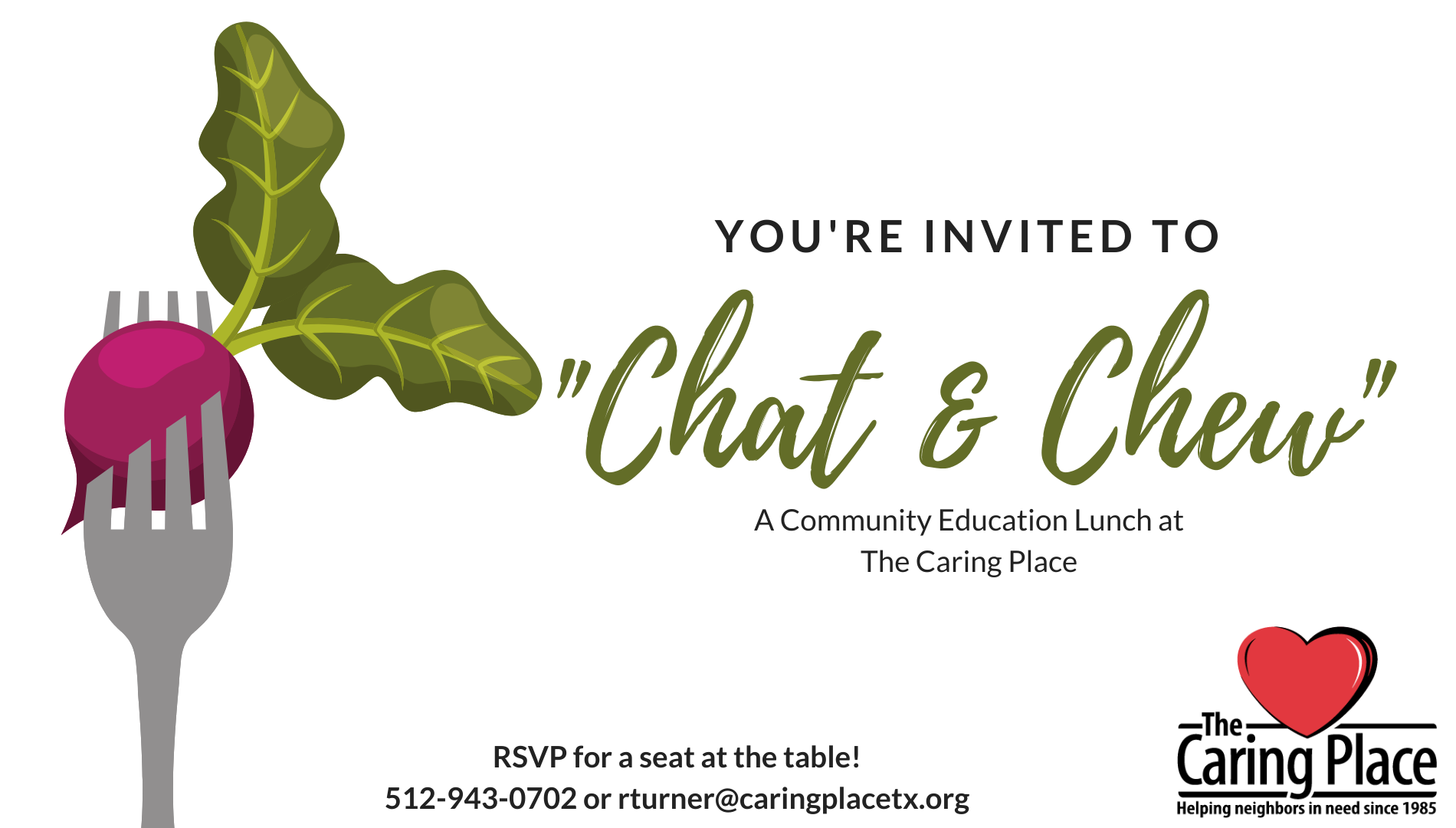 Curious about what The Caring Place does and don't know how to go about asking?  Want to learn about this 34 year old non-profit helping people in your own backyard over lunch?  Let The Caring Place staff share what drives the heart of the organization at "Chat & Chew" on Wednesday, November 6th from 11:30 a.m. to 1:00 p.m. at The Caring Place on 2001 Railroad Avenue.  The Community Engagement Manager will walk you through the basics of The Caring Place including who the organization helps, the programs it offers, its history, how its funded, and the impact it makes in Georgetown and northern Williamson County.
"We hope through this event, guests not only get their questions answered, but leave knowing the long lasting legacy of caring being created in their community through this organization.  The Caring Place has a heart for helping people in a tangible way.  It's community-created and community-supported, making it an incredible resource in northern Williamson County," says Ginna O'Connor, Executive Director.
To RSVP for Chat & Chew, call Rita Turner at 512-943-0702 or email her at rturner@caringplacetx.org. As lunch is included with this event and space is limited, you must RSVP to participate in The Caring Place Chat & Chew event. The Caring Place looks forward to meeting you!
ABOUT THE CARING PLACE
Since 1985, The Caring Place has provided for the basic human needs of all people in our community in a welcoming, respectful and caring way.  Through two thrift shops, The Shops at The Caring Place and Second Helping, both in Georgetown, the organization is able to pay all operating expenses to serve a growing community.  All monetary and food donations directly benefit neighbors needing food, utility, rent, transportation or medical assistance.  The Caring Place is a community-based and community-supported organization.  For more information on The Caring Place, visit www.caringplacetx.org. 
###