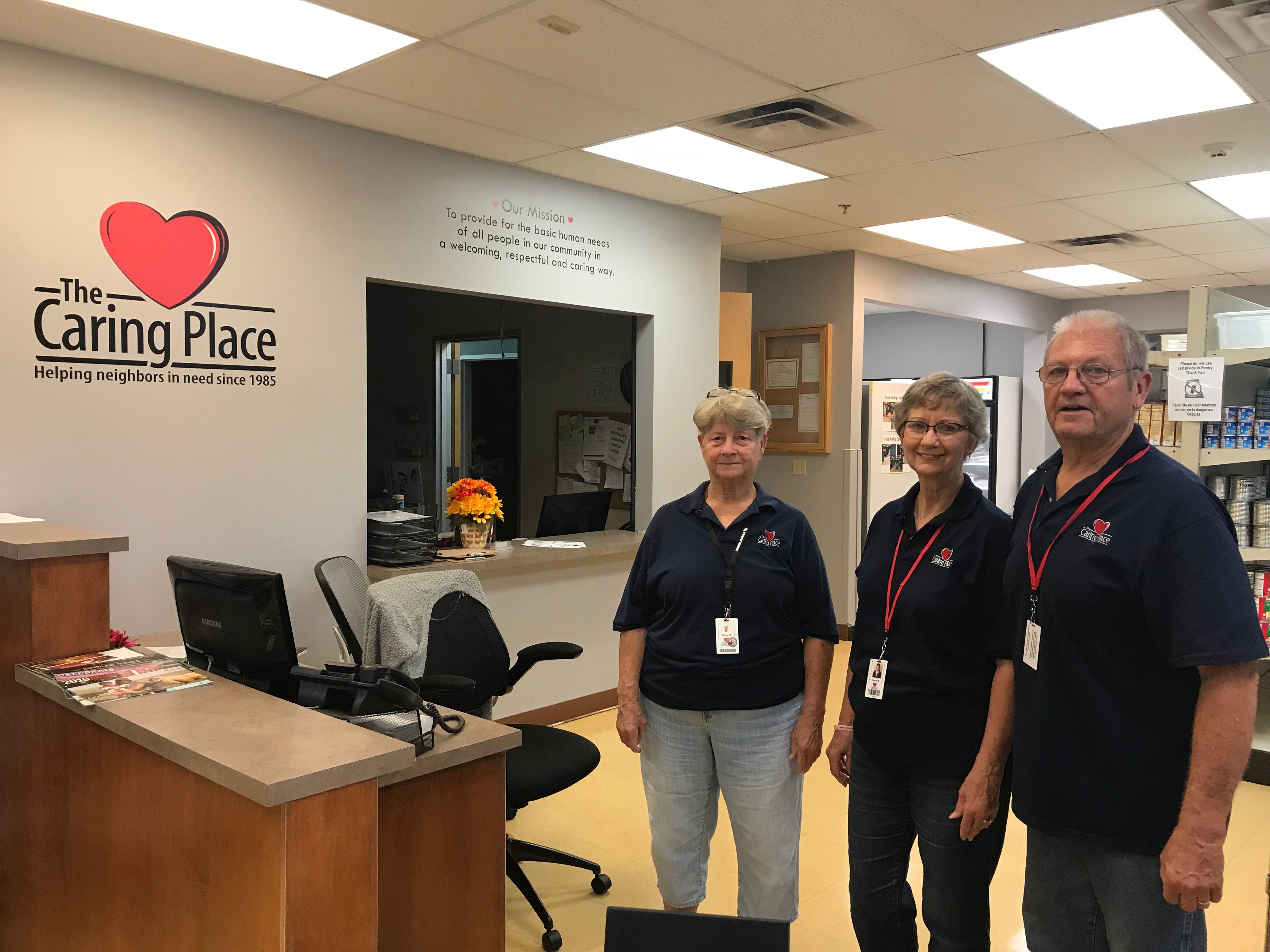 On September 10, 2019, The Caring Place held a brief rededication for its recently expanded Food Pantry.  The expansion, which doubled the Food Pantry's space, consisted of removing a couple of walls to utilize the space of a storage room and reducing the size of the lobby.  Construction was complete in the summer, but final touches were made in time for the rededication event.
The Caring Place's expanded and redesigned pantry has provided:
o   An easily accessible reception and pantry check-in area
o   More shelf space, working and walking space
o   More space to offer fresh and frozen food selections
o   Recipes, food preparation and nutrition information on display
The Food Pantry provides eligible, low-income neighbors with a nutritious 12-day supply of perishable and shelf-stable food.  This consists of 45 lbs. of food per person, which if purchased in a grocery store, would cost over $75 per person.  The Food Pantry Program is the biggest, most utilized program at The Caring Place, and a program that helps families struggling to make ends meet on an ongoing basis.
"This expansion couldn't have come at a better time," says Food Programs and Facilities Director, David Earl.  "In the first 5 days of September, The Caring Place Food Pantry has served 931 people.  That is nearly 42,000 pounds of food that has been given to our neighbors in less than a week."  Earl adds, "So far this year, we are seeing a 12% increase in neighbors being helped by the Food Pantry over last year's numbers."
The Caring Place receives food from individuals, food drives, community gardens, Central Texas Food Bank and retail partners like Walmart, HEB, Randalls and Natural Grocers.  Earl shares, "Now that our expansion is complete, we look forward to keeping the pantry filled.  Hunger Free Holidays begins on October 1st and runs through December 31st of 2019.  During these 3 months, we make a big push to our community to fill the pantry by donating and hosting food drives.  We want to ring in 2020 with plenty of food for our neighbors."  The Caring Place has a goal to collect 300,000 pounds of food during Hunger Free Holidays.
The Caring Place service area includes residents of Georgetown, Andice, Bartlett, Florence, Granger, Jarrell, Jonah, Schwertner, Walburg, Weir, and the portion of Hutto that lies within the Georgetown Independent School District.  In addition to food, The Caring Place offers utility, rent, transportation, medical assistance and other season programs.  For more information on The Caring Place visit www.caringplacetx.org.
The Caring Place would like to thank Steve Richmond Fine Homes, Elsasser Architectural, Inc. and Minuteman Press Georgetown for their generosity in making The Caring Place Food Pantry a welcoming space. 
ABOUT THE CARING PLACE
Since 1985, The Caring Place has provided basic human services for families in financial crisis in Georgetown and northern Williamson County.  Through two thrift shops, The Shops at The Caring Place and Second Helping, both in Georgetown, the organization is able to pay for the operating expenses to serve a growing community in need.  All monetary and food donations benefit neighbors needing food, utility, rent, transportation or medical assistance.  The Caring Place is a community-based, community-supported organization, working to improve the quality of life for every client.  For more information on The Caring Place visit www.caringplacetx.org. 
###