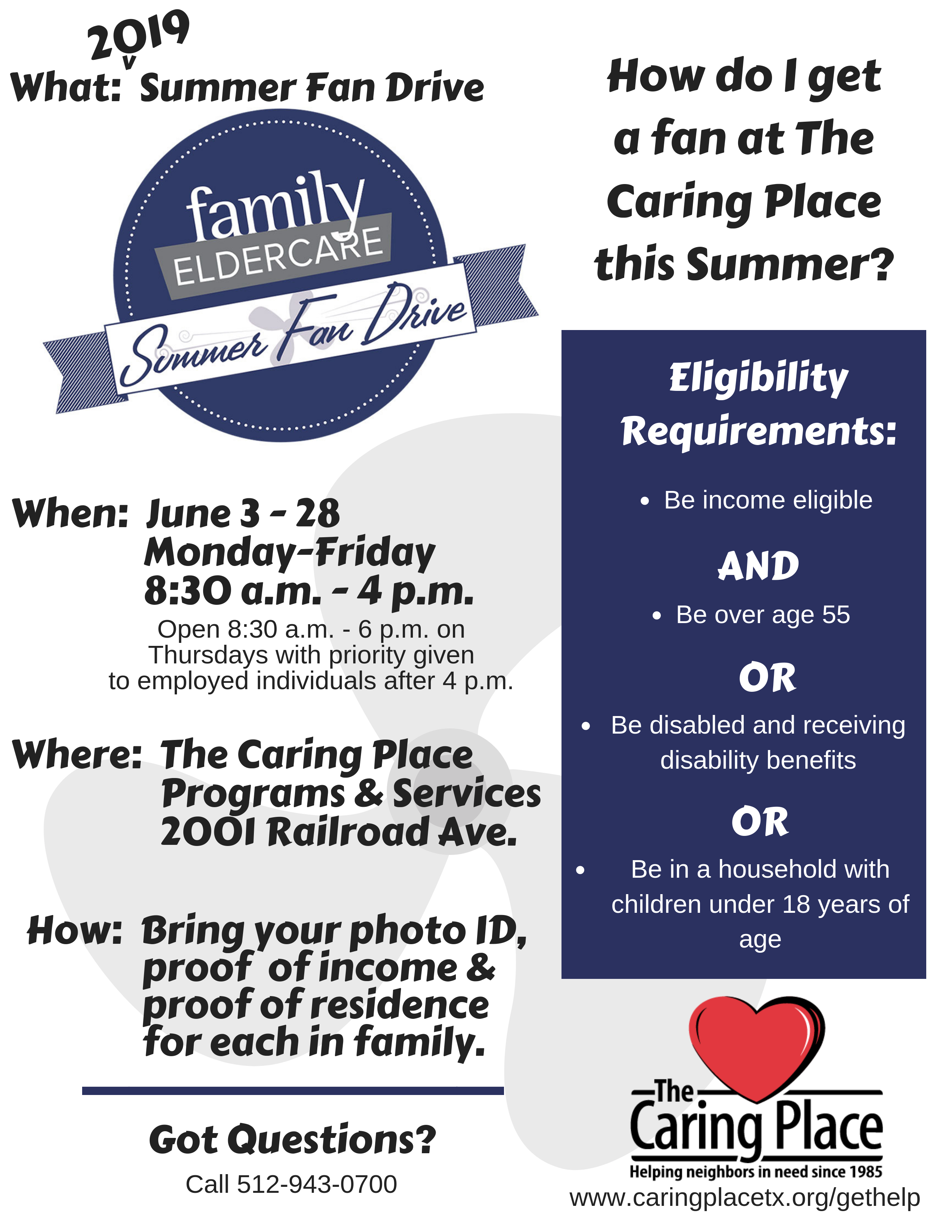 June marks Family Eldercare's 29th Annual Summer Fan Drive.  Family Eldercare provides fans to vulnerable seniors, adults with disabilities, at risk veterans and families who cannot afford to cool their homes across 14 Central Texas Counties. Each year, The Caring Place in Georgetown, Texas takes part in this initiative by being a distribution site for local neighbors in need. 
The Caring Place Programs & Services department will have fans available June 3 – June 28 from 8:30 a.m to 4:00 p.m., Monday through Friday and until 6:00 p.m. on Thursdays for employed individuals.  Programs and Services is located at 2001 Railroad in Georgetown, Texas.  To receive a fan, individuals must be income eligible and over 55, or they must be disabled, receiving disability benefits or be in a household with children under 18.  Neighbors will need to bring photo ID, proof of income and proof of residence.  If you have questions about eligibility, please call The Caring Place Programs & Services at 512-943-0700 or the Family Eldercare Summer Fan Drive line at 512-459-4326.
If you are interested in donating fans this summer, Family Eldercare states you can drop fans off at Fire Stations in Georgetown, Round Rock, San Marcos and other locations.  You can find more information about this program at www.summerfandrive.org.
The Caring Place programs flyers can be found at www.caringplacetx.org/gethelp.
ABOUT THE CARING PLACE
Since 1985, The Caring Place has provided for the basic human needs of all people in our community in a welcoming, respectful and caring way.  Through two thrift shops, The Shops at The Caring Place and Second Helping, both in Georgetown, the organization is able to pay all operating expenses to serve a growing community.  All monetary and food donations directly benefit neighbors needing food, utility, rent, transportation or medical assistance.  The Caring Place is a community-based and community-supported organization.  For more information on The Caring Place, visit www.caringplacetx.org.