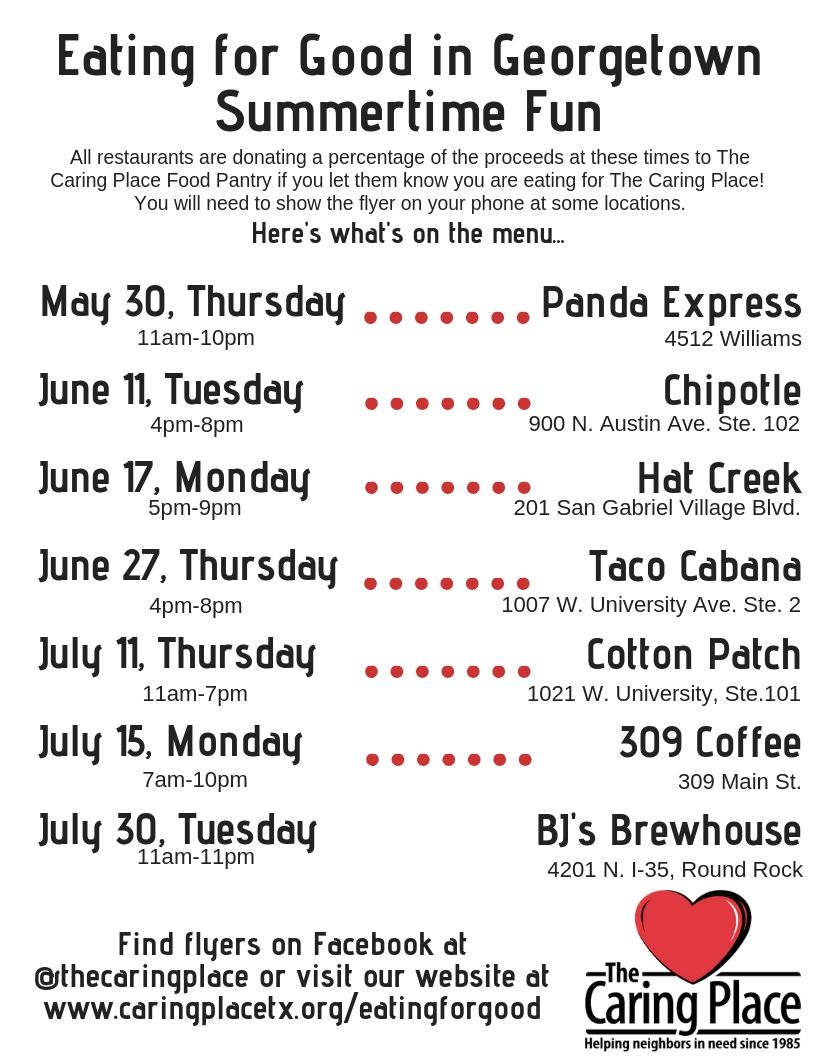 On Thursday, May 30th The Caring Place kicks off their first ever Eating for Good Campaign for the summer.  All summer long you will see The Caring Place asking the community to plan their meals at designated restaurants.  The local establishments will be donating a portion of the sales to The Caring Place Food Pantry. If you like eating out, find out where and when you can do some "eating for good" by staying up to date on The Caring Place Facebook page or website.
"Each year we see an increase of neighbors in need utilizing our Food Pantry," says Executive Director Ginna O'Connor.  "We also know a lot of families are eating out in the busy summer months, so we thought what better way to increase funds in our Food Pantry than to work with our local restaurants."
Currently, the organization has the following restaurants on the Eating for Good calendar:
May 30, 11am-10pm, Panda Express, 4512 Williams, Georgetown
June 11, 4pm-8pm, Chipotle, 900 N. Austin Ave. Ste 102, Georgetown
June 17, 5pm-9pm, Hat Creek, 201 San Gabriel Village Blvd, Georgetown
June 27, 4pm-8pm, Taco Cabana, 1007 W. University Ave. Ste 2, Georgetown
July 11, 11am-7pm, Cotton Patch, 1021 W. University Ave. Ste 101, Georgetown
July 15, 7am-10pm, 309 Coffee, 309 S. Main Street, Georgetown
July 30, 11am-11pm, BJ's Brewhouse, 4201 N I-35, Round Rock
Please note, several restaurants ask that you bring in a flyer or a picture of their flyer on your electronic device in order to participate in the fundraising program.  Find those flyers on The Caring Place website or Facebook pages.
For more information about this campaign, to get the most current list of dates and restaurants participating or to print out flyers for specific events, visit us at www.caringplacetx.org/eatingforgood or on Facebook @thecaringplace.  If you are a local restaurant that wants to be part of this campaign this summer, please contact Rita Turner at rturner@caringplacetx.org or 512-943-0702.
ABOUT THE CARING PLACE
Since 1985, The Caring Place has provided for the basic human needs of all people in our community in a welcoming, respectful and caring way.  Through two thrift shops, The Shops at The Caring Place and Second Helping, both in Georgetown, the organization is able to pay all operating expenses to serve a growing community.  All monetary and food donations directly benefit neighbors needing food, utility, rent, transportation or medical assistance.  The Caring Place is a community-based and community-supported organization.  For more information on The Caring Place, visit www.caringplacetx.org. 
###