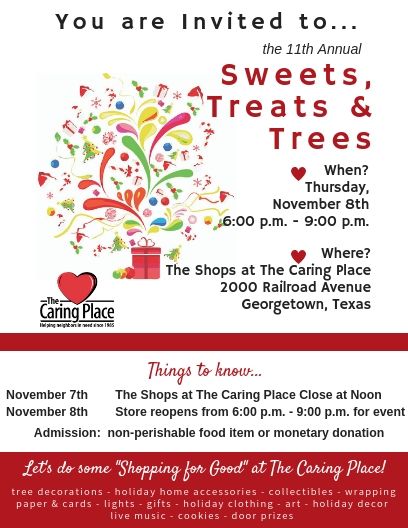 The 11th annual "Sweets, Treats & Trees" is almost here.  On Thursday, November 8th, from 6:00 p.m. to 9:00 p.m. customers will enjoy The Shops at The Caring Place's biggest shopping event of the year!  The entire store will be transformed into a holiday wonderland and should leave you saying, "Shopping for Good never looked so jolly!" 
The Caring Place has two well-known thrift shops that pay for all operating costs (and more) of the community based non-profit helping neighbors in need.  "Sweets, Treats & Trees" is a popular holiday shopping event connecting the mission with shopping as well as establishing wonderful memories and traditions at The Caring Place.  "This year we have debuted the phrase "Shopping for Good" and when it comes time for holiday shopping, our annual event "Sweets, Treat & Trees" allows you to do more than buy all your holiday gifts and décor.  You have the opportunity to impact an organization making a difference in people's lives every day simply by shopping," says Store Director, Ann Lind. She continues, "During the season of both giving and shopping, we want you to know you can do both here at The Caring Place." 
Lind shares another shopping tip this season, "While The Shops at the Caring Place on Railroad is known for all things 'holiday' at our November 8th event, we want to remind customers that our second store, Second Helping, on 3700 Williams Drive will reveal "A Second Helping Christmas" on November 16th.  You'll find this store to be a treasure trove of both holiday and gift items to bring you through the season."  The organization suggests you follow them on Facebook in order to learn about all the holiday fun at both stores this year.
"Sweets, Treats & Trees" on November 8th from 6:00 p.m. to 9:00 p.m. at 2000 Railroad Avenue will include decorations, holiday home accessories, collectibles, wrapping paper, cards, lights, holiday attire, art, décor and more holiday spirit than you can imagine.  Enjoy live music, cookies and door prizes to keep you feeling festive as you shop 'til you drop.  The address of The Shops at The Caring Place is 2000 Railroad Avenue.  *Note:  This store will close on November 7th at noon and will not reopen to the public until 6:00 p.m. for "Sweets, Treats & Trees" on November 8th.  Admission to this event is a non-perishable food item or a monetary donation to The Caring Place Food Pantry.
ABOUT THE CARING PLACE
Since 1985, The Caring Place has provided basic human services for families in financial crisis in Georgetown and northern Williamson County.  Through two thrift shops, The Shops at The Caring Place and Second Helping, both in Georgetown, the organization is able to pay for the operating expenses to serve a growing community in need.  All monetary and food donations benefit neighbors needing food, utility, rent, transportation or medical assistance.  The Caring Place is a community-based, community-supported organization, working to improve the quality of life for every client.  For more information on The Caring Place visit www.caringplacetx.org. 
###