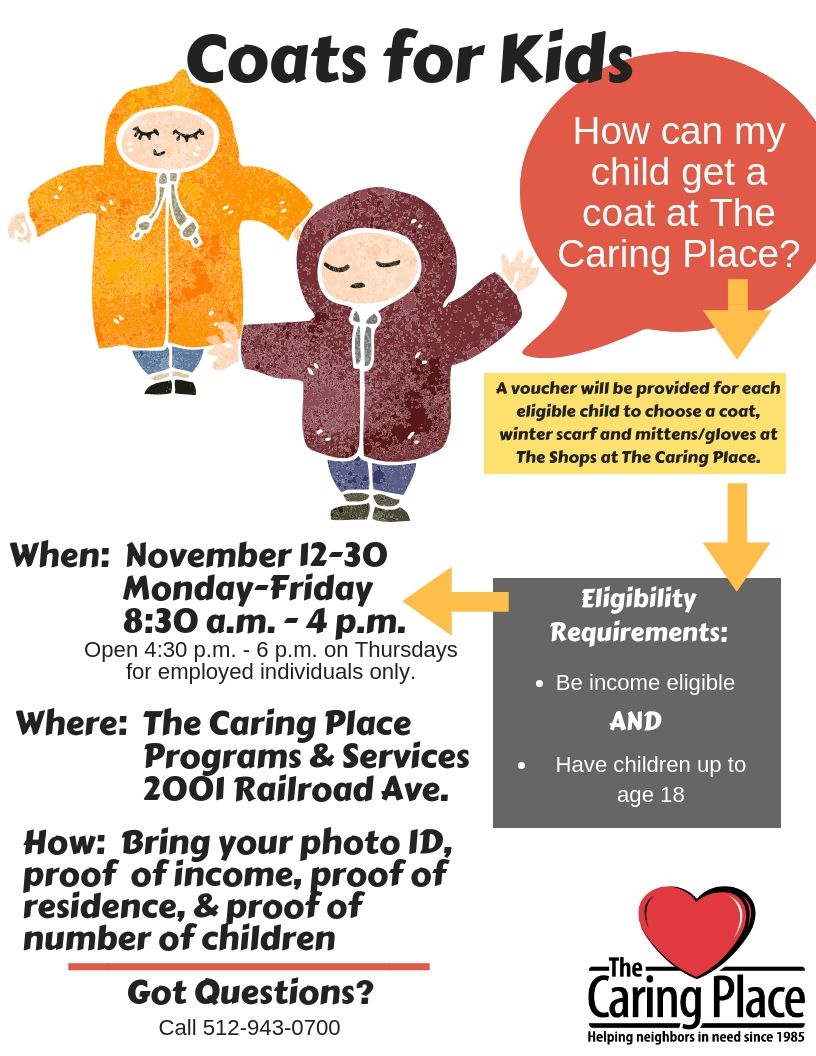 The Caring Place wants to ensure that no child is cold this winter. Through its Coats for Kids program and the help of the community, The Caring Place will provide coats for children from November 12th-30th.  The organization is now accepting coat donations to prepare for the program.
 "We want to make sure that every child who needs a coat gets one," says Erin Becnel, Client Services Director. "Many of the families we serve are struggling to make ends meet. Assistance, such as providing a coat to their children during the winter, helps to ease the burden and make a positive impact on their finances during the holidays."
The community can help children and families in Georgetown and northern Williamson County by donating new or gently used coats.  "The Caring Place relies on the community to help us better serve a growing population," says Executive Director, Ginna O'Connor.  O'Connor continues, "Seasonal programs through The Caring Place are a wonderful opportunity for our community to help neighbors in need during this season of giving."
The community may donate coats, scarves and mittens by going to the organization's Donations drive through located at 2000 Railroad Avenue.  The drive through is open Monday through Saturday from 9:00 a.m. to 4:00 p.m.
Income eligible families may come to The Caring Place Programs & Services Department Monday through Friday from 8:30 a.m. to 4:00 p.m. between November 12th – November 30th to obtain a coat voucher.  The department, at 2001 Railroad Avenue, is also open on Thursdays from 4:30 p.m. to 6:00 p.m. to accommodate employed individuals.  Participants in this year's program need to provide photo ID, proof of income, proof of residence and proof of number of children.  The Caring Place will provide a voucher for each child 18 years and younger for a coat, winter scarf and mittens at The Shops at The Caring Place. 
ABOUT THE CARING PLACE
Since 1985, The Caring Place has provided basic human services for families in financial crisis in Georgetown and northern Williamson County.  Through two thrift shops, The Shops at The Caring Place and Second Helping, both in Georgetown, the organization is able to pay for the operating expenses to serve a growing community in need.  All monetary and food donations benefit neighbors needing food, utility, rent, transportation or medical assistance.  The Caring Place is a community-based, community-supported organization, working to improve the quality of life for every client.  For more information on The Caring Place visit www.caringplacetx.org. 
###