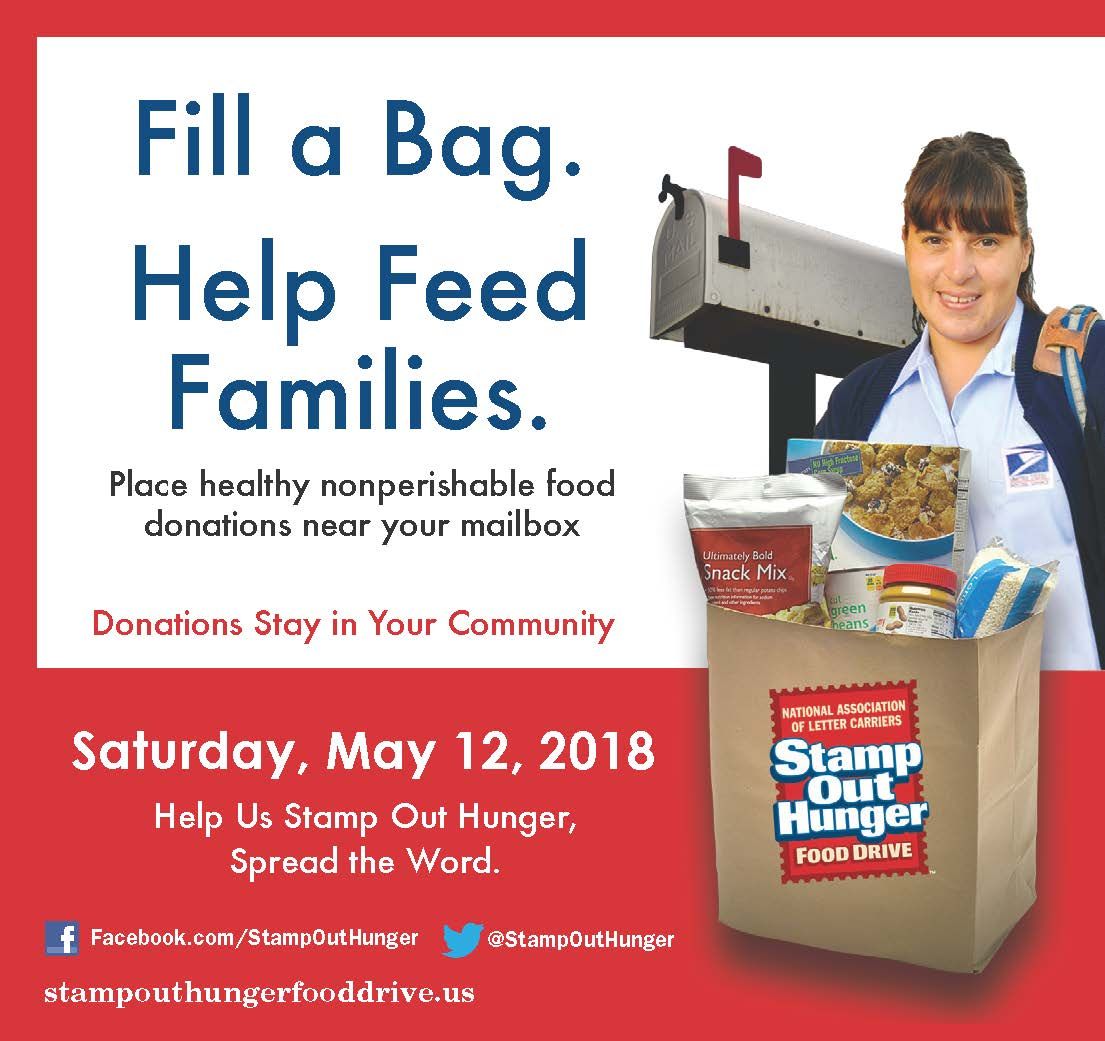 Mail Carriers Make a City-Wide Food Drive the Easiest Food Drive of the Year
Georgetown, TX, April 30, 2018 On Saturday, May 12th the mail carriers serving zip codes 78626 and 78628 are picking up nonperishables at the mail boxes to benefit the local community as part of their annual Stamp Out Hunger Campaign.
Each year mail carriers in Georgetown do just a little bit extra for the community by participating in the Stamp Out Hunger Food Drive. Nonperishable donations are picked up by the mail carriers and donated to The Caring Place's local Food Pantry. "It's one of the easiest ways neighbors can participate in a food drive in the area because they don't even have to leave their homes," says David Earl, Food Programs and Facilities Director at The Caring Place.
"At least six days a week, letter carriers see firsthand the needs of the communities they work in," National Association of Letter Carriers President Fredric Rolando said, "and we're privileged to be able to help those in need while leading an effort that brings out the best in so many Americans."
The postal service asks that you leave your nonperishables in sturdy bags by your mail box or community mailboxes by 9:00 a.m. on Saturday, May 12th. David adds, "The summer months are very busy in the Food Pantry due to kids home for the summer and electricity bills going up. Families in need look to The Caring Place to help fill in the gaps by providing food. We hope through the Stamp Out Hunger campaign, we can fill the pantry before the summertime rush."
ABOUT THE CARING PLACE
Since 1985, The Caring Place has provided basic human services for families in financial crisis in Georgetown and northern Williamson County. Through two thrift shops, The Shops at The Caring Place and Second Helping, both in Georgetown, the organization is able to pay for the operating expenses to serve a growing community in need. All monetary and food donations benefit neighbors needing food, utility, rent, transportation or medical assistance. The Caring Place is a community-based, community-supported organization, working to improve the quality of life for every client. For more information on The Caring Place visit www.caringplacetx.org.
###