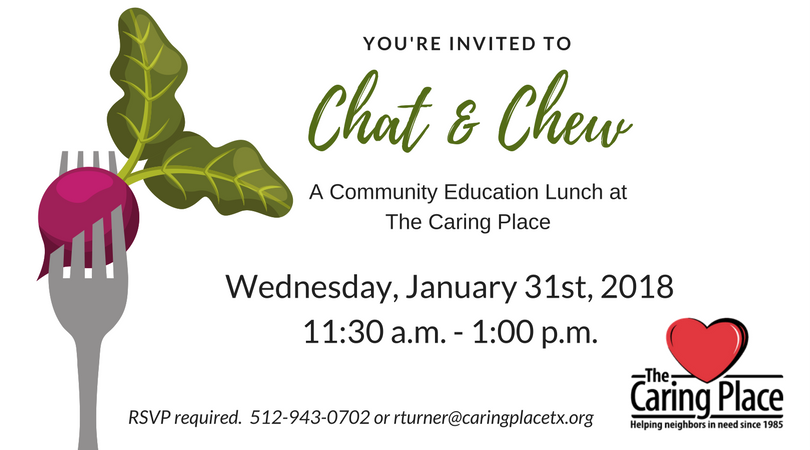 The Caring Place is hosting their first "Chat & Chew" as a new way to show people what they are all about. The lunch event will be held at The Caring Place on Wednesday, January 31st from 11:30 a.m. to 1:00 p.m. at 2000 Railroad Avenue.
Chat & Chew is a free event that will begin with an introduction from Executive Director, Ginna O'Connor. She says, "We hope that people that have never walked through our doors will use this opportunity to find out what we are all about. We work hard to show the heart of the organization through stories and media and most definitely word of mouth, but this is our opportunity to show you the inner workings of The Caring Place."
Community Engagement Manager, Rita Turner looks forward to the event as a way to cover all the basics of the organization. "This event will inform our community on who we help, the assistance we offer, our amazing history, how we are funded and the impact we are making in Georgetown and northern Williamson County. A question and answer session along with a tour will give guests the full picture of The Caring Place."
"We hope through this event, guests not only get their questions answered, but leave knowing the long lasting legacy being created through this organization. It's an organization with a heart for helping people in a tangible way. It's community-created and community-supported, making it an incredible resource in northern Williamson County," says O'Connor.
Chat & Chew is on Wednesday, January 31st from 11:30 a.m. to 1:00 p.m. RSVP is required through Rita Turner at 512-943-0702 or rturner@caringplacetx.org.
ABOUT THE CARING PLACE
Since 1985, The Caring Place has provided basic human services for families in financial crisis in Georgetown and northern Williamson County. Through two thrift shops, The Shops at The Caring Place and Second Helping, both in Georgetown, the organization is able to pay for the operating expenses to serve a growing community in need. All monetary and food donations benefit neighbors needing food, utility, rent, transportation or medical assistance. The Caring Place is a community-based, community-supported organization, working to improve the quality of life for every client. For more information on The Caring Place visit www.caringplacetx.org.
###