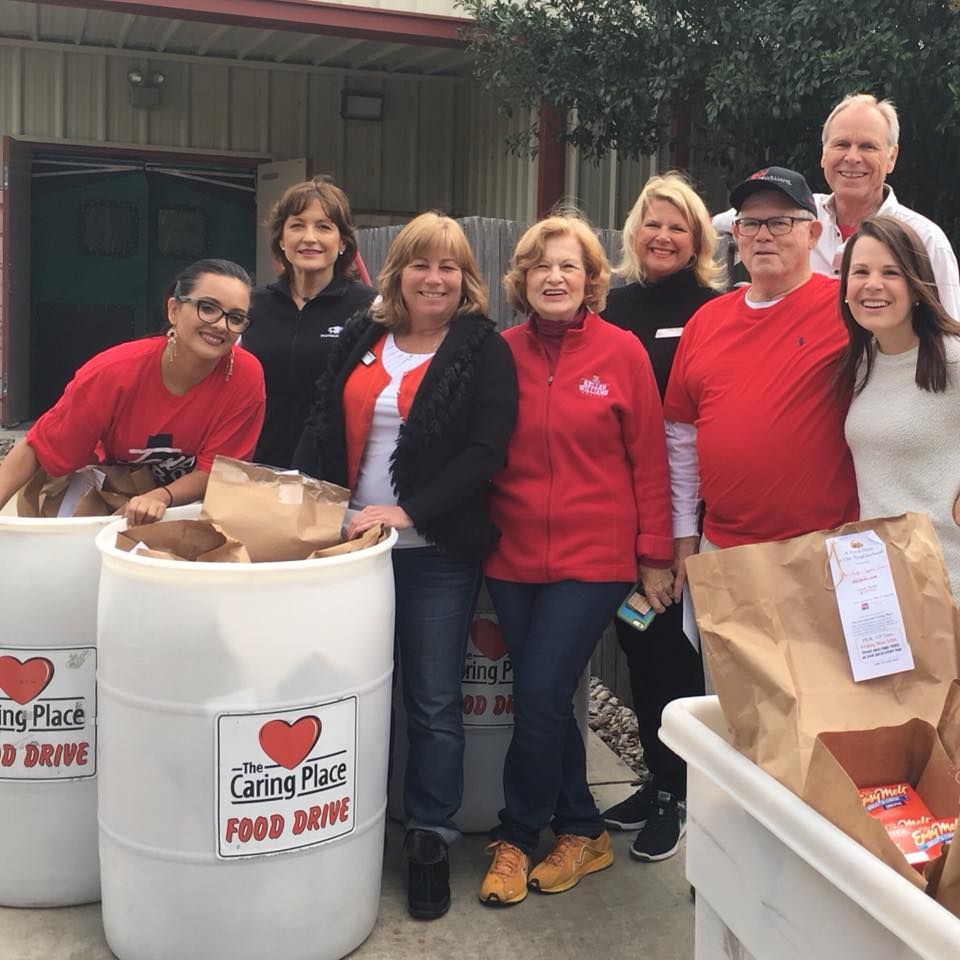 Each year The Caring Place sets a goal for the Hunger Free Holidays Food Drive campaign. This year that goal was to collect 200,000 pounds of food. Through an amazing community effort that goal was exceeded.
On January 2nd, when staff came back to work, David Earl, the Food Pantry and Facilities Director, did the final count. The Food Pantry at The Caring Place collected 208,377 pounds of food from October 1st to December 31st of 2017. Part of this food was collected through business, church and individual food drives. $32,153.32 was collected during the campaign time period in monetary donations. "Through Central Texas Food Bank and HEB, we are able to purchase 3.5 pounds of food for every dollar donated, so monetary donations make quite an impact in the Food Pantry," according to David.
How many meals can The Caring Place provide from the campaign? This is enough food for approximately 173,647.5 meals. The Caring Place provides a 10-day supply of food once a month to families in financial crisis through its Food Pantry. Each year, the number of individuals served increases according to Executive Director, Ginna O'Connor. "We promote the Hunger Free Holiday Food Drive each year because of the need we see in our community. We are always looking for innovative ways to meet those needs. We are so grateful for the community support we witnessed. Many organizations joined the cause and shared their accomplishments on Social Media. It was exciting to see their efforts and the fun they were having helping their neighbors."
The Food Pantry at 2000 Railroad Avenue is open from 9am-4pm and until 6pm on Thursdays. The Caring Place Food Pantry is one of four food programs offered by the nonprofit including Our Daily Bread, Healthy Options Program for the Elderly (HOPE) and Fresh Food For Families. Individuals can call The Caring Place at 512-943-0700 for questions about programs and services offered.
ABOUT THE CARING PLACE
Since 1985, The Caring Place has provided basic human services for families in financial crisis in Georgetown and northern Williamson County. Through two thrift shops, The Shops at The Caring Place and Second Helping, both in Georgetown, the organization is able to pay for the operating expenses to serve a growing community in need. All monetary and food donations benefit neighbors needing food, utility, rent, transportation or medical assistance. The Caring Place is a community-based, community-supported organization, working to improve the quality of life for every client. For more information on The Caring Place visit www.caringplacetx.org.
###