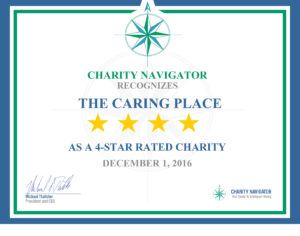 The Caring Place receives the coveted 4-star rating from Charity Navigator, America's largest charity evaluator, for the third year in a row.
The award is given to nonprofit organizations that exceed industry standards and outperforms most charities in its area of work. Only 15% of the charities evaluated by Charity Navigator have received at least 3 consecutive 4-star evaluations. "This exceptional designation from Charity Navigator sets The Caring Place apart from its peers and demonstrates to the public its trustworthiness," says Michael Thatcher, President and CEO of Charity Navigator, in his letter to the organization.
Profiled by Forbes, Business Week and Kiplinger's Financial Magazine, Charity Navigator focuses upon accentuating the work of efficient and transparent nonprofit organizations.
"We are honored to receive this award from Charity Navigator," says Ginna O'Connor, Executive Director of The Caring Place. "Our Board of Directors, volunteers, staff, supporters and generous community all deserve recognition for this award. Without them, we would not be able to serve so many in financial crisis," she said. "We work very hard to serve our community in an efficient, compassionate and sustainable way. It is rewarding to receive recognition for our efforts."
The Caring Place, a 501C3 organization, provides assistance to qualifying individuals and families in financial crisis in Georgetown and northern Williamson County. Their programs include food and clothing, household items, utility bill payment and rent assistance.