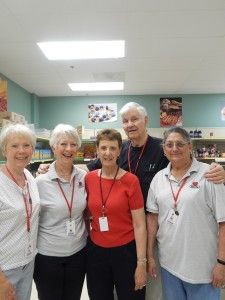 Voted "The Best Place to Volunteer and Give" in Georgetown for the past five years, The Caring Place has received Platinum level designation from Central Texas Food Bank. This designation means a 33% reduction to the handling fee charged by CTFB to The Caring Place for the food it orders to feed hungry families. Only 5 agencies out of the 248 that partner with the Food Bank reached this level.
"This cost reduction helps us purchase more food for less money so that we are able to serve more people in need," said Ginna O'Connor, Executive Director of The Caring Place. "Our Pantry and Client Services teams have done an outstanding job of helping us reach this level of efficiency and accessibility while also connecting clients to other resources." The Caring Place has also expedited the process for obtaining food, clothing and other basic necessities, ensuring that people in need receive these items as quickly as possible.
The Platinum level designation is based upon ratings on pounds received through CTFB, nutritional content of food ordered, access and availability, and providing clients with additional social services including SNAP, health and economic opportunity.
Last year, The Caring Place provided over 601,000 pounds of food from its Food Pantry to over 17,000 individuals. It also provided 202,121 pounds of fresh produce impacting 19,588 individuals. In addition to the food it purchases from CTFB, The Caring Place receives donations from Walmart, HEB and the community.