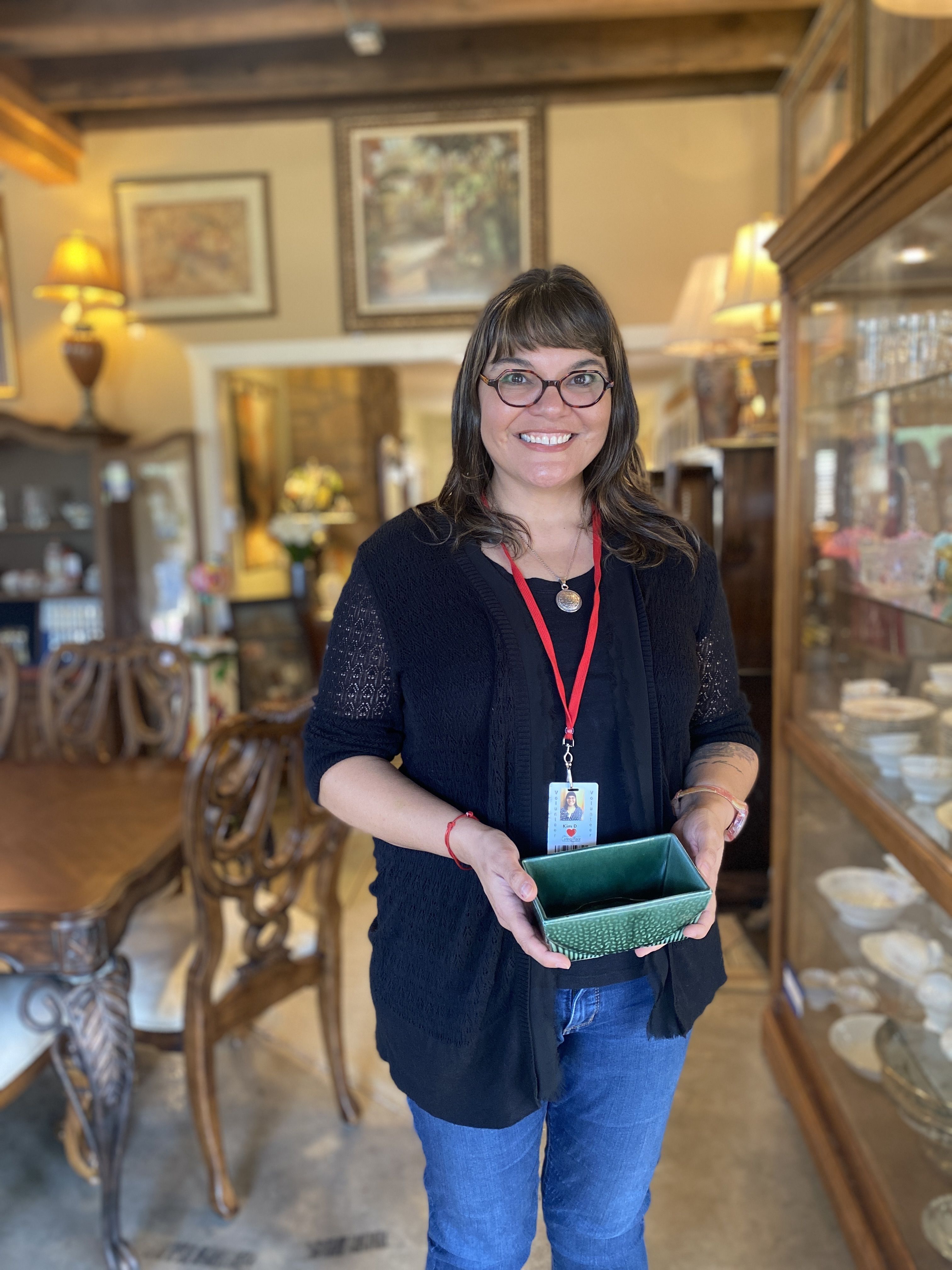 We don't normally do volunteer interviews in a home, but that's what it felt like today. Kim and I found a cozy corner in our Second Helping thrift store and began our interview amongst a cornucopia of decor and collectibles. We settled into the homey atmosphere on a small sofa and began working our way through Kim's volunteer story.
Community volunteering means a lot to Kim.  It is one of the ways she addresses Social Justice in her community. If you glance at Kim's arm you'll see a stack of books tattooed there.  The books are titled Science, Art, Literature, History, and Poetry. These are areas of knowledge that Kim is most interested in which fuel her mind and soul, but the book on the bottom of the stack acting as the foundation is titled, Social Justice. She shared that the idea of community and being connected to the community through volunteering was powerful for her.   "The organization connects volunteers to the community. When people come in here and buy the things, every penny goes back into the organization. It stays in the community. Whether it's to buy food for the Food Pantry or to pay the employees and operation fees that keep the program running, that means a lot." Kim says despite being a very busy mom, wife, full-time teacher, and graduate student back in 2017 when she began volunteering at The Caring Place, she knew volunteering was something she had to do. To Kim, Social Justice is when you are looking at the problems in society and see that needs are not met, groups of people are not able to thrive, and every day is a struggle. That means there is something broken in the community. She says what she loves about The Caring Place is that it goes beyond fixing things on the surface. She acknowledged that it's important to pay a basic needs bill, but knows that it won't solve the entire problem. At The Caring Place, "It's not charity, it's community… People need to eat, they need shelter, they need to be warm in the winter and cool in the summer, they need transportation to get to their jobs, and they need somebody to care. That requires community. The Caring Place is community. They are helping people get on their feet and get them what they need immediately, but It's also not one-off assistance." Kim is referring to Case Management opportunities that allow clients to seek help in reaching more complex goals, goals which need guidance to fix a longer-term problem. "When you are in a deep crisis situation, not only do you not know where to go for help but there are so many ways in which you need help." Kim believes The Caring Place is addressing this without bias through their services and that's a valuable service in our community.
Another aspect of building community involves volunteers representing the community they serve by being diverse. Being from a Mexican family who has been settled in Williamson County for several generations, she is part of that diversity. As we talked about volunteer diversity and how people of color may feel about volunteering, Kim shared that "When the community is the center of what everyone does then that sense of community should come with a sense of safety for being who you are and being able to express your concerns. I wouldn't be here if I didn't feel like it was a safe space. I have felt that from day one." Kim shared that even when merchandising, "When I see items that come through that are just racist, I have always felt safe to share that. And people usually say, 'Oh, I didn't know that!' It's just education. And I feel listened to when things like that come up." And with Kim's American History background and eager interest in exploring diversity and inclusion, she's a knowledgeable voice to have around.
Volunteering at The Caring Place is not just about helping others, but also about helping herself. "This is a place that makes me feel like I am healing." Kim shared that she's in the middle of a job transition after a stressful experience and volunteering at The Caring Place 'fills her cup.' She mainly volunteers at Second Helping as a cashier, but now has a little more time on her hands while she looks for new employment. Kim wants to immerse herself in a place that feels happy. The Second Helping store manager suggested Kim come whenever she can to help with staging and merchandising. Kim smiles as she shares that in college she had to decide between History and Interior Design as a career path. She ultimately landed on history but found herself gravitating toward jobs and life experiences that related to her other academic interest and this feels no different.  As Kim and I sat surrounded by donated items filled with history, Kim said her area of expertise is American History. Pointing to a shelf she said, "I can look at that plate over there and I can tell you the story about that plate and what was going on in that time period." Like many volunteers at The Caring Place, Kim uses her knowledge to educate others, her expertise to assist in pricing, and her love of design to help with staging. Her talents are not wasted at The Caring Place.
Kim and I also connected over the joy of thrift shopping, "I love when I am cashiering and people are so happy about the awesome thing they have found in the store. I know what that feels like because I have found lots of awesome things in the store.  One of my favorite purchases, and I purchase a lot here, is a Philippe Starck Ghost Chair." The clear lucite chair cost Kim just $25. She says if it's not an actual Starck chair, "Then it's one heck of a knock-off.  Even the knock-offs are worth $200." Kim is not alone in loving the thrill of a great thrift store find. Kim is also not alone in using The Caring Place as a respite, or place to feed her soul. We are thankful that so many volunteers trust us to be one of the nurturing places in their lives.