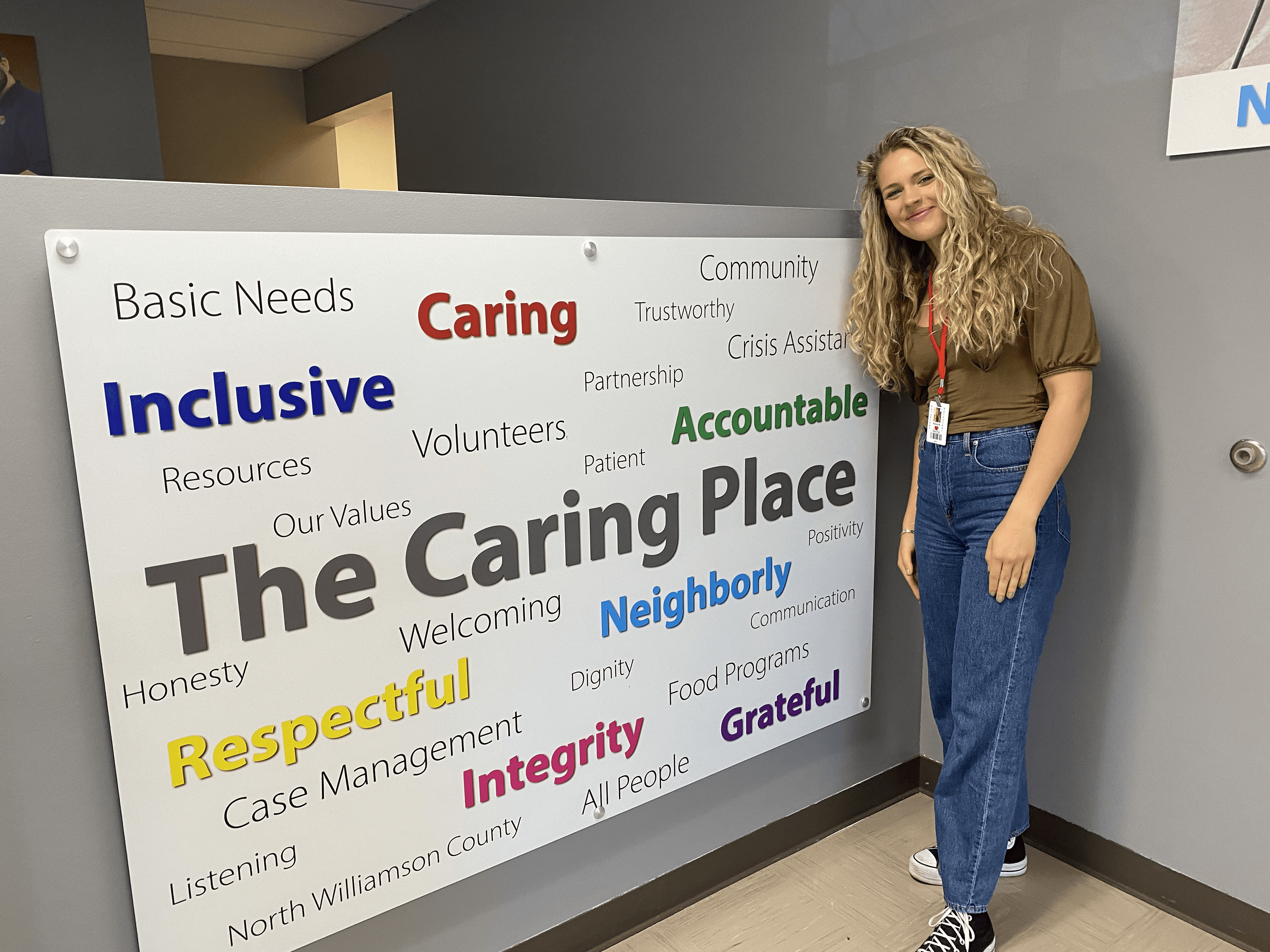 A few weeks ago, I did not know much about The Caring Place beyond some faint recall of kind faces and overflowing boxes from sporadic trips through the donations drive-through when I was a kid. As a Georgetown native, current resident, and Southwestern student, I generally knew The Caring Place had a significant, lasting presence in our community. I generally knew it was a place that lived up to its name and cared in various and necessary ways. Because of this, when Southwestern posted an opportunity for a summer internship here, I excitedly pursued it. Interested in nonprofit work, education, and finding stories, I knew there was much to tell and much to learn. Before beginning, I merely knew the facts: The Caring Place takes donations, has a thrift store, offers food services, etc. Without meeting the people, without further experiencing the place, I did not understand all that meant. Before feeling it myself, I did not fully understand The Caring Place's extent of care. 
As I near the end of my college career as a Southwestern senior, I have been thinking increasingly about teaching. I believe what has guided me in this direction is my love for learning, for being an engaged student, and for wanting to continue to encourage these things in others and to continue to be these things myself. In thinking about being a teacher, one of the most important lessons that I'd hope to exemplify and relay is that everyone and everything is a teacher. For this to be, it requires little except my allowance and curiosity. It requires my exploration and listening.
This mantra of sorts that "everyone is a teacher" has once again been the most resounding of lessons I've learned in my first couple of weeks as The Caring Place's intern. As an orientation to the organization, I worked in the various departments to gain an inside look at the many operations here. I spent an afternoon with the Donations team, unloading things, and figuring out the swift process of sorting items as they are received. It was a hot Texas June afternoon and I struggled to remember what goes in which bin, but I was fed with water, snacks, and jokes. Another day, I was guided through the methodical process of further sorting and pricing in the warehouse, tasks done largely by the many and impressive group of volunteers. I have explored the store, figuring out the layout, sifting through items to highlight with an online post, or to even periodically buy myself on days I couldn't resist. I met with staff members who relayed the remarkable statistics of assistance and aid The Caring Place has historically provided and continues to provide after 37 years. I spent a few days in the Food Pantry, where I witnessed and took part in the stocking and shopping process, happy to see carts loaded and unloaded with selected cans, toiletries, meats, condiments, and produce. I joined a morning of food distribution in Bartlett as a member of the food distribution line, assisting a winding line of cars. And all along the way, I met many who showed me, who helped me, who taught me what they knew—what I didn't know but now do, now have started to. 
I began, just weeks ago, knowing little, but, luckily, everywhere I have turned has been someone teaching. I have learned that there are experts here—whether it be in Donations, pricing, Food Pantry, Programs and Services, communications, the thrift stores; there are experts—teachers who have specialties in The Caring Place's functioning and who know many things I do not from their great and unique experience. They have all been graciously willing to inform and contribute to my own experience.
I am being taught a story of care here, far beyond what I knew and know, that continues to be told by many teachers. I am continuing to listen. I am learning and, in learning, perhaps am also beginning to tell a part of this story myself. Perhaps you can listen to and be a part of this story by utilizing services, volunteering, donating, and shopping at The Caring Place, benefitting from and contributing to a compassionate history of helping neighbors in need.