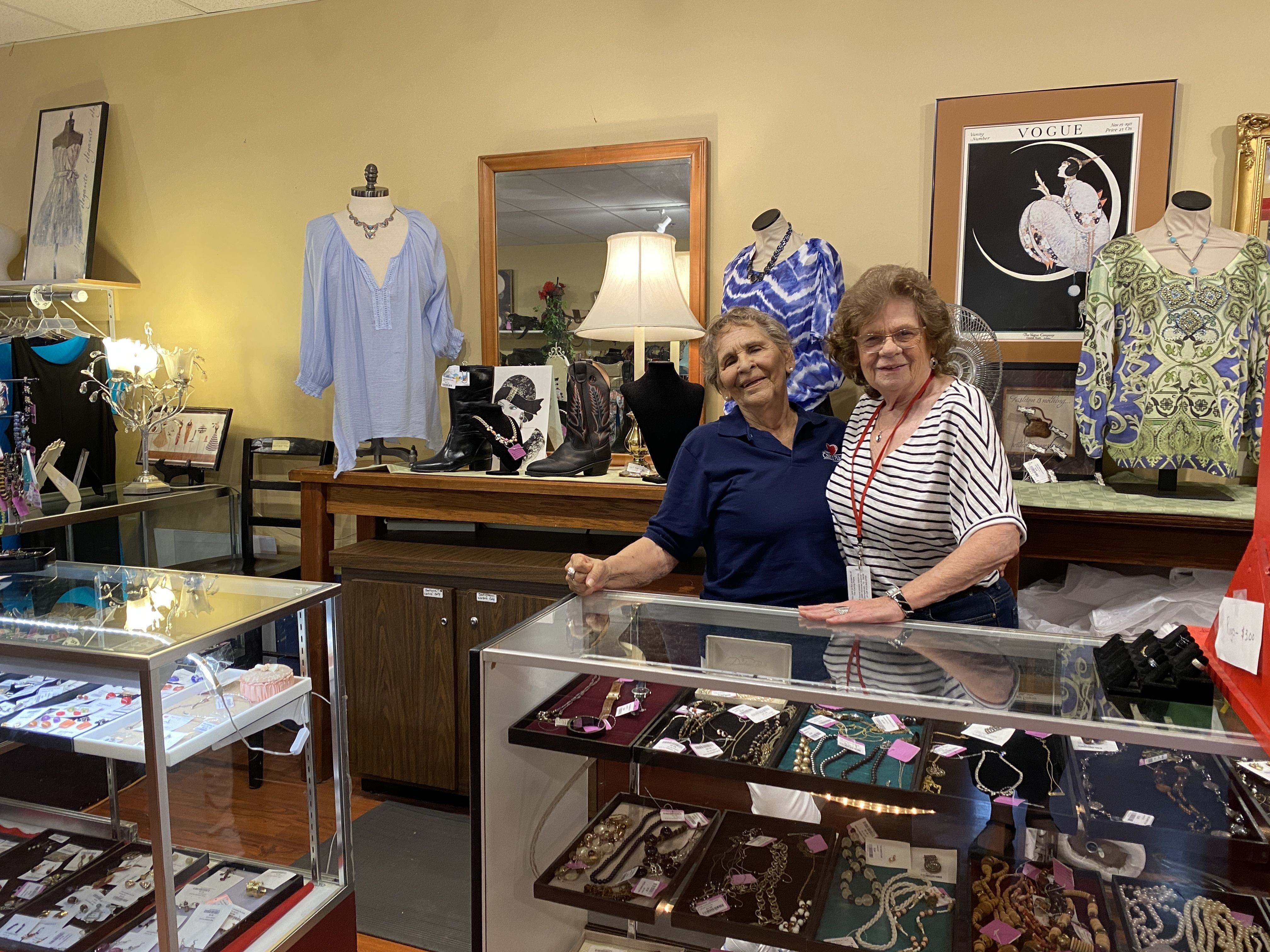 Rosemary is a prime example of why being at The Caring Place is so fun. For the last ten years, she has contributed to the lively atmosphere as a volunteer pricing purses, hats, and clothes. I assume much of this time involved laughing and joking because just about our whole conversation did! Rosemary said she initially got involved at The Caring Place because she had retired and was getting bored. The Caring Place ensures she is not bored, and she is one of the individuals that ensures The Caring Place is not boring!
As other volunteers walked by and wondered about our conversation, Rosemary would joke, "Mind your own business. I'm getting interviewed!" She also exclaimed, "Hey, you dropped something, litter box!" when a bin full of clothes to be sorted would roll by and "Good morning, are you lost? It's not hard to get lost!" as another longtime volunteer was heading to her station. Having many friends at The Caring Place, Rosemary called out, "Hey! What're you doing, girl?" countless times. I learned that some of the other volunteers call her "Fairy Godmother" because Rosemary finds and saves items from the purses like hair ties and pens that cannot be sold. 
Before becoming a behind-the-scenes Fairy Godmother at The Caring Place, Rosemary frequently visited as a shopper. "One time, my mother was moving, and we needed to get some stuff. We brought her here, and that's when I discovered it." Since her discovery of The Caring Place, Rosemary became a regular shopper that turned into a regular volunteer who shows up sometimes four or five days a week. After years of seeing the things at The Caring Place, Rosemary said, "All of it is favorite finds! I mean there's dishes, pots and pans, blouses that I don't need but buy anyway. It's so easy to get stuff!" She even went through her outfit, piece by piece, pointing out, "This is from The Caring Place. Shoes are from The Caring Place. Even the socks are from The Caring Place. The only thing that isn't is my bra! But, you know, I could've gotten one here. We sell those, too!"
Unsurprisingly, Rosemary's favorite part of being a volunteer is communicating with everybody. "We have a ball here! And everybody likes everybody. Everybody's real sweet—the shoppers, volunteers, and staff. There's so many different personalities to interact with all day. It's just fun—for everyone involved. It's a great place to meet and keep friends!" Rosemary and the other friendly volunteers do the work of fairy godmothers daily. "There just isn't any other place like The Caring Place. We help everybody. We get everything donated, and I'll say this much, we also give it out. All kinds of families are helped with clothing, shelter, rent, rides, with everything. That's what it's all about." There's something nearly magical about this operation and what the kindness and care of many can do. 
(Rosemary on left in photo.)