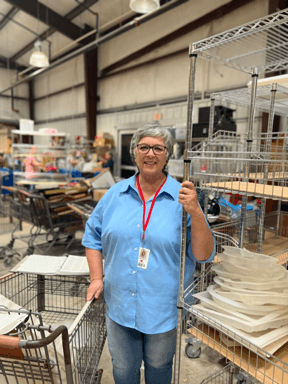 Michelle Betts began volunteering at The Caring Place in August of 2019, just months before the pandemic. In these few years, she has witnessed and been a part of many changes here. As I walked up to her station in the warehouse, Michelle was pricing and sorting these large, clear plastic shapes. Some were leaves. Some looked like rocks. One was a smiling sun. Beyond this, I had no idea what they were. However, with Michelle's explanation and my further examination, it became apparent that these mysterious shapes were stepping stone molds. My moment of confusion was shortly followed with "Oh, that's cool!" This is a prime example of what Michelle and other volunteers in the warehouse do every day. At The Caring Place, it is a constant moving puzzle to figure out not only what donated items are, but also what they should be priced at and where they should go. Michelle, describing her job, said, "I do mostly intake of donations. I do pricing. I also take care of the greeting cards, and we do a lot of greeting cards and paper things. It's a lot of packaging and putting things together—stuff like that. Basically, I'll do anything and everything that needs to be done that day." In other words, Michelle is one of the dedicated solvers of the continuous The Caring Place puzzle. 
Before becoming a volunteer and Georgetown resident, Michelle not only knew about The Caring Place, but intentionally made trips here from Austin. She explained, "I love thrift shopping. I first discovered The Caring Place through shopping. I came up here to shop on purpose because I always liked the atmosphere and the mission." Now that Michelle works behind the scenes, she gets to be involved with thrifting all the time. "We have a blast! And the people you work with are like a whole different family. Everyone has the same mission, and most people are volunteers. I'll tell you, some days it's really hard work, but then you see people shopping that need your help. It really is just so satisfying—when you know people need things, whether it be clothes or food, and they're getting it."
The pandemic was certainly an unprecedented obstacle at The Caring Place but also an opportunity to renovate the facility. Michelle, having started as a volunteer right before COVID, remarked on the improvements: "When I started, it was not like this. It wasn't open. Major changes slowly started happening. It's an incredible transformation for the good. Every day, we'd come in with a whole new idea. And it's made it so much more efficient for a pricer to get the items, price, and get them out on the floor. And that's the whole idea: to get it this morning, get it separated and sorted, and immediately get it out to sell. There are some customers that come in three to four times a week because they know every single day, it's going to be new."
Part of the fun as both a shopper and volunteer is the constant newness and inability to anticipate what might come in. When I asked Michelle if she had any favorite finds over the years, she called out to the other volunteers in the warehouse, "Hey, do any of you remember the man made out of prunes? Where is he? What happened to him?" A few days ago, they came across this little chimney sweep figurine made of prunes while pricing. No one seemed to know what it was. Still as more people in the warehouse collaborated and commented on the item, Christine, another volunteer who's German, said, "Oh, we used to make these!" It turns out prune man making is a German tradition, and it just so happened that this particular prune man was worth about $40! Michelle, recounting this find, said, "I'm going to try to find him for you. That was kind of one of the weird ones. It's hard to have just one favorite. There are favorites all the time." Because the warehouse and store are full of these unique and sometimes obscure items, the volunteers—or solvers of puzzles—have to daily wonder, "What is this? And we have to figure it out. It can be anything. It's so interesting to see what comes in, to see what people donate and why."
Unlike the difficulty of pinpointing a single favorite find, Michelle easily described her favorite part about being a volunteer: "The comradery. Between all the people. And it all really does serve a huge purpose in the community. Something we all do together and we can all feel good about." With operations from The Shops at The Caring Place to the Food Pantry to Second Helping and with crisis assistance ranging from rent, mortgage, utilities, transportation, and more, putting The Caring Place together is a collective effort. It involves many solvers, like Michelle, who specialize in and are committed to specific pieces of the puzzle.