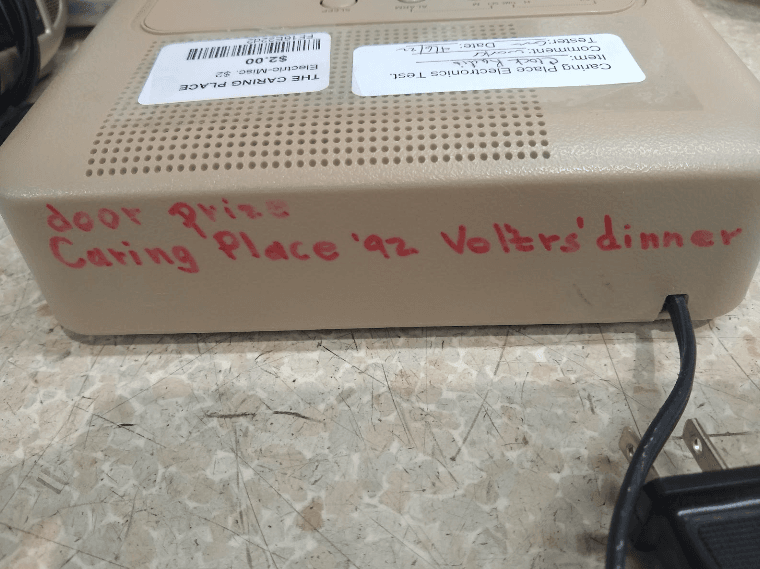 The Caring Place has been around since 1985.  We have volunteers who have been with us in some capacity nearly that long.  Their presence is a reminder of the rich history here.  Volunteers have counseled neighbors in need, answered phones, distributed food, been influential ambassadors, sold items in our stores, and sorted through all those items headed into the store.  That's where this story begins.  A volunteer, Gary, came across a clock radio.  His job is to make sure small electronics work and price them before they go out on the floor.  Before it arrived on a shelf at The Shops at The Caring Place, he was sure to take a picture and send it to the staff.  The handwritten note on the back of the old clock radio read in red marker, "door prize Caring Place '92 Vol'trs' dinner."  If you have any connection to The Caring Place, those written words might bring a smile to your face or maybe an astonished, "Wow!"
Through the years, we have had many volunteer appreciation events to celebrate the work of our volunteers.  It's always been essential for The Caring Place to give gratitude.  Volunteer support has been critical to this growing community, and since 1985 Volunteers have been the heart of The Caring Place.  And it looks like in 1992, we had a volunteer appreciation event which included a clock radio as a door prize!  It must have been an appreciated and well-received prize because long after the introduction of iPhones and Alexas, this clock radio somehow kept its esteemed place in a Volunteer's home.  Now, 30 years later, it seems only fitting that the item came back to The Caring Place.  No one knows better than Volunteers how donations strengthen our mission.  Even back in 1985, we accepted donations to fund the critical work involved when helping neighbors in need. 
Let's step back in time a moment.  In the '80s, the economy had gone bust.  Many in this once small Georgetown community struggled with paying rent, meeting utility bill deadlines, and simply feeding their family.  As the years have gone by, the need for The Caring Place has remained.  You can't guess what crisis will come next for a family.  Since 1985, we have seen soaring inflation, tech and real estate bubbles bursting, long wars fought overseas, extreme storms, and even a pandemic.  On a more personal level for some neighbors, we have seen tragic car accidents, cancer diagnoses, loss of loved ones, and more.  The relief The Caring Place provides for neighbors going through a crisis is indescribable. Through the years, our mission has expanded to helping neighbors in a large portion of northern Williamson County, something that is only possible because we have the most caring community around.
This clock radio from 1992 reminded us of the many years volunteers drove and sustained the work at The Caring Place, and the years of crisis assistance available. It also reminded us that our supportive community, volunteers, and beyond play a vital role by donating items and buying them.  In this case, a customer can buy a basic clock radio that a volunteer donated and a piece of The Caring Place's history for the remarkably low price of $2.  And that's two more dollars supporting your neighbors going through a crisis.