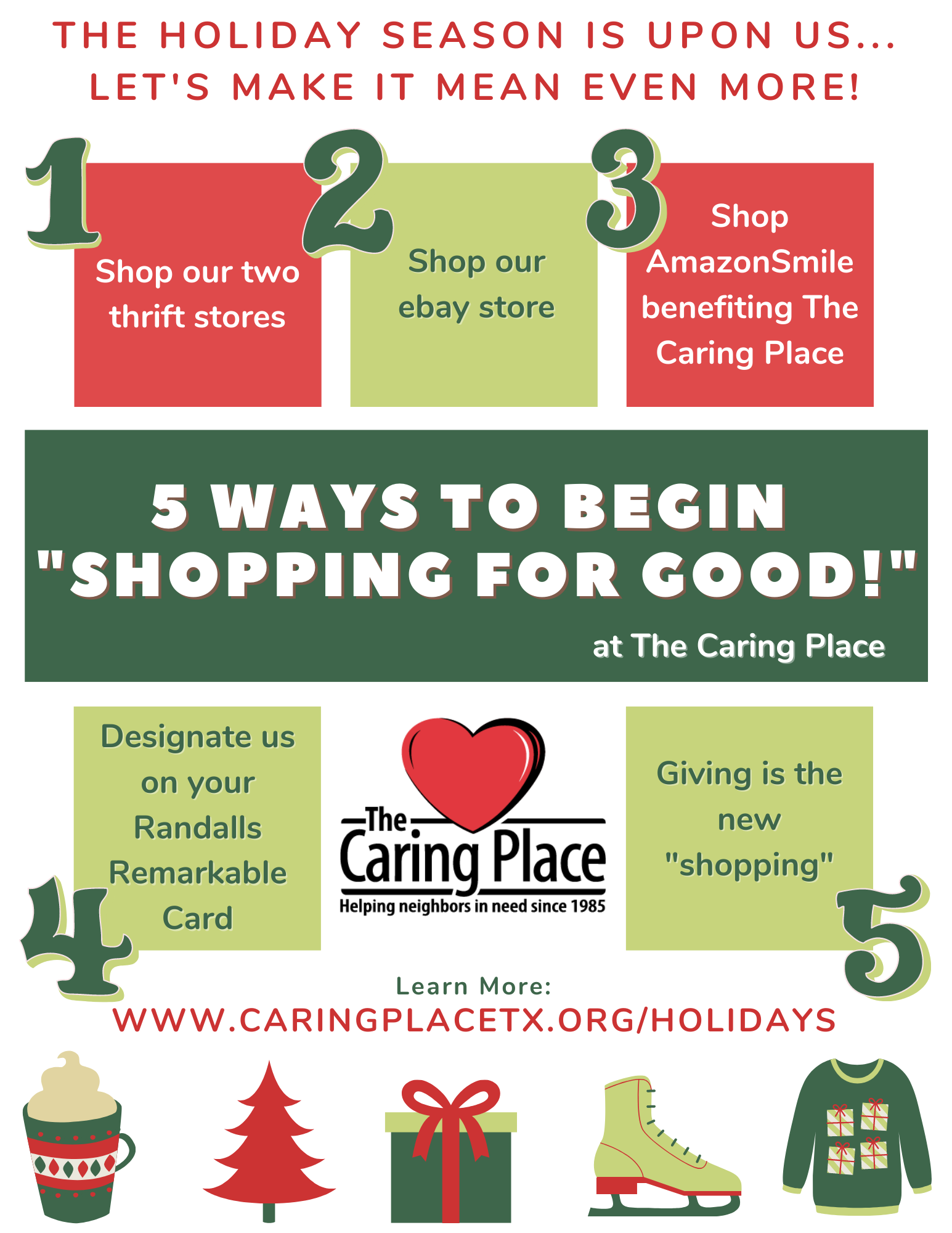 What is "Shopping for Good?"  This is the act of shopping in support of a cause.  In our case, when you shop in these ways, you are supporting The Caring Place mission to provide for the basic human needs of all people in our community in a welcoming, respectful and caring way.  Revenue generated from these various forms of shopping help The Caring Place support its neighbors in need with food, rent, utilities and other critical bills.  When our neighbors are in crisis, The Caring Place is a lifeline.
Let's begin!  Here are the 5 best ways to integrate "shopping for good" in your life:
 1.  Shop our thrift stores.
Do you like thrift shopping?  Never tried?  Maybe this is the year to start!  The Caring Place has two thrift stores fully stocked by donations from our generous community.  If you have a unique style, love a great value or appreciate the idea of giving things a second life, then thrift store shopping is for you.  We are always impressed by the treasures that are donated to our organization.  New and gently used brand name clothes, furniture, housewares, small appliances, sports equipment, tools, art, antiques, vintage items, books and more can be found in our stores.  What about gift cards?  Yes, we sell those, too.  To begin your thrift store shopping adventure in Georgetown, Texas, here's the information about our 2 stores.
The Shops at The Caring Place
2000 Railroad Avenue | Georgetown, Texas
Learn operating current hours on our website.
512-943-0700 | caringplacetx.org/shop
 Second Helping
 3700 Williams Drive | Georgetown, Texas
 Shop by appointment at this location!
 512-987-2998 | caringplacetx.org/shop

2.  Shop our eBay store.
Are you a discerning collector?  Have a taste for some finer items or hard-to-find vintage?  Maybe you love shopping, but just don't want to come inside right now.  Our eBay store is open 24/7 for you.  Like our thrift stores, these items are donated by our community and are ready for a second life.  Find our eBay store at caringplacetx.org/ebay.
3.  Shop AmazonSmile.
We get it.  Sometimes what you are looking for simply isn't in our stores.  If it's something you find on Amazon, you'll also find it on AmazonSmile.  Be sure to use this platform to make all your Amazon purchases and designate The Caring Place of Georgetown, Texas as your nonprofit of choice.  The Caring Place receives half a percent of your eligible purchase!   This also works for those of you who make all your business purchases on Amazon.  Give it a try.  Help your local community while shopping on AmazonSmile!  It adds up!  Find the link and more info at caringplacetx.org/amazonsmile.
4.  Grocery shop.
You didn't stop grocery shopping, did you?  If you are a Randalls shopper you can even make an impact in your community by doing your regular grocery run.  Head to the courtesy booth and link your Randalls Remarkable Card to your favorite nonprofit, The Caring Place!  You can get started by printing the form from our website at caringplacetx.org/randalls.  Our nonprofit account number of "13870" is preprinted on the form and you simply print and complete the form and take it to the Randalls courtesy booth.  1% of your eligible purchases will be donated to The Caring Place.
5.  Think of "giving" as "shopping."
Not everyone loves shopping.  And, not everyone needs gifts, making some friends and family difficult to shop for.  However, we know there are people in your life you want to recognize with a gift during this season.  Have you considered making donations in a gift recipient's name?  Someone who appears to have everything might appreciate that you knew they enjoy helping others.  We will even send them a card letting them know a donation was made in their name.  You can make that gift online at caringplacetx.org/donate or mail checks to P.O. Box 1215, Georgetown, Texas, 78627.