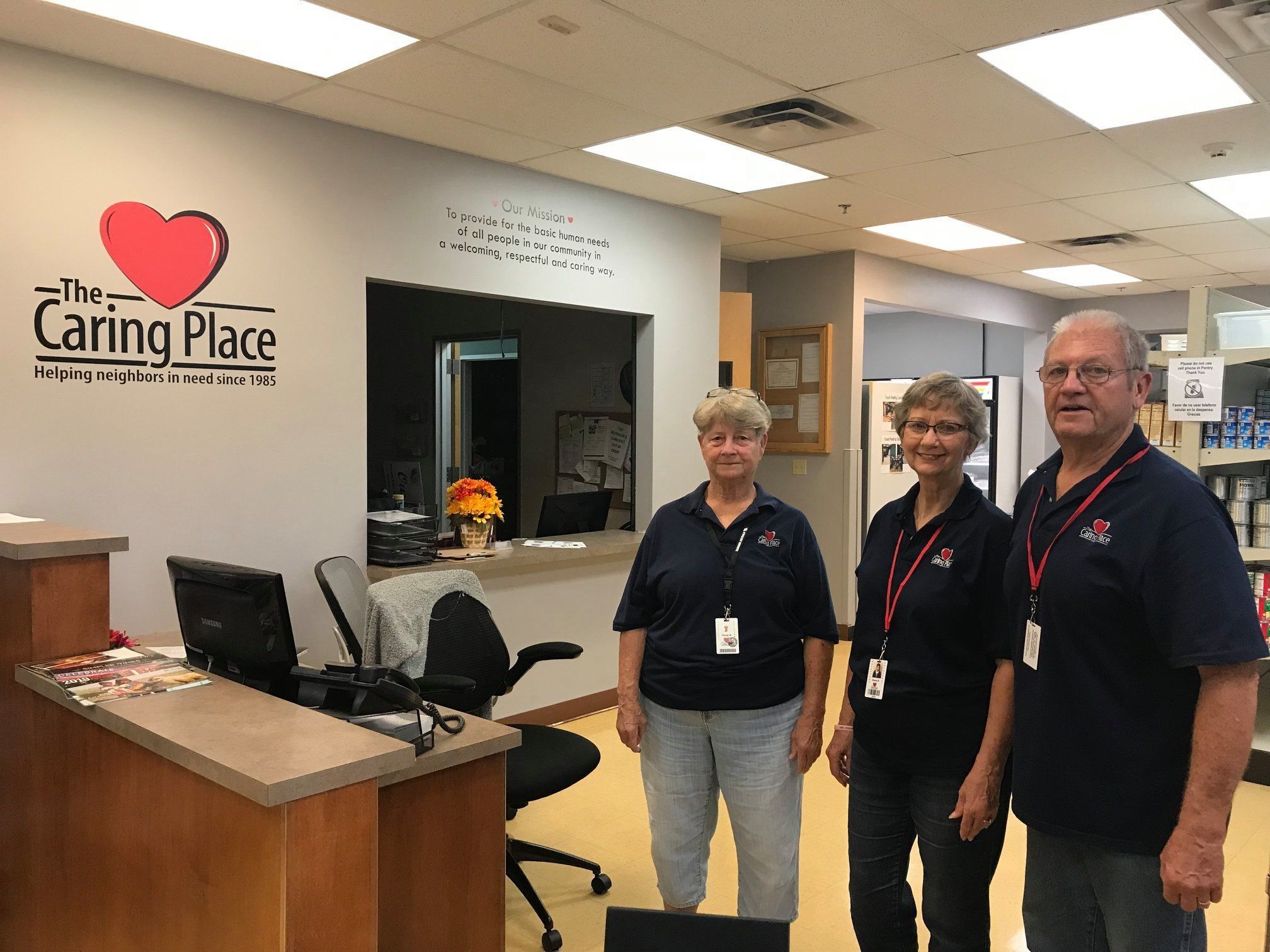 People are the heart of The Caring Place. Volunteers are a huge part of that. Prior to the pandemic, on any given day, you could find volunteers sorting and pricing items for our stores, providing superior customer service, merchandising store displays like pros, serving neighbors with food, coordinating information to assist those in need and so much more. At the start of the COVID-19 pandemic, many of our volunteers who previously dedicated much of their free time to The Caring Place, found themselves in new territory, spending a great deal more time at home. When COVID-19 shut down our facilities, it also stopped the coming and going of hundreds of volunteers. Once bustling, joyous hallways became a ghost town overnight.
Yet, The Caring Place mission persevered. Our services were more critical than ever to families who experienced sickness, job loss, unexpected expenses, and even death. In order to ensure that critical care continued for those most in need, The Caring Place immediately began operating the Food Pantry in an outdoor drive through run by its staff. It then proceeded to also provide financial assistance in a remote, contactless method by phone while simultaneously opening the doors to its stores gradually and carefully. The hands and hearts of our volunteers were necessary to meet these challenges.
In order to keep the safety of our volunteers and our mission a priority, many of our volunteers found new ways to help:
They took donated items home to price and sort, simultaneously giving up dining room and garage space to simply do their volunteer work. When they were done, they delivered those items back to us to sell in our thrift stores;
They sewed masks;
They took part in remote food distribution;
They made phone calls and sent thank you cards to donors;
They stayed updated on Facebook and our website so that they could share accurate information with the community;
They sent our staff encouraging notes;
As store and program hours increased, they returned to work, sometimes in new roles; and,
They waited for considerable periods of time in the donations drive through to make item donations, and many supported us financially.
Our volunteers' dedication to The Caring Place has not gone unnoticed. We had some remarkable hearts with relentless energy encouraging us to move full steam ahead for the past year. Whether they were cheerleading, doing work at home, making generous donations or happily wearing masks as they found their way back to us, their contributions to The Caring Place shined.