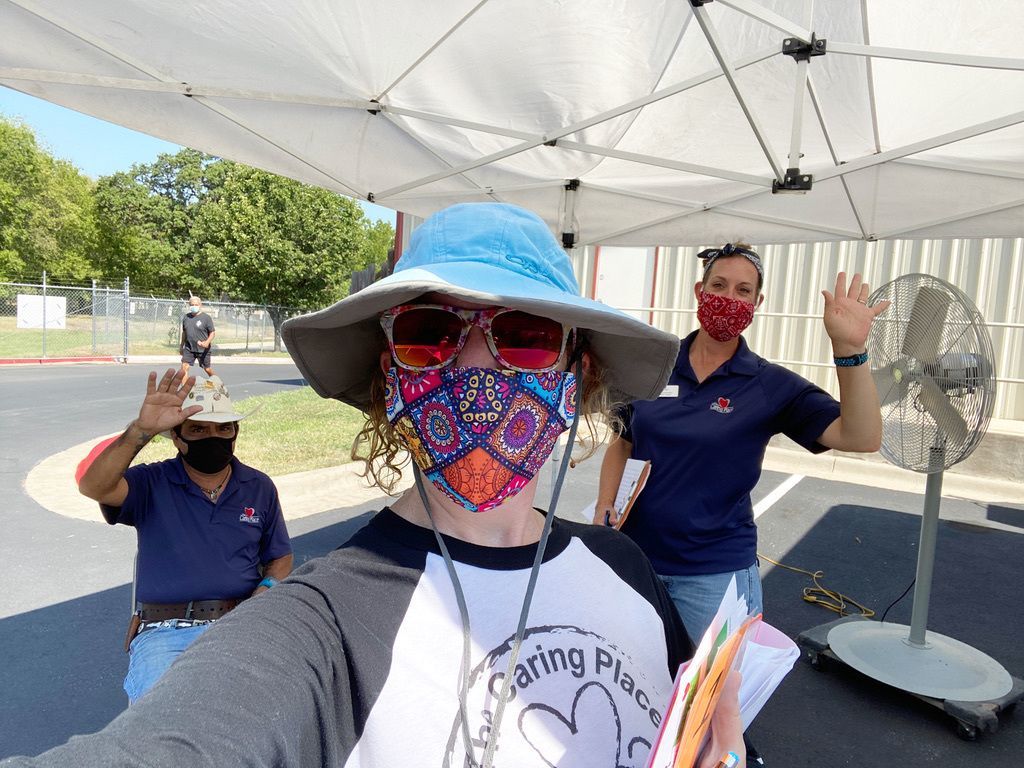 Goodbye, Summer!  I took this picture in August.  Don't they say a picture is worth 1000 words?  We were in the height of a Texas summer in this photo.  I was filling in for a co-worker who went on vacation.  The sun loves me, loves to burn me that is, so I put on my light blue wide-brimmed hat, my long-sleeved shirt from The Caring Place and my coolest shades to sweat out the morning with Lisa and Martin in the Food Pantry  Drive-through line.  Working the Food Pantry line reminds me of the Postal Service's informal motto: "Neither snow nor rain nor heat...stays these couriers from the swift completion of their appointed rounds."  In the case of The Caring Place, we distribute food in all types of weather.  Well, if it snows, let's talk, this is Texas after all.  
There I was, standing outside on black pavement in August, hoping for a moment of shade, guzzling water, ready for a couple hours of intake.  I should reveal there was a big smile under that mask though.  My co-workers, who regularly work in all types of outdoor weather, have a uniquely positive attitude as well.  I'm proud of the devotion they have for our community.  However, for me, stepping away from my computer screen is a nice break and often, inspiring. Intake is a revealing part of the Food Pantry line.  We take basic, identifying information so that we can track who is receiving food and how much food is being utilized.  This helps our Food Pantry Director know how much to order each week and tells us how many families are impacted by food needs in our community.  There's a secondary benefit of intake.  Relationships.  My co-workers are familiar with many of the families.  They often knew who has had a death in the family, who lost their job due to COVID, who recently had surgery, who is fighting cancer or who is raising grandchildren. Hardships bring on caring conversations because that is who they are. 
It's no surprise summer brought new visitors to the line.  Families often struggle in the summer because school is out and they find themselves feeding their kids at home more. Do you know how much cereal a child can eat?  Having kids of my own, I know how food mysteriously disappears from the pantry, so food helps families in a very tangible way. Additionally, families struggle during this season due to summer childcare costs.  With school functioning at home both in the spring and fall in much of our service area, it was a very long summer indeed. Families were looking to relatives, friends, churches and other community organizations to receive help with childcare or online schooling supervision so they could return to work. Creating a better routine for their kids was critical.  In the food line, kids made more appearances singing or coloring in the backseat.  When asked, most kids were excited to return to in-person school, but as we knew, that wouldn't be for another couple of weeks. Everyone would need to hang on to all these new schedules, just a bit longer.  We knew they could do it. Families in our community are strong and resilient. Accessing food at The Caring Place is one of many ways families are working hard to solve daily problems.  
What daily problems?  Neighbors are working on problems like paying utility bills, which increase in the summer.  They need to pay emergency medical bills or rent that has come due. Or they need to pay unplanned bills that arise when they suddenly need alternative childcare.  One way to help solve problems is to join that food line.  Each car receives 40-50 pounds of food.   Having the ability to pick up food twice a week supports families of many sizes.  As we have mentioned many times to our supporters, when you aren't worried about where your next meal is coming from, you can better handle other critical expenses like rent or childcare costs.
What if you need more than food?  This summer, Williamson County introduced Wilco Forward Phase III.  The Caring Place was designated as an administrator of these important funds in our area.  Neighbors are finding additional relief with rent and utilities through this program if they were impacted by COVID-19.  While the program was highly publicized, our Food Pantry line was a conduit for information as well, sharing with individuals how to contact our Programs & Services Department for help.  Our traditional financial assistance was also available for those experiencing financial struggles.   Let's face it, if you work in one of our many  imperative entry-level service industry or essential jobs, you are probably living on a tight budget.  And with the added stress of COVID-19 unknowns, burdens can escalate quickly.
I wanted to share this photo with you and share the things it makes me think of as we say goodbye to a long, hot summer.  I think of our devoted staff taking on new jobs and procedures.  I think of our missed volunteers who are slowly returning to help us scale up our operations. I think about neighbors who have lost so much and been through so many challenges.  Some have lost family members, expanded households, lost jobs, taken new jobs and rolled with the punches life offered to support their families during a difficult time.  I also think of this community, who so often calls The Caring Place asking what they can do to help their neighbors.  We have seen an innate sense of neighborly spirit among so many.  Without skipping a beat, friends offered to volunteer when we were ready, donated extra funds, donated stimulus checks and in one case bought us a forklift!   It's been an interesting summer, full of turns for everyone.  
While the challenges aren't over, the summer is.  I know I am ready to welcome a new season.  Hopefully a cooler one.  I mean that literally and figuratively.
A picture worth 1000 words.  Was it worth it?