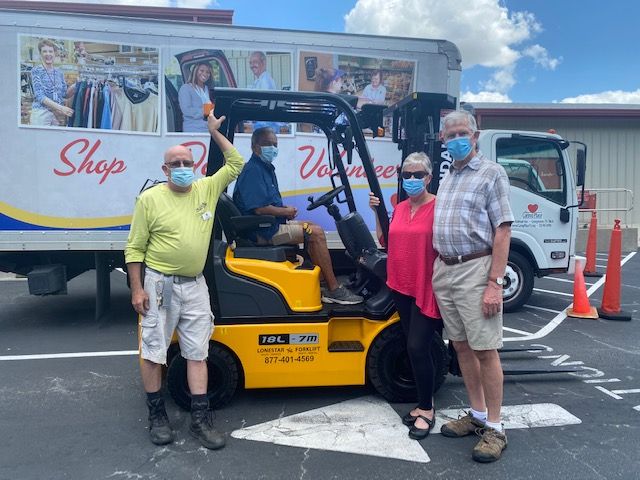 What is The Caring Place like during a pandemic?  One of the biggest changes at The Caring Place is the lack of people bustling around.  In early March you would have seen 100 or more volunteers and staff quickly moving through our organization on any given day.  You could walk through Programs & Services and find volunteers meeting with neighbors, entering data, or studying paperwork and files.  If you walked into our thrift stores you'd see our volunteer cashiers laughing with each other behind the registers or quickly checking out a line of customers.  There were often several ladies chatting it up in our back jewelry room, planning the next jewelry show.  One could peek in one of the back offices and find our trusty IT volunteer nearly every day of the week!  But, that's not all.  We had volunteers sorting toys, testing electronics, hanging clothes, and of course pricing.  We had pricers researching collectibles, antiques, finer boutique clothes, purses, shoes and thousands of decorative items.  All those items for our stores came through Donations which also utilized volunteers.  And, The Caring Place also had a busy Food Pantry using volunteers to sort and stock food, and help neighbors shop for their families.  We even had volunteers greeting visitors and answering our phones.
That's an incredibly long introduction simply to explain to you how things "used to be."  100 volunteers a day.  Let that sink in.  100 volunteers a day to keep this organization moving forward at the fast pace to which it had grown accustomed.  And, that does not include the nearly 30 staff who made sure things remain consistent and communication among our shifting volunteers easy.  In mid-March all this hustle and bustle switched to the 30 staff alone.  Staff cleaned and sanitized, built things like sneeze guards, created new, safer procedures, created ways to financially help neighbors by phone and utilized our drive-through to not just take items, but also to provide food in a contactless way.  Oh, how life changed...for all of us.  Our volunteers were no longer the life of the party we loved seeing each day, and as staff, we were doing things we'd never done before.
Now, at the end of the summer, we are slowly bringing back a few volunteers which is critical to scaling up again safely.  Through all these many changes in the last few months, there is one thing that never seems to change for us.  It has to do with all those volunteers.  While the majority of our volunteers aren't physically here, they have stayed with us in heart.  Volunteers regularly email or call us to encourage us.  They even share and like our social media posts to help us spread the word.  There's one more thing that many volunteers do to show support.  They give.  Their front row seat in our organization may be temporarily gone or altered, but it gave many volunteers an inside look at the services we provide in our community and the culture we've built.  They know our needs and with gifts, big and small, they stay committed to this place.
There's probably no greater recent example of this than a forklift gift we just received.  Therese and Carlos Verdonk-Vertruyen have always been ready donors.  We could rely on this couple to make a donation at our annual fundraising event, Deep in the Heart of Caring.  When the pandemic-induced closures occurred, they gave again, knowing how The Caring Place impacts those in need.  Then, in late July, The Caring Place reported incredibly disappointing news.  Our fence and a piece of equipment we heavily rely on was damaged in what appeared to be an attempted theft.  The forklift was already old, so dealing with the effects of damage was not an exciting prospect.  Carlos and Therese took away our concerns and bought us a new one!  Carlos and Therese say they like giving while they are alive, and that's easy to see.  We invited them to approve the gift in person and you could see it in their eyes.  They were pleased watching this forklift speedily moving pallets around our parking lot.  They were excited to hear about how our staff makes easy work of moving Donations from a recent Donation acceptance day with this new machine.  They loved seeing our team talk about how we move food around the warehouse as we prepare for our drive-through Food Pantry.  And, to be clear, we don't just see checks from Carlos and Therese.  They are giving in many ways.  Therese specifically has volunteered at The Caring Place since 2014.  She has special knowledge of The Caring Place's needs because she sees the organization making things work every week she's here.  She's volunteered in our stores, pricing, merchandising and even in Donations sorting items.  Our Store Director, Ann Lind says, "Therese always volunteers with a loving heart and is happy to help wherever needed."  When it came to this gift, our Donations Manager, John Burton shared, "Therese is always ready to help with a smile.  Many times she has come to the sorting table to help at busy times.  It's no surprise that she has offered to help the cause at The Caring Place.  A beautiful human being."
Hearing my coworkers talk about Therese and this gift from her and Carlos is a reminder that this is more than a generous gift.  It's an illustration of many of our volunteers' hearts.  Not only do they spend time here volunteering in a variety of tasks, but also they are often looking for more ways to help.  This month, for Therese and Carlos, it was the ability to purchase a forklift for The Caring Place.  And, like many of our volunteers, Therese and Carlos hope their gift inspires giving.  This is one of my favorite things about The Caring Place: the vested interest both volunteers and staff take to continue realizing our mission.  An interest that keeps giving and sharing the work of The Caring Place with the community.  And, that's what it takes.  It takes a community of people believing in something.  We feel so blessed that our volunteers believe in us and even in this time, when we don't see them as often as we'd like, we know they have our back.
If you are inspired by our many volunteers that have kept this organization strong for the past 35 years, and you are also inspired by community members like Therese and Carlos, we encourage you to give to our Spirit of Caring campaign.  One of the many other changes at The Caring Place this year is the cancellation of our biggest fundraiser of the year.   This Spirit of Caring campaign will take the place of that fall event, and we need your help to reach our giving goal.  You can give at caringplacetx.org/spiritofcaring.  The mission of The Caring Place is to provide for the basic human needs of all people in our community in a welcoming, respectful and caring way.  And, yes, with your help, we will even do that through a pandemic because caring can't stop!