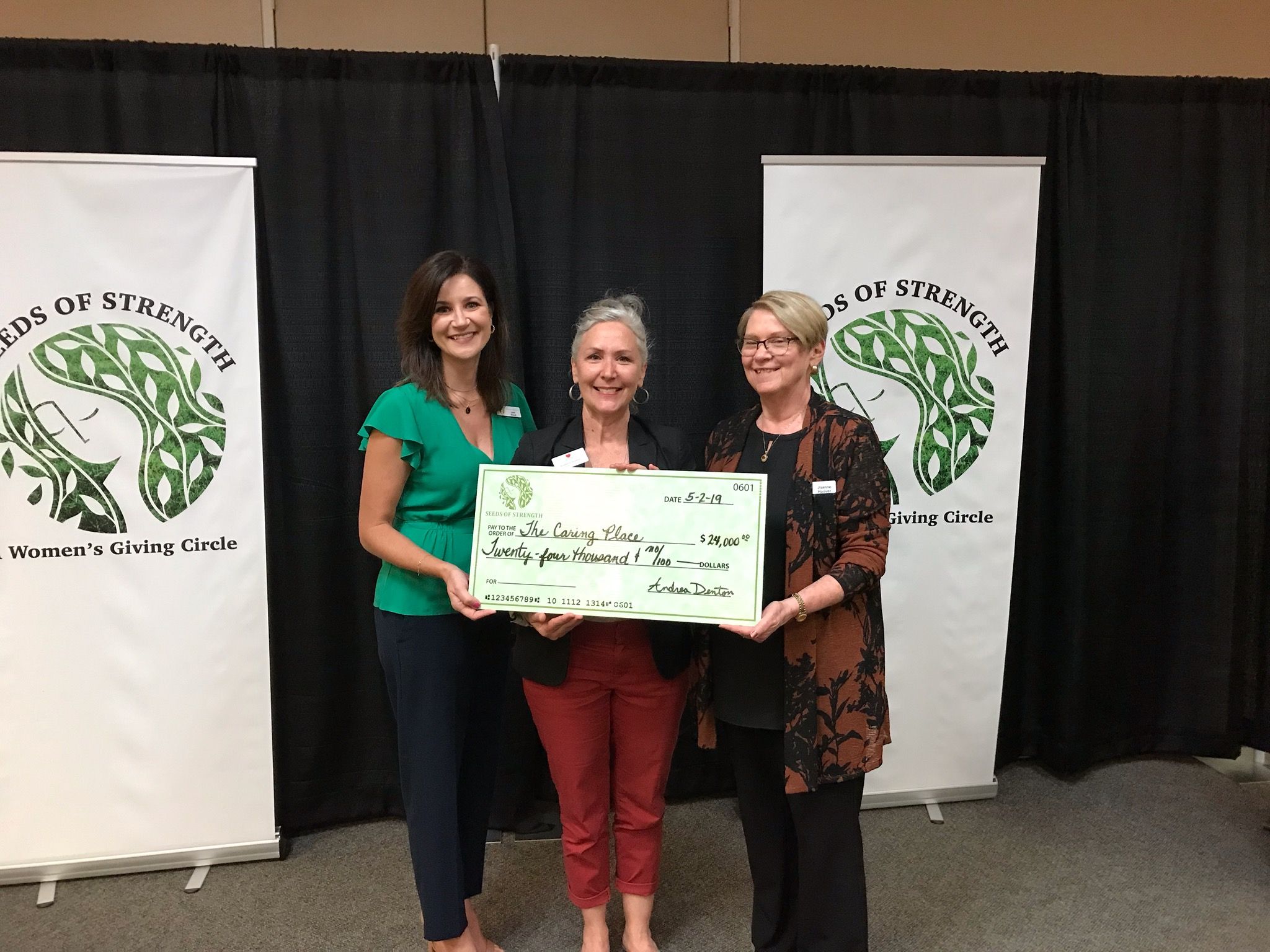 The Caring Place recently was awarded a $24,000 grant by Seeds of Strength to further develop our Senior Independence Program.  Our Program Manager, Kathleen Hopkins, shared a little about the program on the organization's grant voting night. One of her program participants shared a personal story as well.  Since this program is so new and the stories that come out of it are so impactful, we wanted to share that presentation with everyone.  Find below Kathleen's unabridged presentation to the group.  Also, we want to give a special thanks to the Seeds of Strength members for giving us the opportunity to present and for selecting us as a grant winner this year.  We look forward for the year to come and the stories that will surely come from seniors as this program continues to grow.
Hello lady Seeds of Strength!  My name is Kathleen Hopkins and I am representing The Caring Place  and our new Senior Independence Program/SIP just planted last Spring.  We are so grateful for the opportunity to present today and rub roots with an amazing membership of women cultivating a healthier Georgetown seed by seed! 
The Caring Place germinated 34 years ago in 1985 and her new mission statement is to provide for the basic human needs of all people in our community in a welcoming, respectful and caring way.   In 2018 she either fed, housed or cared for close to 7,000 neighbors in need.  This my fellow gardeners is the fertile soil that grew SIP (Senior Independence Program).
SIP is a case management program for folks 65 and older to empower them with the resources and skills to age in place.  The program focuses on 6 pillars of basic needs: community, food, finances, housing, health and transportation.
SIP in its first harvest last year, served 50 participants who evidenced a 71% rate of improved quality of life.  I attribute the phenomenal success of SIP to the relational trust that The Caring Place has in this community.
Our ask to Seeds of Strength today is a grant of $25k to support the cost of basic needs  primarily in areas of housing and health.  These dollars can stabilize a family on the brink of  homelessness when we help with rent while at the same time beat the bush to find alternative affordable housing.  Tasks like these are not easy which makes the support dollars so critical.  We all know the cost to prevent is always less that the cost to cure.  This applies to all areas of basic needs.
Lend me your imagination for a moment.  Imagine yourself …….….. I am 70 years old.  Widowed.  My children are challenged with their own lives.  I still drive but worry about what I'll do when I can't.   I love Georgetown, I feel safe here but I can't afford it anymore. My only income is social security and most of that goes to rent.  I love raising my two grand kids – I just didn't plan for it.
Did you feel that?  Did you feel the exhaustion, the loneliness, the fear, maybe even hopelessness?   What we just imagined is a true SIP story.  It's Suzana's story and although she could not be with us tonight she's asked her SIP sister Cindy Newman to share her words with you.
Suzana's Story:
"7 months into SIP now.   I have participated in community money management classes and I work with my case manager to practice these skills.   I have become a better advocate for myself.    We are in housing we can afford now.   We use community resources to cover costs that before we had to charge each month.   I am 'A Matter of Balance' graduate, which means I have attended 8 weeks of training to reduce my risk of falling.  I am happy.  I am healthy.  I am independent and can manage this season of life as I age.    The Caring Place provided $1,845 direct assistance dollars during my SIP partnership. Those dollars helped to sustain my family as I transformed my life.  I am blessed and forever grateful."
Thank you.