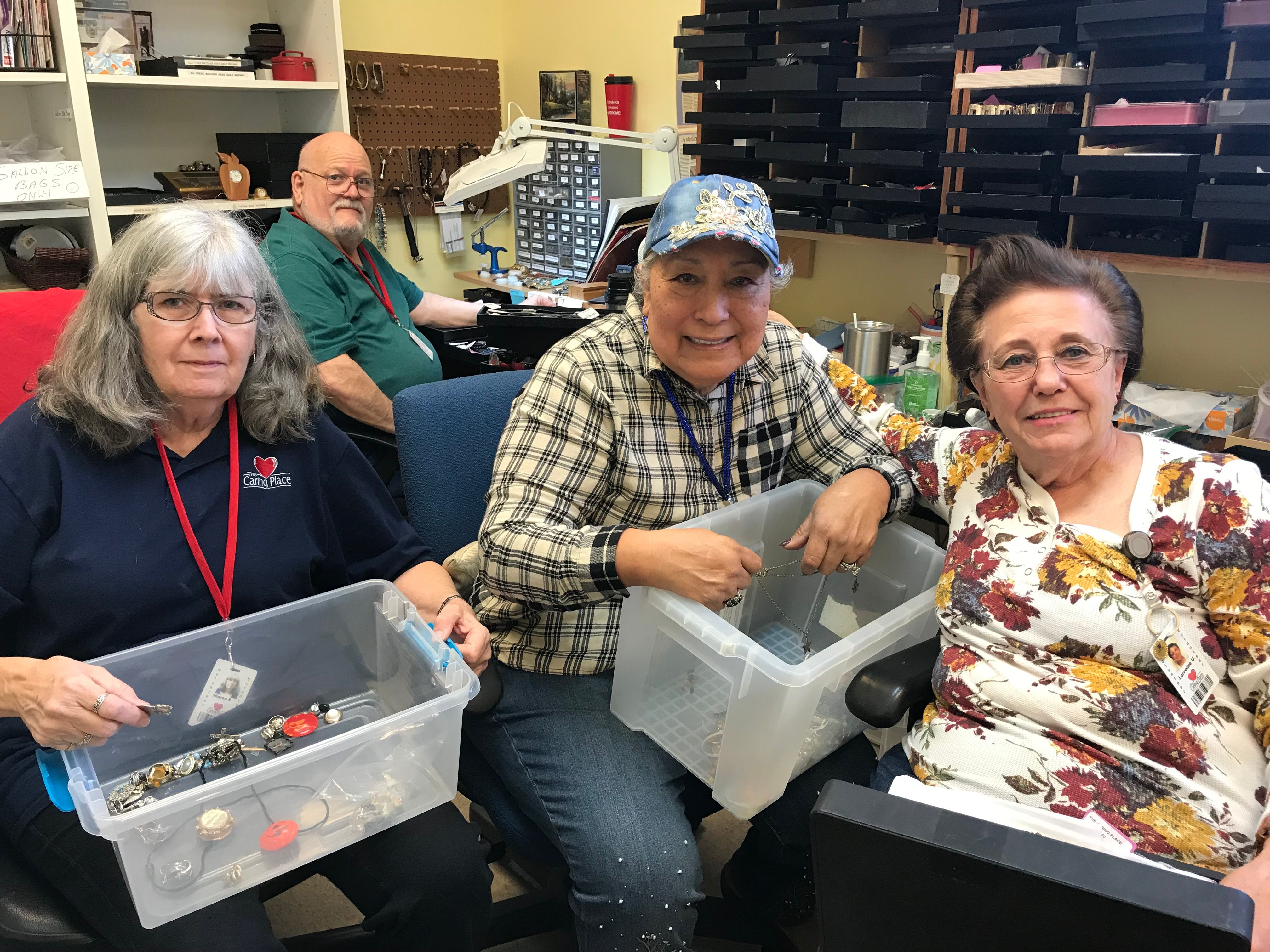 When you walk through the back of our stores, the part out of sight, a newcomer could get lost.  If you come take a tour with us sometime you can see it, but it's large, very high ceilings and we use every inch we can for storage of items for our stores.  You normally see volunteers and staff busily going through items, sorting, pricing and pushing things through the floppy double doors into the store.  If you keep on walking in the back, past the housewares, clothes, and books you come to a quieter hall with a couple of offices.  In the very back corner you may hear a couple ladies talking or laughing or maybe the smell of popcorn and sometimes the smell of jewelry polish.  That final smell gives it away.  This is the jewelry team. 
Lorraine, George, Minnie, Sharon and Maggie make up this crew.  They are regularly working back there in the jewelry room 2 to 3 days a week for a few hours.  All in their 70s and 80s, this group is proud of their ages and proud to be devoted volunteers at The Caring Place.  It's fun to listen to them chat back in their designated room, all their conversations intermixed with questions or comments about the jewelry in hand.  When I asked them what they love about volunteering at The Caring Place, they shared they love each other and their social time at The Caring Place. They laugh about their honesty, but it's clear this team has a heart for people, too.  They think it's great they can work on jewelry together in order to help people.  This jewelry team knows jewelry sells and those profits support the mission of helping those in need.
Lorraine (who is married to George), claims to be the biggest talker of the group is quite proud of the group, their work and the friendships they've developed.  Of the team, she's the only one with jewelry experience.  She's from Rhode Island and spent years working for various jewelers, starting as a teenager.  Did you know Rhode Island was once considered the jewelry capital of the world?  I didn't, until I spoke to Lorraine.  It just goes to show that we have a volunteer position for everyone.  Her background certainly comes in handy here.  The rest of the group is a bit more career diverse with time spent working in education, county offices, military and hospitals.  But, they all found each other and found something they like doing together for a good cause.  Minnie and Sharon also volunteer in other areas at The Caring Place.  I note this because we are always in awe of how much our volunteers do for us.  This is another example.  Between them, this team has over 42 years of volunteer experience at The Caring Place!
I asked the group what is involved in their jobs.  Lorraine said, "Jewelry comes to us looking like this." Minnie laughed as she held up a plastic shoe box container filled with jewelry.  It looked tangled and pretty much a mess.  They explained that the first step is to pull it all out and untangle it.  All the watches go to George, who specializes in those.  George is a numbers guy, and he immediately pulled out a notebook and shared with me that they sell about 25 watches a week.  After the watches go to George, the ladies pull out sterling silver, gold and rate the costume jewelry depending on the condition, materials and age.  Then the jewelry gets polished, cleaned, priced and set aside in trays for display.  I make it sound like a quick process, but the team agrees it's actually pretty slow and can be tedious.  They have a few special tools they use like magnets, eye loops, polishing rags, chemicals and other fine tools to test or work on pieces if needed.  They also do a little research from time to time when they don't recognize a brand or are curious about a piece.  Currently, the favorite finds are James Avery, Jeep Collins and Kendra Scott items.  These are popular particularly at our jewelry shows.
Now, there's something you should see if you haven't.  The next Jewelry Show is May 2nd from Noon to 3pm at 2000 Railroad Avenue in The Shops at The Caring Place.  Perfect timing for Mother's Day, isn't it?  At this event you will meet most of our jewelry team and a few other of our dedicated volunteers.  You'll also see a plethora of beautiful items for sale, including some of those finer James Avery and Jeep Collins pieces.  This year the event will be in our newly expanded Boutique!  The jewelry team works closely with our store director Ann Lind to schedule the shows because there is a lot of preparation involved.  For this spring date, Ann and the volunteers all agreed to host the show in our Boutique area because we are all ecstatic about the changes there.  We want the public to see it.  Once the show is over some of the remaining pieces will be on display in the Boutique at The Shops at The Caring Place and Second Helping, our other store location. 
We hope you come meet this fine group at the show and thank them for their service.  Or, better yet, if it's not too busy, ask them about their time at The Caring Place.