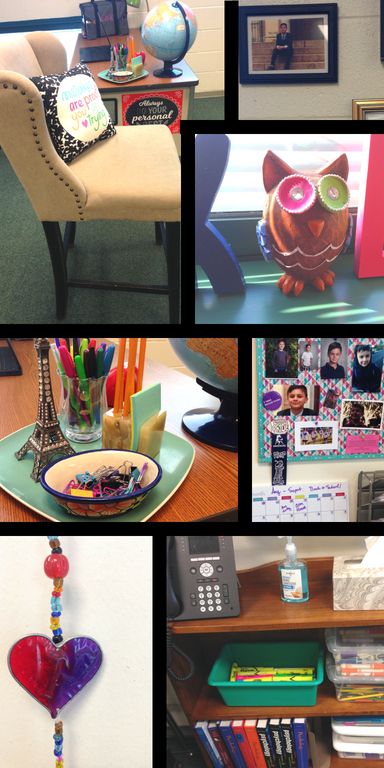 We all know it's true; teachers are some of the most creative and dedicated workers around.  They've followed a career path that gives them a day filled with surprises, challenges, blessings and children, lots and lots of children!  One of our own volunteers here at The Caring Place, Kim Denning-Knapp, is a high school teacher in Round Rock ISD.  Kim recently sent us some pictures of her classroom, you'll find in this post.  

Why is Kim's classroom so special?  Well, it's inviting, colorful, has lots of personality, comfortable for students and displays a little of her own life to share with her class!  But, the piece that filled us with joy the most, is that Kim purchased many of the supplies, furniture and decor for her classroom from The Caring Place!
Like any good teacher, Kim keeps her students' needs in mind when she shops for her classroom.  She said she certainly didn't need a vanity with a mirror for her classroom, but when she saw it, she knew the mirror would open up the space if she attached it to a bookcase.  Kim is no stranger to the amazing assortment of lamps we have at The Caring Place, too.  Kim even offered us a teacher tip; lamps are great when you want to change the lighting and mood in a classroom.  Sometimes the intense fluorescent lights are overwhelming after hours of non-stop brainwork on things like Psychology, History and Philosophy in Kim's classroom.
If you're lucky, you'll find Kim volunteering at Second Helping on a Saturday! Thanks Kim for your insight into shopping at The Caring Place thrift shops!