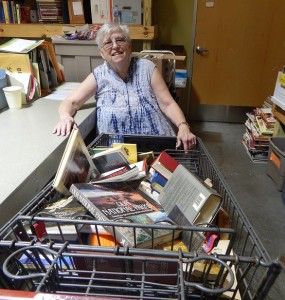 H.D. strenuously maneuvered his wheelchair. Beth was at his side, clenching her walker with both hands. It wasn't the first time this married couple of 57 years had come to The Caring Place for help. About a year ago, they came to get assistance with paying for the insulin H.D. desperately needed. "The Caring Place helped us get the insulin the next day. They have also helped us with an electric bill," Beth said. "I sing their praises to everybody."
This time, the Lees were here to apply for HOPE, a program that provides supplemental food to people over 55 years old who meet the income eligibility requirements. Both Beth and H.D. struggled with several health issues and were unable to keep up with the medical bills and daily living expenses.
The couple sat hopefully across the table from Rebecca Orozco, The Caring Place Case Manager, as she asked the usual questions and completed the forms. Beth mentioned that H.D. needed a new, more manageable, wheel chair. "We had gone to another agency to try to get a wheel chair and we were number 130 on the list," Beth said. "H.D. has no balance at all and has to have a wheel chair." They had also tried Medicare. "They said we had to wait 6 months. People could die waiting for these services," Beth said.
Overhearing the conversation, Erin Becnel, Client Services Director, had the image of a specific wheel chair flash across her mind. "I remembered that we had a chair donated a couple of months ago, so I ran back to the warehouse to check," Erin said. As it turns out, the chair was still available and it was just the kind that H.D. needed. "It's wonderful and the seat is larger, much more comfortable," he said. "I told Erin that I would 'shine her halo anytime,'" Beth said. "The chair is such a blessing."
Beth began volunteering at The Caring Place a year ago as a way to show her appreciation for The Caring Place. "I work in the book department. I really like the customers and the people I work with," she said. "I volunteer here because you helped us first."
The Lees have also decided to donate H.D.'s previous wheelchair and a chair lift to The Caring Place. Perhaps it will be just the kind of chair someone in need has been looking for!
"Any place like this that is willing to help you has to be a good place," Beth said.