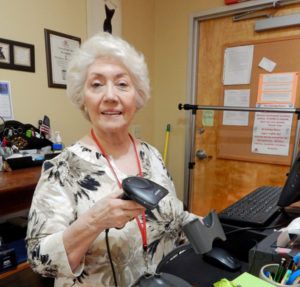 Tillie Pope began volunteering at The Caring Place as a receptionist in Client Services three years ago. She loved meeting new people. However, when she was presented with the opportunity to work in The Boutique, she accepted the challenge of a new position.
Tillie first learned about The Caring Place from long-time volunteer and previous board member, Sherrie Madden. "Sherrie told me about The Caring Place and a fabulous jewelry show that I must attend," Tillie says. The Shops at The Caring Place supports services to people in financial crisis. And Tillie wanted to be a part of the important work The Caring Place was doing in the community. She attended a volunteer recruitment meeting in Sun City and shortly thereafter, took her first job as a volunteer receptionist in Client Services, doing intake and answering the phones.
"Everyone in Client Services is so friendly and I loved meeting new people. But Tillie, a woman drawn to fashion and decorating, couldn't resist working in a department full of donated famous-label garments and fashion jewelry. It's also not uncommon for Tillie to find a treasure to purchase for herself. "Kathy, Julie and Diana help me pick out my outfits," she chuckled.
It's common to find Tillie and other volunteers helping customers choose a mother-of-the-bride dress or tops and shorts for an upcoming vacation. "People look at us as experienced retailers," Tillie says. Indeed, many of the volunteers in The Boutique come from a retailing, decorating or fashion background. Occasionally, Tillie gets to use her Spanish skills. "I love interpreting for our customers," she says.
If you visit The Boutique with any frequency, you've undoubtedly heard Tillie's command of the Spanish language. What you may not know is that Tillie learned to speak the language as a missionary in Mexico for three years. She also taught English as a Second Language in Mexico and in the U.S. "I'm an ordained minister," Tillie says. "I'm a Jack of all trades and a master of none!" Her co-workers and friends would probably disagree with that statement. In any event, her varied talents are appreciated at The Caring Place!