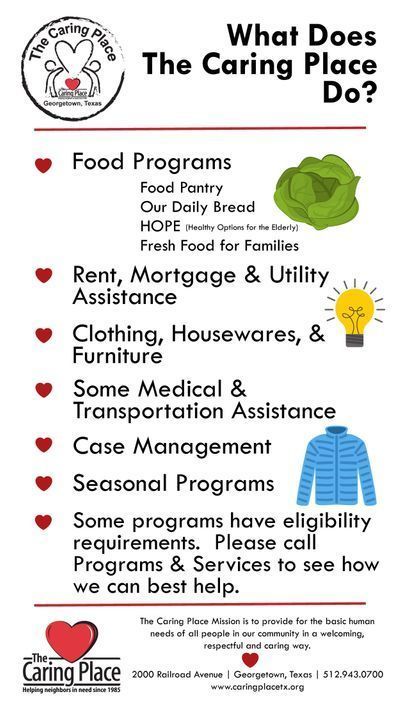 We can help with the most basic of all human needs: food, clothing, and shelter. Our areas of assistance include groceries, clothing and household items, financial assistance for rent and utility bills, some medical bills and prescriptions, some transportation costs, and more. 
Who:
Service Area:
If you live in our service area we have a range of services that may assist you if you are having trouble making ends meet.  Our service area includes residents of Georgetown, Andice, Bartlett, Florence, Granger, Jarrell, Jonah, Schwertner, Walburg, Weir, and the portion of Hutto that lies within the Georgetown Independent School District.
 You can find information on our Service Area here:  http://www.caringplacetx.org/gethelp/service-area.html
Where:
Programs & Services at The Caring Place
2001 Railroad Avenue
Georgetown, Texas  78626
When:
Monday through Friday, 9:00am to 4:00pm,  Communication begins by phone at this time.  
How:
Please call 512-943-0709. Leave a message with your crisis, need and good contact information.
What:
The programs and services we offer include, but are not limited to help with utility bills, mortgage/rent, food/housewares/clothes, transportation and medical/prescriptions.  If you aren't sure if we can assist you, please feel free to call us at our main number at 512-943-0700 to ask questions.
Our Food Programs at 2000 Railroad Avenue are often the simplest way to receive help.  You may find by participating in one or more of these programs you are better able to stretch your budget through the month.  *Please note, you do not need to bring any documents to receive food benefits.  You will self declare the information.  You can find more information about all of our Food Programs here.