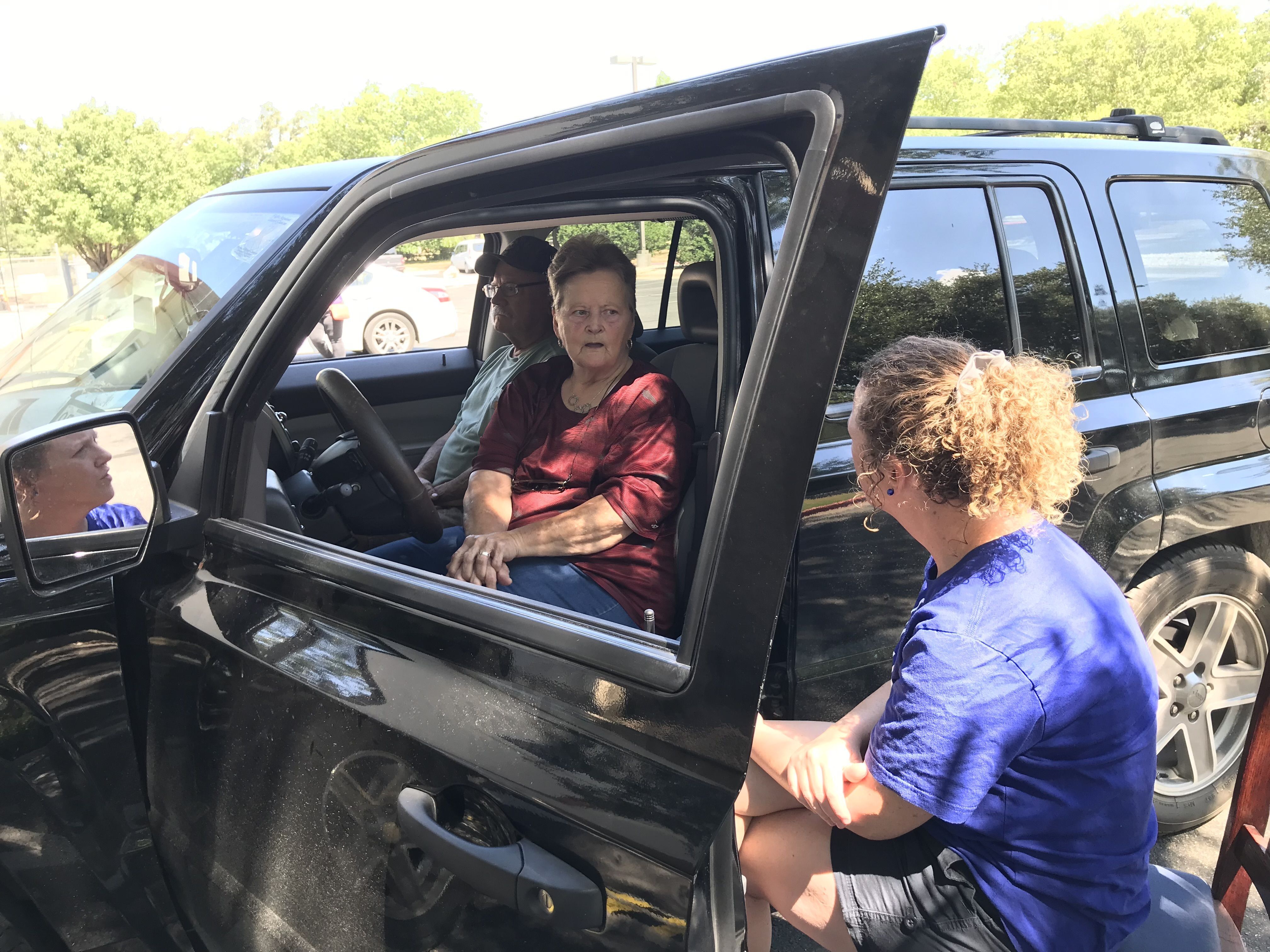 It began with a phone call one morning.  Xinia, a Case Manager in the Programs & Services department across the street from my office called me.  She was letting me know that two of her clients in the Case Management program were in the Food Pantry shopping. She said they'd love to talk to me about how The Caring Place has helped them. I love meeting neighbors at The Caring Place; hearing their stories is often inspiring, so I ran downstairs to meet Xinia in the Food Pantry. Xinia shared they might be tired after shopping and instantly began talking through some locations where we could do the interview so they wouldn't have to walk far. I knew this couple and was aware of some health issues that limited mobility. After shopping in the Food Pantry, neighbors normally drive to the back of the parking lot to pick up their groceries in their car.  We decided this couple could do that and then just drive to an empty parking place in the shade for the interview so they wouldn't need to get out of the car again. When the couple pulled up into the parking space, I dragged a chair off The Caring Place's thrift store porch and sat down next to their vehicle and began chatting.
Later that day Xinia texted me a picture. As I looked down at my phone and viewed the picture, I let out a small laugh. It was a picture of me sitting in the scratched-up wooden chair next to the old mini-van and talking to our kind interviewees.  Yes, that's what I looked like out there in the parking lot that day, but more than that, it's how we all look when we are trying to meet the needs of people who come to us. We meet them right where they are.
Many individuals have a one-time need. A divorce, a surprise medical bill, a car repair, or a temporary job loss may set a family on a path to a long-term crisis if they don't get immediate assistance. The Caring Place helps with that.  In other situations, perhaps rent has increased, making the grocery budget too tight.  We help with that by providing access to our Food Pantry which provides savings in one budget to help with another. What about longer-term goals?  Or even a larger crisis? If you know you can't maintain a basic quality of life due to certain circumstances, maybe The Caring Place can help. When you have goals and are ready to make changes to meet those goals, The Caring Place can meet you right where you are. They partner with you in our Case Management program to review your goals, find resources and make plans. 
As 2022 progresses, The Caring Place is seeing that times are tough for new members of our community.  As this year doles out fresh challenges, we hope our community knows we will meet you where you are in your circumstances and continue working to meet basic needs in our community.