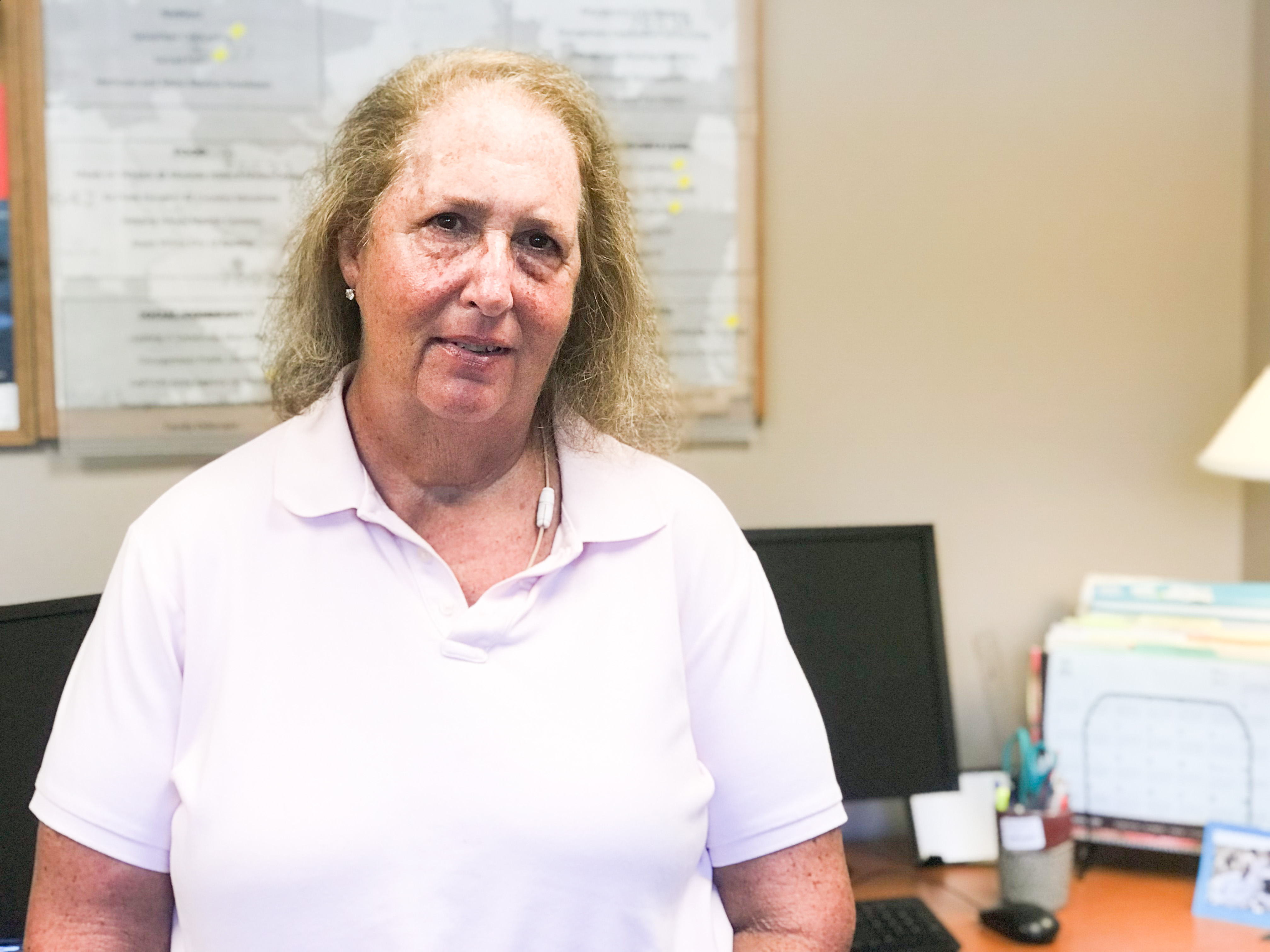 When it comes to the services offered at The Caring Place people may think, "I will never need that."  "I won't ever have a problem paying my electric bill because my husband and I both worked for years and saved."  "My spouse has a good paying professional job, so I won't ever need a Food Pantry to make ends meet."  "I was a teacher and have a pension. The Caring Place is for other people."  These are probably common thoughts until a crisis hits close to home.  Neighbors who utilize The Caring Place have a variety of reasons and life circumstances for doing so.  In fact, Cindy Newman could have easily said the statements above.
Who is Cindy?  Cindy is from New York.  She's a retired teacher and her husband, at one time, was in the air force and worked for a well-known computer company.  She and her husband moved to Texas in 2011.  At that time, her husband's health was deteriorating.  Trips to MD Anderson Cancer Center were frequent and medical bills were accumulating.  The pair looked for ways to reduce costs and decided to downsize.  The day they moved into their smaller home in Sun City in November of 2016, Cindy's husband passed away.
Cindy is someone who is fortunate to have some income through social security and a pension, but when you spend years getting behind on medical bills and you have a car payment and some other bills owed, it's hard to close the debt gap after retirement.  Cindy shared, "After the first time I came to The Caring Place I called my friend that told me about it and thanked him.  I was drowning in bills and the staff said they could help."  Cindy's relief in this statement was evident.  Cindy was connected with Kathleen, our Senior Independence Program Manager, who set case management into motion.  Through SIP, Cindy worked on a budget and received referrals to assist her with some of her ongoing health concerns.  Cindy enrolled in a class last spring provided through SIP to help her learn how to prevent falls, and her improved mobility has already reduced her visits to the hospital.    Cindy also utilizes The Caring Place Food Pantry each month.  She said, "Being able to have things I'd normally have to pay for like grocery staples, put money back in my pocket for other bills."  Cindy admits life isn't perfect.  She's like many other people who lose a spouse.  She was married over 40 years and is mourning her loss and beginning the process of dealing with life's other struggles.  Cindy admits to feeling lonely, however, her relationship with her case manager is one of comfort and her confidence and her social activities are increasing.  She said, "The Caring Place has made my life easier financially, emotionally and mentally.  You have to get help from someone you trust.  I trust the staff at The Caring Place."
Between the Senior Independence Program and the general services of The Caring Place, Cindy encourages others to pursue information if they are in a similar situation as she is.  "I want more people to know about the services at The Caring Place.  If you want to know if they can help, I think people should stop in and ask.  SIP is a great resource for seniors who need help.  This is a place they can go and not be afraid to ask for help."
The Caring Place is glad that Cindy feels this way and is receiving the support she needs as she faces new challenges.  This is what The Caring Place hopes to be for struggling seniors, a place to garner tools, tips and support to live independently and healthily.  We look forward to a stable future that both seniors and families can work towards when they participate in case management at The Caring Place.