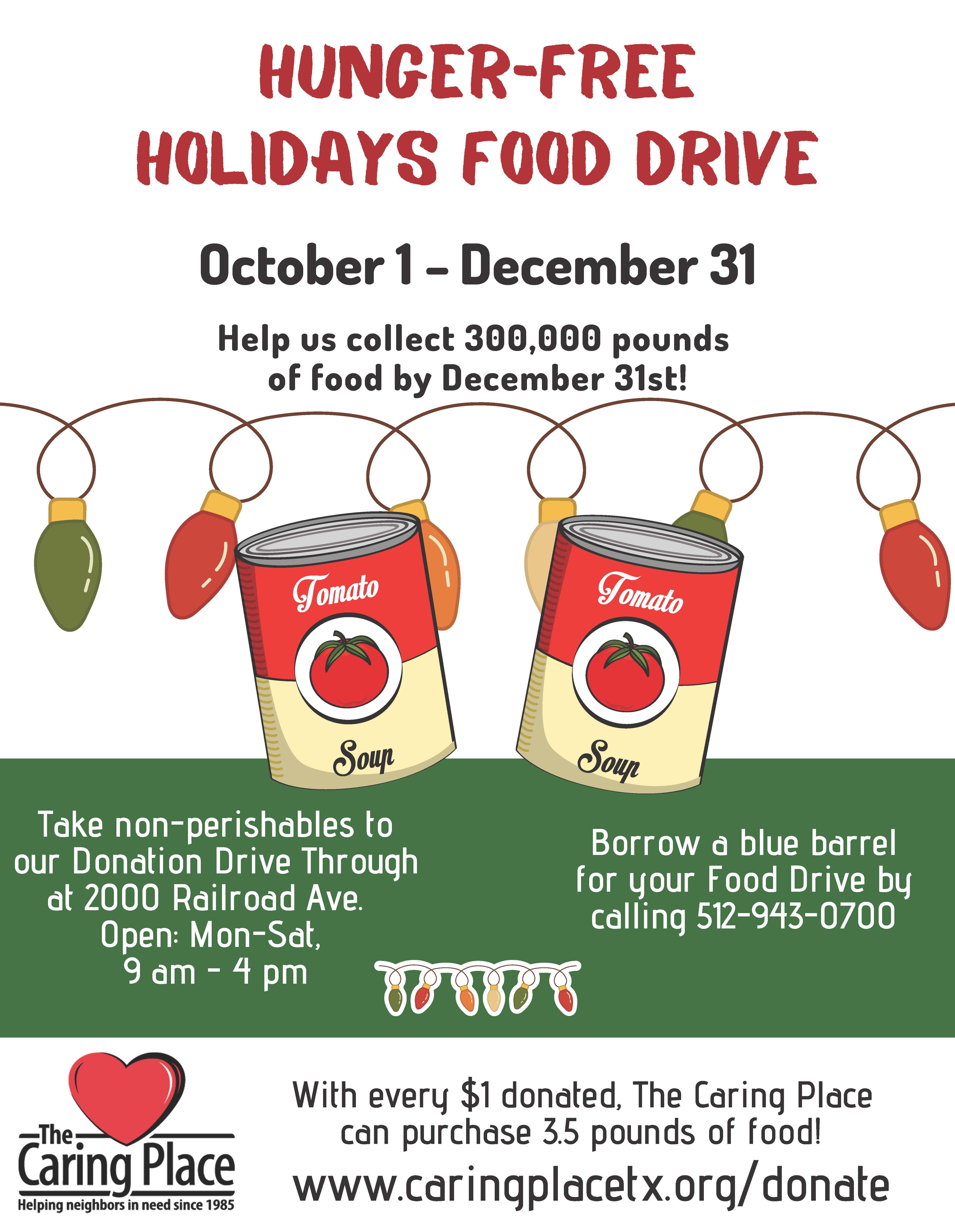 The Caring Place launched its Hunger Free Holidays Food Drive on October 1, and it will end December 31.  With the community's help, the organization hopes to collect 300,000 pounds of food by the New Year.
The Caring Place provides a 12-day supply of food to families in financial need through its Food Pantry.  This amount of food is valued at $75 per person per month.   For a family of 4, using the Food Pantry could be a cost savings of $300 each month.  Executive Director, Ginna O'Connor explains, "The goal of the Food Pantry is to not only feed people, but hopefully stretch a household's budget, so that they are able to pay their monthly household expenses.  For example, a $300 a month savings for a family of 4 can help pay a medical bill, rent or a utility bill.  Utilizing the Food Pantry is the most cost effective and ongoing way The Caring Place can help a family struggling to make ends meet every month."
Food Programs & Facilities Director, David Earl says, "The fall has been a busy time for the Food Pantry.  We saw bare shelves in September, so the start of our biggest Food Drive campaign of the year could not come fast enough.  We count on the Hunger Free Holidays campaign to fill the pantry up for a few months."  Individuals, businesses, clubs, neighborhoods, churches and other organizations may donate non-perishable food items or organize food drives. If organizing a Food Drive, groups can call The Caring Place to borrow the organization's signature blue Food Barrels.  "With a goal of 300,000, we need a lot of community support."
Non-perishable donations can come to the Donations drive through at 2000 Railroad Avenue, Monday-Saturday, 9:00 a.m. – 4:00 p.m.  The organization can also purchase 3.5 pounds of food for every dollar donated.  To donate online visit www.caringplacetx.org/donate.
The Caring Place Food Pantry is one of four food programs offered by the nonprofit including Our Daily Bread, Healthy Options Program for the Elderly (HOPE) and Fresh Food For Families.
For further information, or to borrow a blue barrel, call The Caring Place at 512-943-0700 or info@caringplacetx.org.