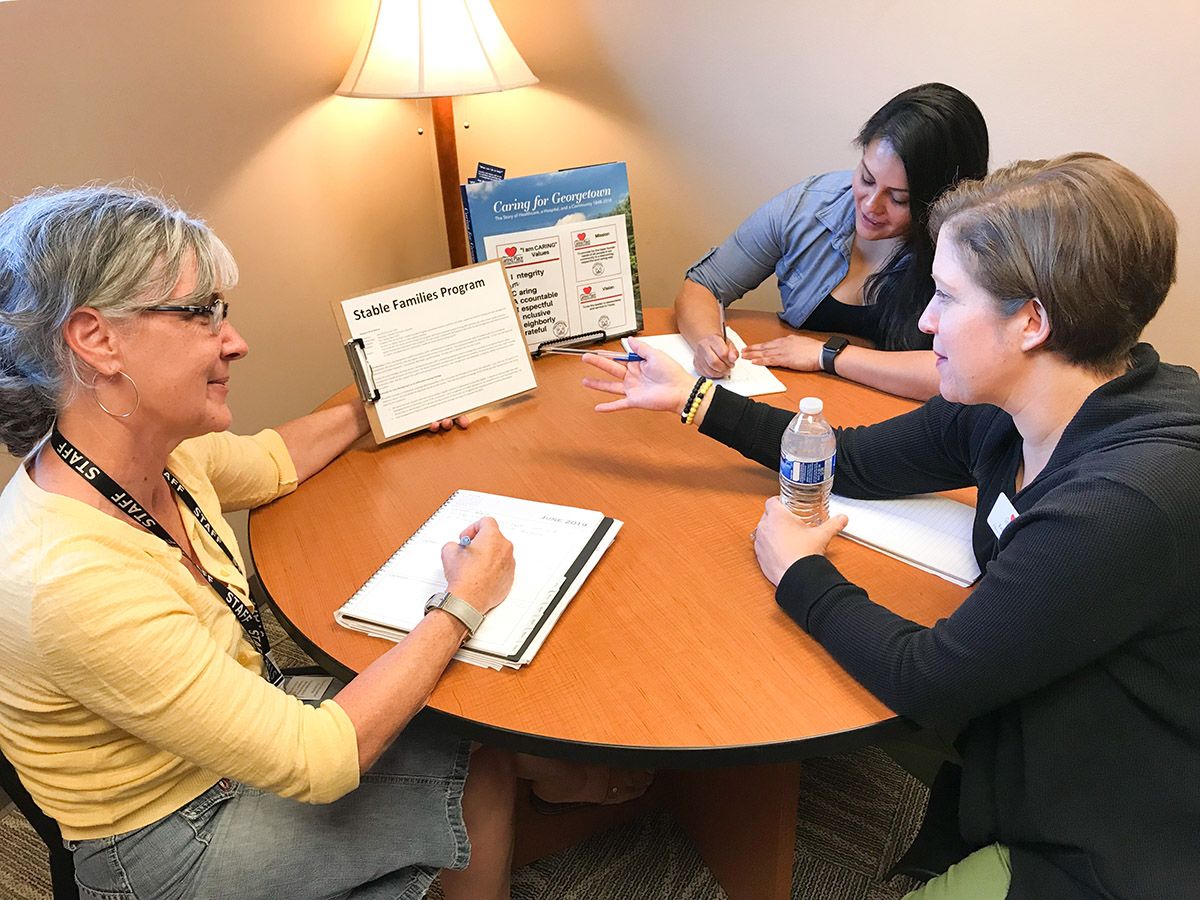 The Caring Place is pleased to announce it is a grant recipient of two program impacting grants from the Georgetown Health Foundation (GHF). 
The Caring Place was awarded a grant for a new initiative, the Stable Families Program.  This strategic grant provides $200,000 over the next two years to provide comprehensive case management and direct financial assistance to families experiencing a financial crisis that puts housing at risk.  The goal of the program will be to support an increased quality of living and housing stability for struggling families.  "We know from our research that there are no simple solutions to addressing housing affordability.  It requires a multi-pronged approach, leveraging resources from every sector of the community.  Case management is a viable approach for The Caring Place to take because we already serve hundreds of clients that are struggling with ongoing housing instability due to unaffordability," says Programs & Service Director, Erin Becnel.  This grant enables The Caring Place to hire two new positions to help the organization work with eligible families.
The Caring Place also received a $100,000 grant from the Georgetown Health Foundation to be used over 2 years to directly support housing costs.  "These grants from the Georgetown Health Foundation complement one another and we look forward to the impact we can make on housing stability for families in our community through this initiative," says Becnel.
Currently, housing assistance at The Caring Place is based on a financial crisis making it difficult to pay housing expenses.  A household provides verification of this crisis, whether it is a loss of income or an unexpected expense.  Assistance should get a family through the crisis so they can remain in their homes.   Executive Director, Ginna O'Connor adds, "We are thrilled that the Georgetown Health Foundation is supporting this effort to provide case management and additional services to assist families in becoming self-sufficient. We see so many families in crisis that could benefit from more than the basic needs assistance that we provide. A case manager, someone to support and guide families through a complex social service system, has been that missing piece. We hope that this program will help families out of crisis and into a better quality of life."
According to Becnel, "The Stable Families Program will enhance that basic need support by providing the opportunity for the client to self-identify stability goals, work with a case manager on these goals and receive some financial support while achieving the goals.   Ideally, once graduated from the program, the family should be in a place of stability and not need further financial assistance."  
Suzy Pukys, Vice President of Strategic Philanthropy at Georgetown Health Foundation states, "We (GHF) have sought to integrate support for the quality and scaling of referral resources, case management, and leadership to improve the visibility of/connections within the health and human services system.  The Stable Families Program entwines these objectives together.  Our hope is that it will be a positive step toward strengthening not only The Caring Place's service delivery to families, but toward strengthening the system as whole."
In order to be considered for enrollment into the Stable Families Program at The Caring Place, a client shall be motivated to work closely with a caseworker on goal planning and follow through to stabilize their situation.  Additional requirements include:
·       Reside within The Caring Place's service area of Georgetown or northern Williamson County (Andice, Bartlett, Florence, Granger, Jarrell, Jonah, Schwertner, Walburg, Weir and the Hutto area within the Georgetown Independent School District);
·       Maintain a household income at or below 200% of the federal poverty level;
·       Be experiencing a financial crisis that puts the household's housing at-risk, e.g. job loss, reduced work hours, medical crisis, etc.;
·       Be at a point where up to 12 months of case management support and limited financial assistance will be sufficient to stabilize housing and help build self-sufficiency skills; and
·       A qualifying score on an internal eligibility survey.
In addition to housing rent or mortgage assistance, The Caring Place also offers additional resources like food, clothing, household items and assistance with other bills like utilities and transportation costs.  For additional information on The Caring Place, please visit them at www.caringplacetx.org or call them at 512-943-0700.
ABOUT THE CARING PLACE
Since 1985, The Caring Place has provided for the basic human needs of all people in our community in a welcoming, respectful and caring way.  Through two thrift shops, The Shops at The Caring Place and Second Helping, both in Georgetown, the organization is able to pay all operating expenses to serve a growing community.  All monetary and food donations directly benefit neighbors needing food, utility, rent, transportation or medical assistance.  The Caring Place is a community-based and community-supported organization.  For more information on The Caring Place, visit www.caringplacetx.org. 
###